Delhi Gang-Rape Victim Dies In Singapore Hospital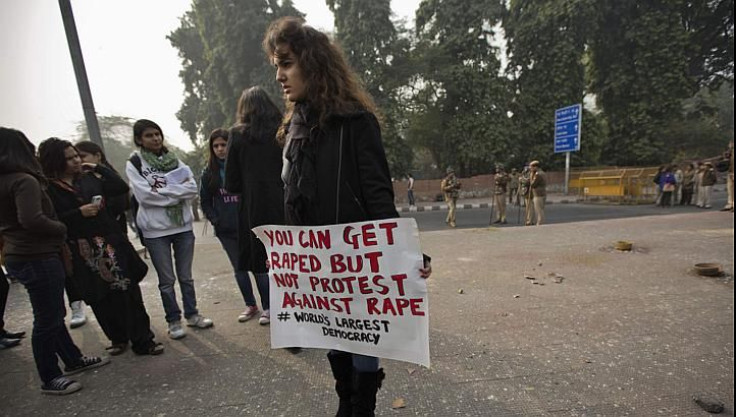 The Indian woman who was gang raped on a Delhi bus two weeks ago and became an anonymous symbol of the horror of sexual violence against women on the subcontinent lost the fight for her life Saturday local time in a hospital in Singapore, where she was airlifted Thursday.
The woman "passed away peacefully" with her family and officials of the Indian embassy by her side, Dr. Kelvin Loh, the CEO of Mount Elizabeth Hospital, where she had been treated, said in a statement cited by the Associated Press. "The Mount Elizabeth Hospital team of doctors, nurses and staff join her family in mourning her loss."
Previously, Loh said in a different statement that the 23-year-old woman's condition had "taken a turn for the worse. ... Her vital signs are deteriorating with signs of severe organ failure."
Loh continued, "This is despite [the fact that] doctors [are] fighting for her life, including putting her on maximum artificial ventilation support, optimal antibiotic doses as well as stimulants which maximize her body's capability to fight infections."
The young woman, who remains unidentified, was found to be suffering from significant brain injuries by Singaporean medical personnel. She had already undergone three abdominal operations and suffered a heart attack while in a Delhi hospital.
In his earlier statement, Loh said, "A multidisciplinary team of specialists has been working tirelessly to treat her since her arrival and is doing everything possible to stabilize her condition."
Indian High Commissioner to Singapore Dr. T.C.A. Raghavan told the Press Trust of India, "Her family is aware that she is getting the best medical treatment at the hospital."
On Dec. 16, the young woman, a medical student, was raped by at least four men on a private bus moving through Delhi. She and a male companion were beaten, tortured and thrown out naked onto the street. While police have made a number of arrests in the case, including the bus driver, protests continue to swirl unabated across India -- with anger focused not only on rapists, but also on the police, the slow court system, and on India's attitude toward women.
A controversy also arose over the patient's 2,600-mile move from Delhi to Singapore.
According to reports, no less an authority than Prime Minister Manmohan Singh's cabinet decided Wednesday to airlift the woman to Singapore via special air ambulance. The government will also be footing all her medical bills.
India's external-affairs minister Salman Khurshid has said that the decision to transport the young woman to a foreign state was not a political ploy.
"The shifting [of the patient] was not done due to some political reasons. It was done for medical purposes. It was purely a medical decision taken by the doctors," Khurshid said before her death.
Similarly, home minister Sushil Kumar Shinde suggested that Singapore could provide superior medical facilities to those in India. "She was shifted after taking opinions of doctors from [Delhi's] Safdarjung hospital," he told reporters. "Trauma doctors were also consulted. … We will give her the best of treatment."
However, some medical experts in India are suspicious over the move.
An unnamed doctor who was part of a group of medical experts consulted on the transfer told the Hindu newspaper: "The question we were asked was whether it would be safe to move her. The question was not whether there were any deficiencies in treatment that would be met by moving her. ... She was being given the best possible care."
Samiran Nundy, chairman of the organ transplant and gastrosurgery department of Sir Ganga Ram Hospital in Delhi, also questioned the logic of the transfer. "I just can't understand why a critically ill patient with infection in blood and body, high-grade fever and on the ventilator is being transferred," he told the Hindu newspaper. "It seems more of a political move."
Dr. Kaushal Kant Mishra, a senior orthopedic surgeon at Primus Hospital in Delhi, also raised doubts about the wisdom of moving the patient to Singapore. "There is no question of a transplant at this stage," he told the Hindu newspaper. "The infection has to be controlled first, and the patient stabilized. I do not understand what the hurry was to take the patient out. Safdarjung Hospital, like other major hospitals in India, have excellent medical facilities and doctors to take care of the critically ill."
Another senior doctor posed the question: "When the prime minister [of India] can be treated and operated [on here in Delhi,] what is the specific medical need to move a patient to Singapore? What the government is saying does not seem to add up."
As a side note, the Times of India reported that the woman is the first Indian private citizen ever to be taken abroad for medical care at the expense of the government.
© Copyright IBTimes 2022. All rights reserved.
FOLLOW MORE IBT NEWS ON THE BELOW CHANNELS