Delta Updates Face Mask Policy: Medical Exemption Required To Fly Without A Face Mask
Delta Air Lines (DAL) has made more changes to its passenger face mask policy, now requiring those with medical conditions to complete a flight exemption in order to fly with the airline during the coronavirus pandemic.
Delta also suggested that individuals with health conditions or disabilities that are unable to wear a face mask should reconsider flying. Those that do decide to fly without a face mask will need to complete a Clearance-to-Fly process prior to the departure of their flight.
"We encourage customers who are prevented from wearing a mask due to a health condition to reconsider travel," Delta said in a statement obtained by CNN. "If they decide to travel, they will be welcome to fly upon completing a virtual consultation prior to departure at the airport to ensure everyone's safety, because nothing is more important."
The Clearance-to-Fly process will be completed at check-in and could take over an hour to complete. The process will include a virtual consultation over the phone that is done privately through STAT-MD. Depending on the results of the assessment, passengers will be allowed to fly without a mask, the news outlet reported.
Delta suggests that passengers that need special clearance to travel without a face mask should arrive at the airport early to ensure they don't miss their flight.
Passengers that make false claims about their health conditions to obtain an exemption from the mask policy may be suspended from traveling on any Delta flight for the duration of the face mask requirement, the company said.
Delta requires all employees and passengers to wear face coverings throughout their travel, including check-in, boarding, in-flight, and deplaning. Those that fail to comply with the face mask requirement will be faced with potential banning from future flights with Delta.
Delta implemented its face mask policy in June, along with American and United Airlines. The news of the new face mask requirement from Delta comes as coronavirus cases in the U.S. rise.
There are over 14.5 million confirmed cases of the coronavirus and over 600,000 COVID-19 deaths reported as of early afternoon on Monday, John Hopkins University reported.
Shares of Delta were trading at $26.10 as of 12:53 p.m. ET, down $0.95 or 3.51%.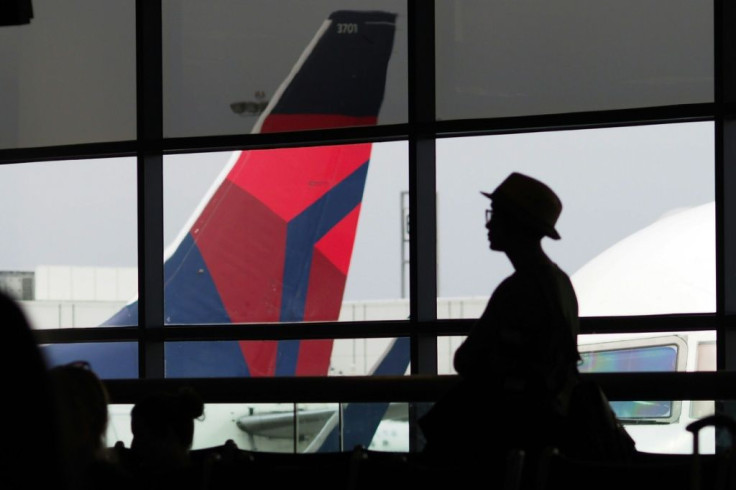 © Copyright IBTimes 2023. All rights reserved.