Demo-2 Astronauts Arrive At Kennedy Space Center Ahead Of Historic Launch
KEY POINTS
Robert Behnken and Douglas Hurley arrived at the Kennedy Space Center on Wednesday
Their arrival marks the final week before the historic launch
The Demo-2 launch marks America's return to human spaceflight
The astronauts set to launch on NASA's SpaceX Demo-2 mission have arrived at the Kennedy Space Center on Wednesday. Their arrival marks the final week before the historic launch.
NASA astronauts Robert Behnken and Douglas Hurley arrived at the space center in Florida on Wednesday at 3:52 p.m. ET. Speaking to the media after stepping out of the NASA Gulfstream aircraft that carried them from Johnson Space Center in Houston, Behnken and Hurley expressed their excitement at being the first astronauts to fly aboard SpaceX's Crew Dragon.
"We're thankful for that opportunity," Behnken said, according to a news release from NASA. "We view it as an opportunity, but also, a responsibility – for the American people, for the SpaceX team, for all of NASA – who put this opportunity together and entrusted us with it."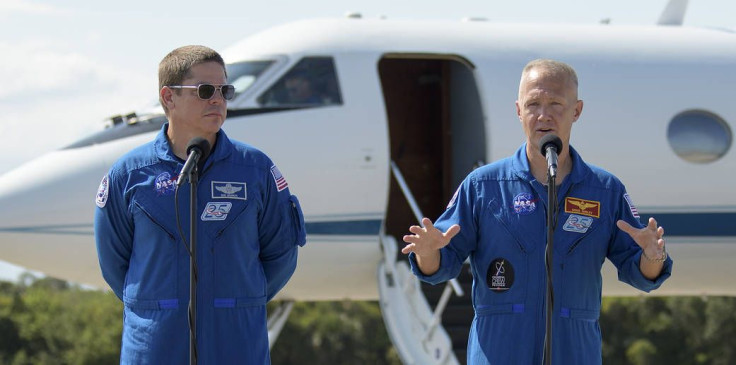 The May 27 launch will mark the first time the United States will launch American astronauts using American rockets from American soil since the final Shuttle mission in July 2011. Incidentally, Hurley was the one who piloted that final Shuttle mission to the International Space Station nearly a decade ago. In just a week, he will also be the one to command the U.S.' return to human spaceflight.
"I happen to have been one of the four astronauts who landed here almost nine years ago in T38s on the 4th of July in 2011 to close out the Space Shuttle Program. It's incredibly humbling to be here to start out the next [crewed] launch from the United States," Hurley said.
NASA Administrator Jim Bridenstine, who greeted Behnken and Hurley at the runway along with Center Director Bob Cabana, noted how next week's launch will be the fifth time the U.S. will launch American astronauts on a brand new vehicle.
"We did it in Mercury, Gemini, Apollo, we did it with the space shuttles, and now we're going to do it with a SpaceX Falcon 9 rocket and Crew Dragon capsule; and it's these gentlemen that are going to have the opportunity to pioneer once more for the United States of America," Bridenstine said, calling Behnken and Hurley "the best that America has to offer."
NASA's SpaceX Demo-2 mission is set for lift off at 4:33 pm. ET on Wednesday, May 27. It will be the first crewed flight under the Commercial Crew Program and the first flight for SpaceX, the Falcon 9 rocket and the Dragon v2 to carry humans.
Should there be a need to delay the launch, whether due to technical issues, the weather, or perhaps somehow in relation to the recent resignation of NASA's chief of human spaceflight, there is a launch backup opportunity just days later on May 30.
© Copyright IBTimes 2023. All rights reserved.
FOLLOW MORE IBT NEWS ON THE BELOW CHANNELS