Demonstrators Targeting Bank Of America Annual Meeting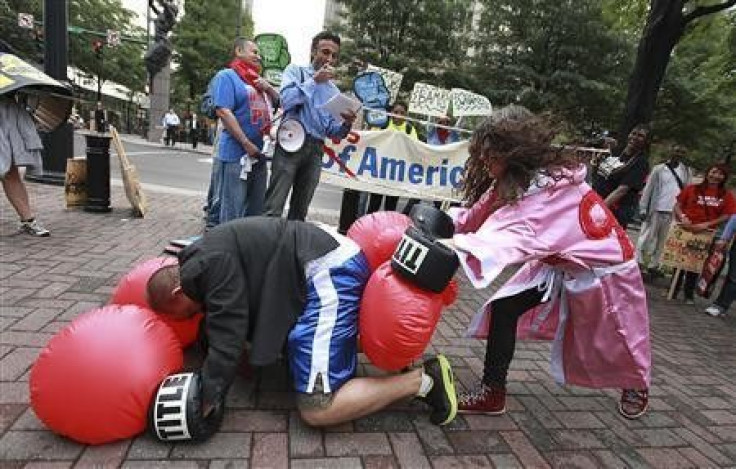 (Reuters) - Demonstrators are expected to swarm Bank of America Corp's (BAC.N) annual shareholder meeting on Wednesday to voice anger over a range of issues from foreclosures to corporate taxes to financing for the coal industry.
The meeting, held in the bank's headquarters city of Charlotte, North Carolina, has drawn protesters in the past, but advocacy groups operating under the name 99% Power are predicting much bigger crowds this year. Inside the meeting, stockholders will vote on the bank's executive pay plan, elect directors and get a chance to voice their opinions to Chief Executive Brian Moynihan.
Shareholder season is one of the only times of the year when everyday people can go face-to-face with the most powerful corporate decision makers in the country, said Amanda Starbuck, of the Rainforest Action Network, an environmental activist group that is part of the coalition.
Inspired by the Occupy Wall Street movement, demonstrators have been targeting corporate shareholder meetings this year to keep a spotlight on concerns about economic disparity in the United States. More than 500 demonstrators engulfed Wells Fargo & Co's (WFC.N) meeting site in April, resulting in 24 arrests.
Charlotte officials have declared the Bank of America meeting an extraordinary event under an ordinance passed in January to help officials handle protests expected in the city during the Democratic National Convention in September. The ordinance allows the city to ban certain items, ranging from backpacks to crowbars, at large events.
Bank of America spokesman Scott Silvestri declined to comment on the planned protests.
The second-largest U.S. bank has faced intense scrutiny for taking government bailouts during the financial crisis, for mishandling foreclosure paperwork and for attempting to implement a now-canceled monthly $5 debit card fee last fall.
Meanwhile, stockholders aren't happy about a stock price below $10 and a quarterly dividend slashed to a penny per share since the financial crisis. Moynihan, who will be presiding over his third annual meeting, made progress last year building the bank's capital levels but faces questions about the company's ability to increase future earnings. To boost profits, the bank is focused on cutting costs, including plans to eliminate about 300 jobs in its investment banking and capital markets group.
Executive compensation has become a hot issue during this year's annual meeting season after Citigroup Inc (C.N) shareholders rejected that company's pay plan.
Moynihan received total compensation of $8.1 million in 2011, up from $1.9 million in 2010. He received no cash bonus and most of his stock pays only if the company attains certain performance goals. ISS Proxy Advisory Services and Glass Lewis & Co, which advise large shareholders on how to vote at annual meetings, have backed Bank of America's pay plan.
Activist groups are also closely watching how Bank of America handles access to the meeting. In April, 99% Power sent a letter to Moynihan urging the bank to allow all shareholders to enter the session, after Wells Fargo excluded some people who wanted to attend its meeting in April. The group said Tuesday it plans to file complaints with the U.S. Securities and Exchange Commission and the Delaware Attorney General over Wells Fargo's actions.
While we respect the right of people to peacefully assemble and express their opinions, unfortunately, the protest activity in San Francisco prevented a number of our shareholders from accessing this year's meeting, Wells Fargo spokesman Ancel Martinez said.
--
© Copyright Thomson Reuters 2022. All rights reserved.
FOLLOW MORE IBT NEWS ON THE BELOW CHANNELS