Deontay Wilder Next Fight: Prediction, Betting Odds, Preview For Heavyweight Title Bout vs. Artur Szpilka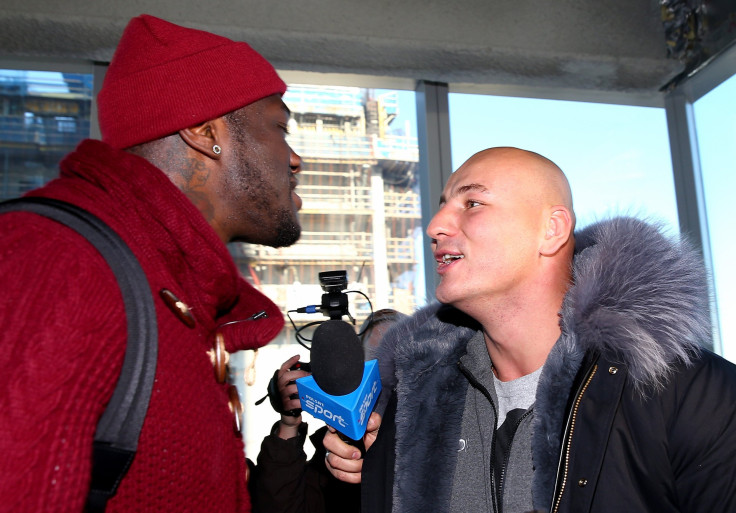 Deontay Wilder will put his WBC heavyweight title on the line on Saturday night, and the undefeated boxer is expected to successfully defend his belt. The champ is a heavy favorite over southpaw Artur Szpilka (20-1; 15 KO) in their upcoming bout at Barclays Center.
Entering the fight with a 35-0 record, Wilder has -900 betting odds to defeat Szpilka. The Polish knockout specialist is a +550 underdog, via Bovada.lv, coming into the bout at 20-1.
It's the first heavyweight title fight in Brooklyn in 115 years, as Wilder continues to work his way towards being recognized as one of the sport's top competitors. The 30-year-old has been dominant, knocking out all but one of his 35 opponents. His only win via decision came in a 12-round bout against Bermane Stiverne nearly a year ago.
Wilder suffered a hand injury against Stiverne and had his least impressive win as a pro, but it was the fight in which he claimed the title. Now that Wilder is healthy, he's looking to continue his role as arguably the best knockout puncher in the heavyweight division.
"I'm excited about the new year that we get to start it off, make a statement. I want this fight to be already the fight of the year, and this is just the beginning of the year. So that's what excitement I'm trying to bring to this fight. I'm trying to bring a severe knockout," Wilder told reporters.
"I want to get back to my knockout days. My hands were still out of all this time, last year my hand was about 85% when I defended my title. Now it's, looking back, strong as ever. It's back to 100%, and I'm looking to go back to where I used to be — four rounds or under."
Since defeating Stiverne, Wilder has successfully defended his title twice via knockout. The champ needed nine rounds to beat Eric Molina, and he beat Johann Duhaupas by TKO in the 11th round of their Sept. 26 fight. Before he won the title, none of Wilder's fights had made it to the fifth round.
It might not be easy for Wilder to end things with Szpilka quickly. Szpilka's only loss came two years ago to top heavyweight Bryant Jennings when he lost via TKO in the final round of a 10-round bout.
The 26-year-old has won four consecutive fights, though he generally faced weak competition. Szpilka often picks his punches carefully, spending much of his fights crouching and then lunging at his opponent. He also tends to swing wildly, and is prone to throw inaccurate combinations.
Szpilka is a tough competitor, and may have some decent fan support considering Brooklyn's sizable Polish community. But Szpilka will be facing the most dynamic heavyweight in boxing, and hasn't dominated average boxers. He defeated little-known Mike Mollo before meeting Jennings, though he took some punishment and was sent to the canvas multiple times.
Wilder enters with he a distinct size advantage over his opponent. He stands at 6'7 with an 84-inch reach, while Szpilka is 6'3 with a 77-inch reach. Though Wilder will be seeking a knockout, he should have a clear edge with his jab to set up power punches. That could mean the champion will try winning early rounds and forcing Szpilka to open himself up to power punches.
If a risk-taking Szpilka had trouble with unimpressive opponents, he probably doesn't have an upset over Wilder in him.
Prediction: Wilder over Szpilka, via TKO
© Copyright IBTimes 2023. All rights reserved.