Derek Jeter Leaves Miami Marlins, Giving Up Salary, Ownership Stake
Derek Jeter and the Miami Marlins have parted ways, ending the relationship between the Hall of Fame player and the organization. Serving as Miami's CEO and a part owner of the franchise since late 2017, Jeter has relinquished his ownership stake in the Marlins.
Jeter had about a 4% stake in the group that purchased the Marlins for $1.2 billion four and a half years ago. As the club's CEO, Jeter's salary was reportedly $5 million per year.
The news came as a surprise Monday when Jeter stepped away from the club in the final year of his contract. Jeter's announcement coincides with MLB on the verge of canceling games for the 2022 season.
"Today I am announcing that the Miami Marlins and I are officially ending our relationship and I will no longer serve as CEO nor as a shareholder in the Club," Jeter said in a statement. "We had a vision five years ago to turn the Marlins franchise around, and as CEO, I have been proud to put my name and reputation on the line to make our plan a reality. Through hard work, trust and accountability, we transformed every aspect of the franchise, reshaping the workforce, and developing a long-term strategic plan for success.
"That said, the vision for the future of the franchise is different than the one I signed up to lead. Now is the right time for me to step aside as a new season begins."
In four seasons since Jeter joined the front office, Miami lost at least 95 games three times. The Marlins had a 67-95 record in the 2021 season. Miami finished the season with the league's fourth-lowest payroll.
The Marlins had a winning record in the truncated 2020 season, going 31-29 with an unexpected trip to the playoffs. Miami defeated the Chicago Cubs in the wild-card round before getting swept by the Atlanta Braves in the NLDS.
Miami is projected to have one of the lowest payrolls in baseball, once again, for the 2022 season.
"The Miami Marlins and Derek Jeter announced today that they have agreed to officially end their relationship," principal owner Bruce Sherman said. "The Marlins thank Derek for his many contributions and wish him luck in his future endeavors. We have a deep bench of talent that will oversee both business and baseball decisions while we work to identify a new CEO to lead our franchise. The ownership group is committed to keep investing in the future of the franchise – and we are determined to build a team that will return to the postseason and excite Marlins fans and the local community."
It remains unclear when MLB's lockout will conclude and the upcoming season might start.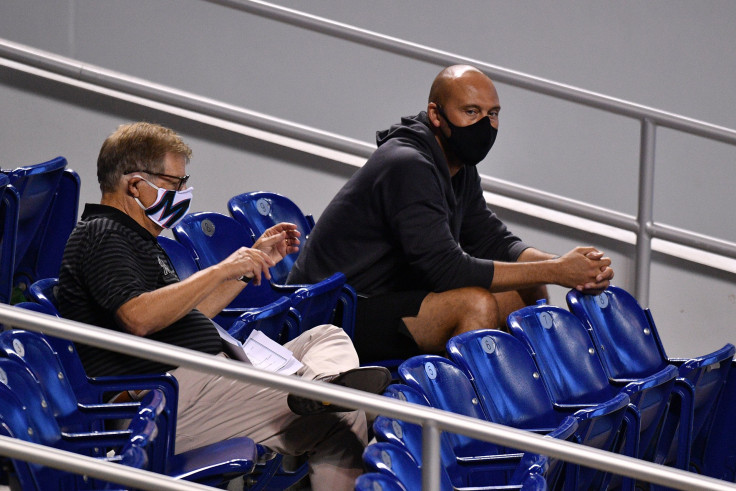 © Copyright IBTimes 2023. All rights reserved.