Despite Brexit Gridlock, Economists Bet On 'Soft' Deal Or UK U-turn - IBT Poll
If politicians and the media are to be believed, Britain faces a growing risk of a "hard Brexit," a doomsday scenario in which the country leaves the European Union without a preferential trade deal. Economists and investors, by contrast, are quietly upbeat and expect a relatively softer Brexit. A majority of market forecasters polled by International Business Times expect Britain to secure a Brexit deal and there is even a growing belief that the United Kingdom could do a U-turn and remain in the European Union.
It is not that economists are unfazed by the deadlock in the British political system, and most agree that any hard Brexit would be a disaster for the British economy. Still, in stark contrast to the catastrophic prophecies of the politicians and media pundits, many of the economists in the poll based their forecasts on the premise that the politicians would eventually come to their senses.
"From a pure economics perspective, Brexit should not have been such a big deal," says Dan Hamilton, director of economics at the CLU Center for Economic Research & Forecasting. "If there's a big negative impact of Brexit I would argue it's because of politics or the interference (from politicians)."
Thirteen of the 19 economists polled by IBT expect the U.K.'s leaders to steer away from a hard Brexit, if only to avoid the political costs of the pain it would inflict on the country's economy. Two analysts expect a hard Brexit, wrenching Britain out of Europe without a negotiated settlement. Four did not share their view on the Brexit outcome.
The 13 optimists either see the U.K. opting for some kind of a soft Brexit, or agreeing to a status quo in its relations with the EU post the Brexit deadline of March 2019. The latter would buy the country time for negotiations while avoiding the sting of an abrupt exit from EU, which accounts for more than 40 percent of British exports.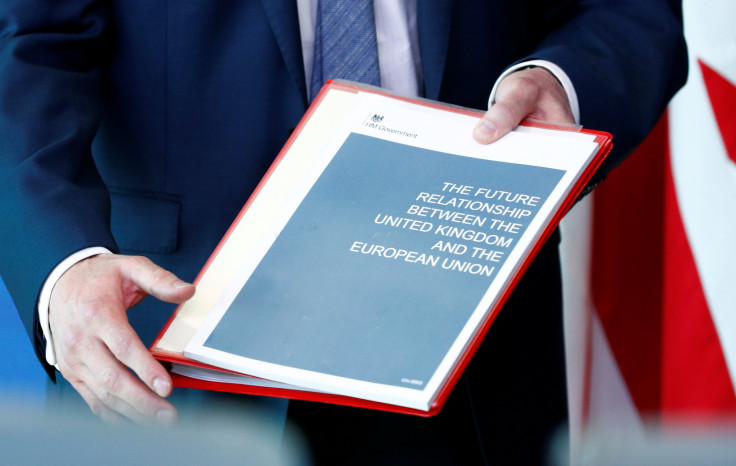 POLITICS TRUMPS ECONOMICS
Prime Minister Theresa May's government was plunged into crisis earlier this month when David Davis, Britain's chief negotiator with EU, resigned as Brexit secretary, followed by the high profile, flamboyant foreign secretary Boris Johnson.
The resignations came on the heels of a meeting at the prime minister's country residence in Chequers where ministers agreed to a plan for a soft Brexit drawn up by May. The plan has been criticized as full of ambiguities and as arousing suspicion in Brussels.
The failure so far of U.K. politicians to put up a united front or have a defined position for the tough negotiations with EU is the biggest threat to an orderly Brexit.
"They will simply run out of time for negotiations and the EU is put in the situation of not being able to negotiate anything because there is no defined U.K. position on what it wants from Brexit," said Marc Ostwald, global strategist at ADM Investor Services, who is concerned about an "accidental hard Brexit."
On the other hand, Andrew Wroblewski, senior economist at Continuum Economics, thinks a hard Brexit is "highly unlikely," given how the House of Commons (lower house of the British Parliament) is pro-remain and pro-soft Brexit. And economist Ken Goldstein of Conference Board thinks the chance of a second referendum has marginally increased post the Chequers conference and the resignations.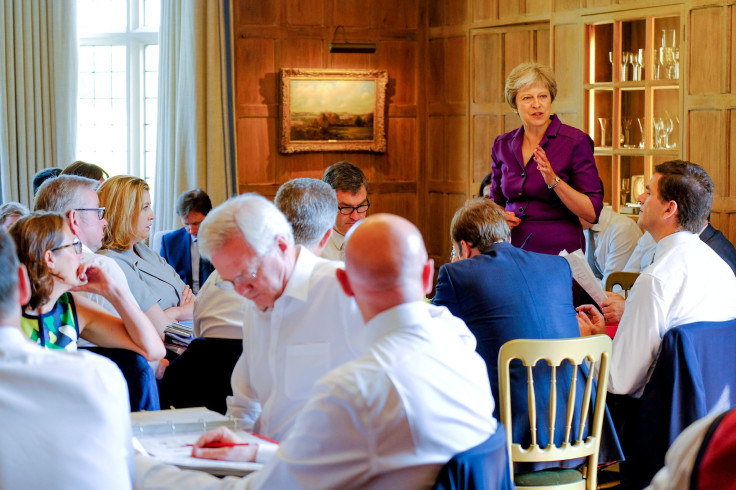 "There is a whole kind of re-examining of what will happen with respect to Brexit including the chance, small, very much lower than 50-50, a very little chance, there may not be a Brexit."
His theory was reflected in a new poll conducted on behalf of the Sunday Times which showed that if voters were offered a new vote, they would overturn the 2016 referendum result, with remaining in the EU beating leaving the bloc without a deal, by 54 percent to 46 percent.
The idea of a retreat from Brexit, while still a minority view, is gaining traction elsewhere in the shortening odds for Brexit-related bets. Prices at the bookmaker Paddy Power for "Another EU Referendum to be held before April 1st 2019" – an option heavily pressed by those campaigning to remain in the EU – had shortened from 7/1 in January to 3/1 amid the political chaos of July. Meanwhile, the odds on '"No Brexit deal to be reached before April 1st 2019" – a hard Brexit – crunched to 4/7 from 2/1.
Paul Krishnamurty, a professional gambler and political analyst, says the trends on betting site Betfair for "Will there be a referendum before 2020" were moving towards "Yes" although it is still only rated a 33 percent chance. He cautions against drawing conclusions from the betting at this stage.
"The underlying theme, however, is confusion and lack of confidence in the outcome by gamblers."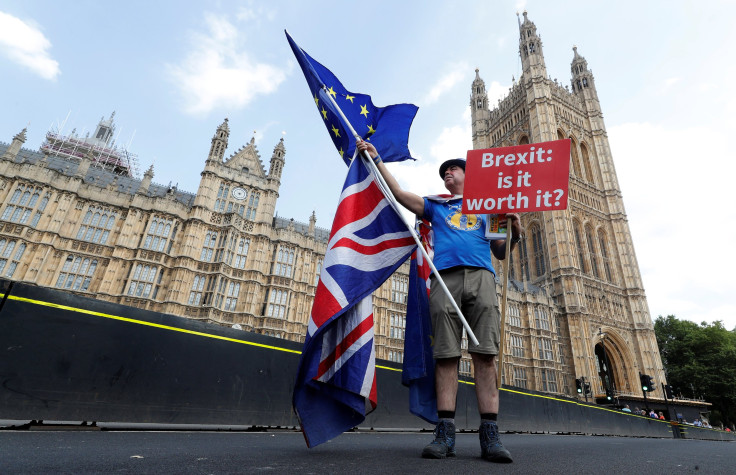 THE BITE OF A HARD BREXIT
Four of the economists IBT spoke to painted a grim picture for the U.K. economy if the country abandons the bloc without a deal. The fear of the ensuing turmoil would drive May and her ministers to conjure up a soft Brexit deal and break the years of political deadlock.
ING expects the UK economy to contract for two years following a hard Brexit, with one-year growth seen at -1.3 percent and two-year growth at -1.9 percent. One-year inflation is expected at 3.2 percent and two-year forecast is at 2.7 percent.
The gross domestic product of the United Kingdom grew 0.2 percent in the first quarter of 2018 from the previous quarter, while year-on-year growth was 1.2 percent. Annual consumer price inflation held at 2.4 percent in June.
It would be "traumatic," says James Knightley, chief international economist at ING. For instance, he points out that there simply aren't enough customs officials to man all the checkpoints that would need to go up on day one.
"There would be absolute chaos at the ports, we'd see gridlocks on the roads. We'd see factories and manufacturers effectively shut down production because nothing will be able to get through at the ports. It's very much a doomsday scenario and we think it's a low probability event."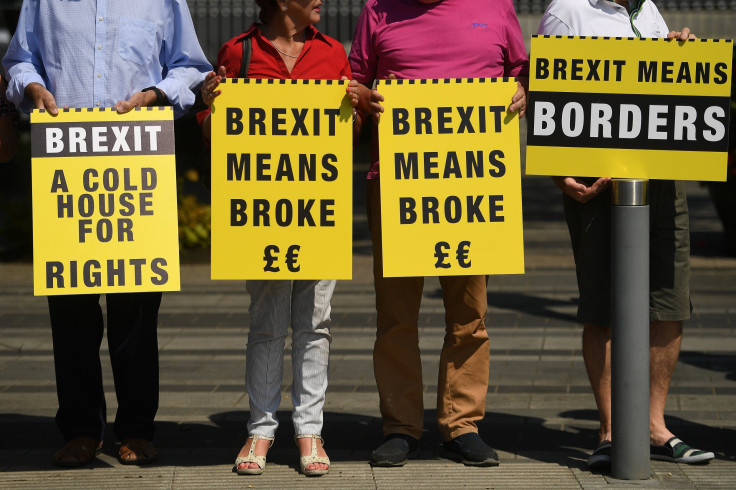 Yael Selfin, chief economist at KPMG, predicts years of stunted economic growth. She sees U.K. growth fall to just 0.4 percent in 2021 in a no-deal scenario, and expects longer-term growth rate could be "around 0.3 percent lower" for up to a decade even after customs and trade relations normalize. Selfin expects the unemployment rate to initially rise by around 0.2-0.3 percent, and inflation to reach around 3.2 percent in 2019/20.
Kallum Pickering, senior economist at Berenberg, expects U.K.'s growth to fall below 1.5 percent in the case of a hard Brexit, compared to his expectation of 1.6-1.7 percent growth in a "semi-soft Brexit" scenario. Pickering defines semi-soft Brexit as a separation with a trade deal for goods in place.
Jeremy Lawson, head of Aberdeen Standard Investments Research Institute, said he would lower his forecast for economic growth on a two-year timeframe. He believes a hard Brexit would significantly disrupt trade with the U.K.'s most important trading partner, encourage businesses to halt or delay investment projects, reduce foreign direct investment into the country, and squeeze consumers' real incomes as the exchange rate weakened.
SOFT, SOFTER, STATUS QUO…
There is no consensus among the economists on the contours of the alternatives to a hard Brexit, which could range from a soft Brexit to a second referendum. Pickering of Berenberg sees a 60 percent chance of a semi-soft Brexit, a 20 percent chance of a hard Brexit, 10 percent of a soft Brexit, and 10 percent of a complete reversal.
"Our scenario tree suggest that there is a roughly equal chance of the BINO (Brexit in Name Only) and 'WTO' (U.K.-EU trade under WTO rules), with both at a little over 30 percent," wrote Andrew Goodwin, lead U.K. economist at Oxford Economics, in a research note. "These two options now look more likely than a Free-trade Agreement (24 percent) and remaining in/rejoining the EU (15 percent)."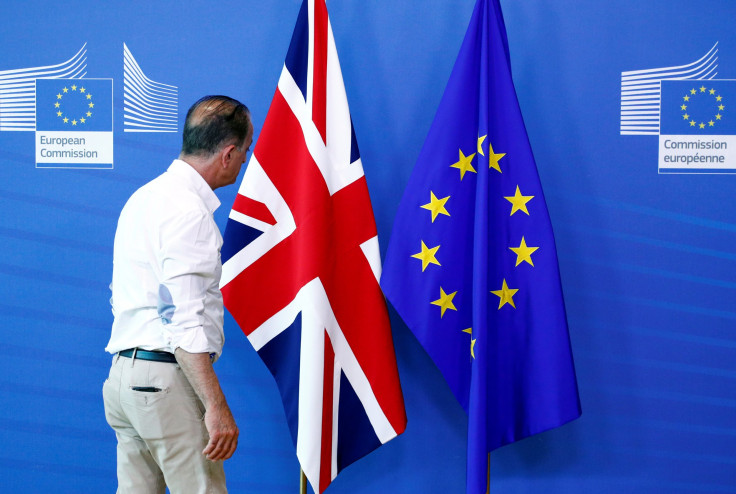 Mark Zandi, chief economist at Moody's Analytics, see a soft Brexit where the U.K. is expected to stay in the single market for goods, but exit for services and negotiates some kind of a treaty with EU for services.
Goldstein of Conference Board thinks Brexit will "very likely" go past the 2019 deadline and that EU is pushing the U.K. toward a soft or even a softer Brexit.
Some envisage a status quo very similar to EU membership. William Adams, senior economist at PNC Financial, says, "Since the first quarter of 2018 forecasts which were released in January, we have been expecting that eventually the U.K. will come around and will stick with the status quo just because we don't see lot of support for accepting the costs of the alternatives to the status quo."
FOR FREE to continue reading
✔️ Unlock the full content of International Business Times UK for free
offer available for a limited time only
✔️ Easily manage your Newsletters subscriptions and save your favourite articles
✔️ No payment method required
Already have an account? Log in
© Copyright IBTimes 2023. All rights reserved.