Despite Turkish Government's Denial, Armenians Say Some Turks Are Supporting Genocide Commemoration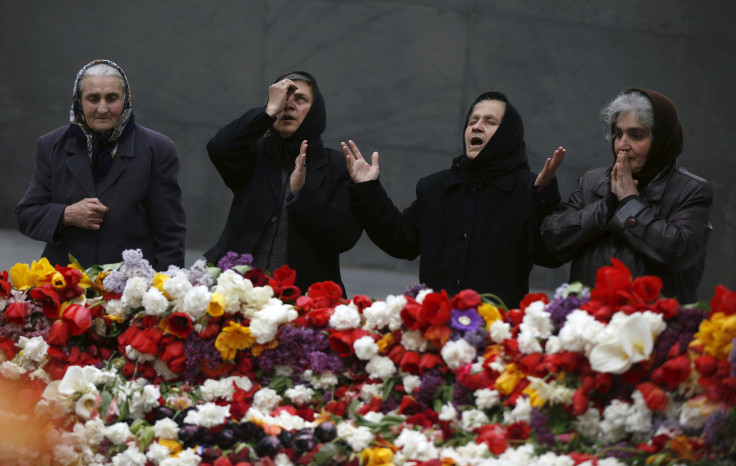 ISTANBUL -- Armenians from around the world are in Istanbul this week commemorating the 1.5 million people killed in the Armenian genocide that began 100 years ago. Despite the Turkish government's public denial of the genocide, Armenian activists here say they have faced almost no pressure from the authorities about their planned activities, and that many Turks, especially those in the younger generations, are participating.
A recent poll conducted by the Center for Economics and Foreign Policy Studies, an independent think tank based in Istanbul, concluded that only 9 percent of Turks want their government to recognize the Armenian genocide, which historians agree was committed by the Ottoman Turks during World War I. Yet, Armenian activists say they have seen a change in the younger, liberal Turkish population.
"There is a portion of the population in Turkey that understands that this happened and recognizes it," said Nancy Kricorian, an Armenian author and activist. A growing number of Turkish academics, including prominent professors, have also called on the Turkish government to recognize the massacres that began in 1915 as genocide.
Still, the Armenian genocide is an extremely contentious issue between Turkey and the international community. Only a few nations and international organizations recognize the genocide as such; the United States government does not.
President Recep Tayyip Erdoğan, who during his time as prime minister expressed more sympathetic views about the genocide than previous Turkish leaders, now as president stands in staunch opposition to using the term for the 1915 slaughter. Erdoğan once said that since there were Armenians still left in Istanbul, genocide could not have happened. Textbooks in Turkish schools do not mention the 1.5 million Armenians who died in 1915.
With opposition and denial of the genocide from the Turkish government, Armenian activists in Turkey in past decades have been prevented from protesting. All calls for recognition of the genocide have been completely quashed by the government. But this year, the centennial, Armenian activists have been able to plan an entire week of commemorative activities.
Organizers of Project 2015, the official group that planned the centennial commemoration here, said they worked with the government and private citizens to get permits for using certain buildings for the events.
That was in part, some activists here say, because of the leadership of Sarah Leah Whitman, an Armenian and the executive director of Human Rights Watch's Middle East and North Africa division. But it was also in part, they say, because of the change in perception of the genocide among some Turks.
"There have been some changes inside Turkey in the last decade, especially after the murder of Hrant Dink," said Harout Ekmanian, a journalist and a member of Civilitas Foundation, an activist organization in the Armenian capital Yerevan, referring to the Turkish-Armenian journalist who was assassinated in 2007 by a Turkish nationalist.
The pressure for the Turkish government to recognize the Armenian genocide has been mounting from the outside, too. World leaders such as Pope Francis have come out and declared the massacre in 1915 genocide.
"In the past century our human family has lived through three massive and unprecedented tragedies. The first, which is widely considered 'the first genocide of the 20th century,' struck your own Armenian people," Francis said during Mass in St. Peter's Basilica last week, in the presence of Armenian church leaders. "Concealing or denying evil is like allowing a wound to keep bleeding without bandaging it."
The other atrocities the pontiff cited were the Nazi Holocaust and the crimes of Stalinism.
That pressure, though, has yet to affect the Turkish government's rhetoric about the genocide, or its reactions to leaders speaking out about it. Following the pope's statement, Turkey recalled its ambassador from the Vatican.
But while at ground level some Turks are changing their views, Armenian activists are going to keep pushing for official recognition.
"[The massacre] was a systematically state-organized crime of annihilation of an entire nation, genocide. Armenian activists and the descendants of the genocide survivors do not accept anything less than a full acknowledgment of that historical fact," Ekmanian said.
There are thousands of Turkish citizens who are part Armenian and are trying to find out what exactly happened to their family members killed during the genocide in 1915, by searching state archives or by contacting other Armenian families. That's leading some to discovering Armenian roots they did not know they had, as the Turkish state suppressed Armenian identities in the past.
"This is a very painful process for may of those people ... born and raised with an identity, which is often hostile towards Armenian identity, but then finding out family connections and roots of Armenian identity inside themselves," Ekmanian said. Yet, he added, the unresolved conflict over what really happened to Armenians in Turkey may also push some people to keep their Armenian history quiet: "They will never want to dig [it] up," Ekmanian said, "choosing to live in peace [rather] than to fight for their real identity."
FOR FREE to continue reading
✔️ Unlock the full content of International Business Times UK for free
offer available for a limited time only
✔️ Easily manage your Newsletters subscriptions and save your favourite articles
✔️ No payment method required
Already have an account?
Log in
© Copyright IBTimes 2023. All rights reserved.