'Destiny 2' Festival Of The Lost 2021 Event Guide And Overview
KEY POINTS
Festival of the Lost 2021 is now live
The event adds new content like cosmetics, weapons and activities
Haunted Lost Sectors replace the Infinite Forest as this year's event activity
The annual Halloween event for "Destiny 2" has officially started, and players can now earn loads of new in-game rewards like weapons, armor and themed cosmetics.
The Festival of the Lost is a yearly in-game event that celebrates the memory of all those who have perished over the course of "Destiny's" long chain of events. Despite its focus on remembrance, the festival also features the standard real-world Halloween theme, with ghosts, pumpkins, cobwebs and other sorts of common decorations.
This year's festival added a new activity for players to enjoy, as well as a new set of rewards to grind. Here's an overview of what's new and a quick guide on how to get these rewards quickly.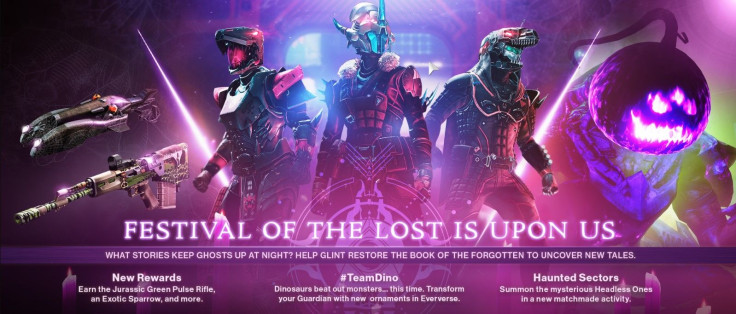 What's new in Festival of the Lost 2021?
Unique dinosaur-themed armor sets are this event's featured ornaments. Each of the three classes will have their respective dinosaur armor that players can buy for a hefty amount of Silver from the Eververse store.
Going along with the dinosaur theme is the new Jurassic Green legendary pulse rifle, which is a rehash of the old Lincoln Green rifle from the EDZ. This new weapon can roll with different perks from its standard variant and can be obtained from Eva Levante at the Tower or in Haunted Lost Sectors.
This year's main attraction is the new Haunted Lost Sectors, which are revamped variants of the usual Lost Sectors found on each planet. These areas will reward players with more event loot than usual, making them the go-to places to farm for Candy and Spectral Pages.
Other additions include new masks, emotes, a profile banner and the return of the Horror Story and Braytech Werewolf weapons.
Haunted Lost Sector Guide
Players should be able to steamroll through these areas with relative ease. Haunted Lost Sectors can be accessed from a node on the Tower as matchmade activities with a group of friends or strangers.
In this activity, players must summon Headless Ones and eventually take down an area boss to complete the run. The boss and minibosses will drop Candy when killed and the final chest will drop a generous amount of loot. Stand on summoning circles to spawn Headless Ones until the time runs out, then take out the area boss to finish the activity.
Haunted Lost Sectors are also great for farming for perfectly-rolled Jurassic Greens.
© Copyright IBTimes 2022. All rights reserved.
FOLLOW MORE IBT NEWS ON THE BELOW CHANNELS