Detroit Water Crisis: Shutoffs Resume After Month-Long Moratorium, 45 Percent Of Water Bills Are Past Due, City Says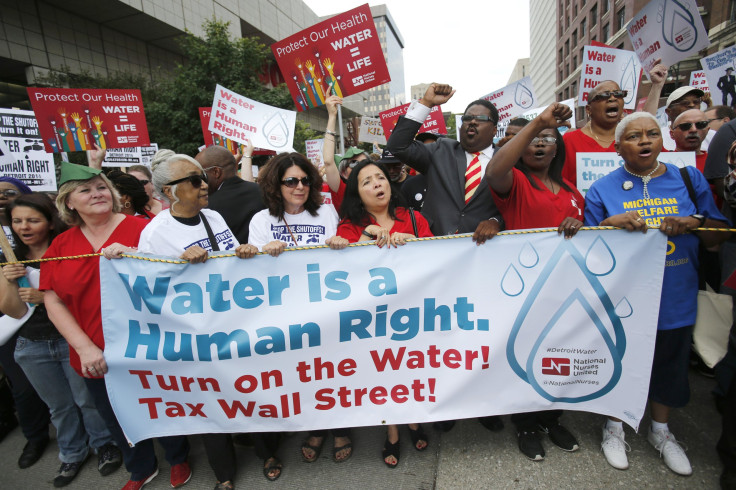 Detroit's water authority resumed Tuesday its policy of shutoffs for customers with outstanding bills, city officials said. The policy continued after the end of the city's month-long moratorium on water shutoffs, which was designed to allow residents to cover any unpaid bills.
The water shutoffs are aimed at helping the city of Detroit, which filed for bankruptcy in 2013, clear tens of millions of dollars in unpaid water bills, Reuters reports. Recently, authorities in Detroit regained control of its Water and Sewerage Department after a year of management by a state-appointed emergency financial adviser.
"The goal of the shutoff moratorium was always to give as many city residents as possible a chance to get current with their water bill," Detroit Mayor Mike Duggan said in a statement. Nearly 45 percent of the city's 173,000 residential water bills remained unpaid by Tuesday, the city said, according to the Associated Press.
At least 420 customers will be denied access to running water starting Tuesday, according to the city. In total, more than 19,000 Detroit residents have experienced water shutoffs. City officials have allowed some residents to enroll in a payment plan to catch up on their outstanding water bills. The customers pay at least 10 percent of their debt and then pay the remaining balance over a period of two years. The program has attracted more than 25,000 participants, the water department said.
The water shutoffs have been criticized by outside parties as unfair to the city's poor and underprivileged residents. In June, three United Nations' experts condemned the measure as a potential violation of the human right to water access. A website that facilitates anonymous donations to families who can't afford their water bill has raised more than $100,000, Reuters notes.
Detroit's water system is reportedly $6 billion in debt related to revenue from bill payments, with more than $89 million in debt owed by customers by July 1. About 38 percent of the city's residents live below the poverty line, AP notes.
© Copyright IBTimes 2023. All rights reserved.
FOLLOW MORE IBT NEWS ON THE BELOW CHANNELS