PETA Drowning In Backlash For Detroit Water Crisis Veganism Push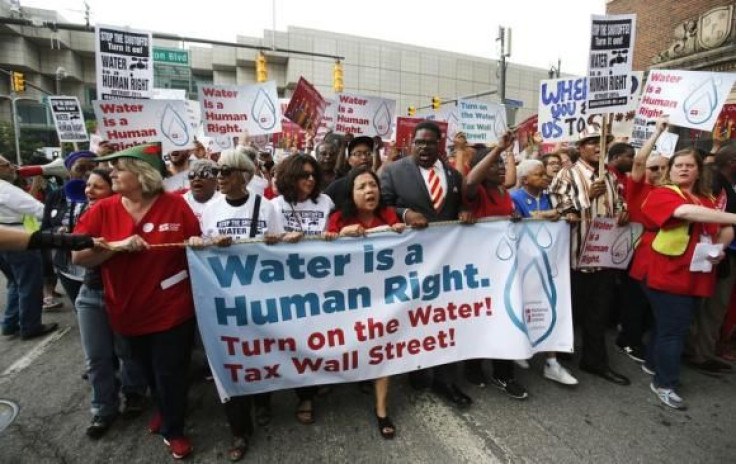 PETA, or People for the Ethical Treament of Animals, is standing by its decision to use Detroit's bourgeoning water crisis as an opportunity to wean a handful of people off meat-based diets.
"I think anything we can do to encourage people to try something new, try out healthy eating for a month, it's a positive thing," PETA spokeswoman Lindsay Rajt said by phone. Her defense comes as the animal-rights group is facing blowback for dangling a carrot in front of impoverished Detroiters, offering to pay the water bills of 10 local families under the condition that they agree to adopt a vegan lifestyle for one month.
The idea, Rajt said, came from a Detroit-area PETA member who agreed to put up the money for the proposal, but whose name is not being disclosed by the group. PETA is also offering the families a basket of vegan foods and recipes to get them started. Rajt, a Michigan native, cited Michigan's obesity problem as rationale for pushing veganism in her home state.
Thousands of residents in the embattled Midwestern U.S. city have had their water turned off -- or are facing water stoppages -- after the Detroit Water and Sewage Department began cracking down on delinquent utility bills last year. PETA's offer, which echoes the missionary work of some evangelical groups who couple humanitarian aid with attempts at religious conversion, has stirred anger even among those who support the group's cause. "Campaigns like this and its exclusionary/elitist attitude are veganism's worst enemies," one person tweeted.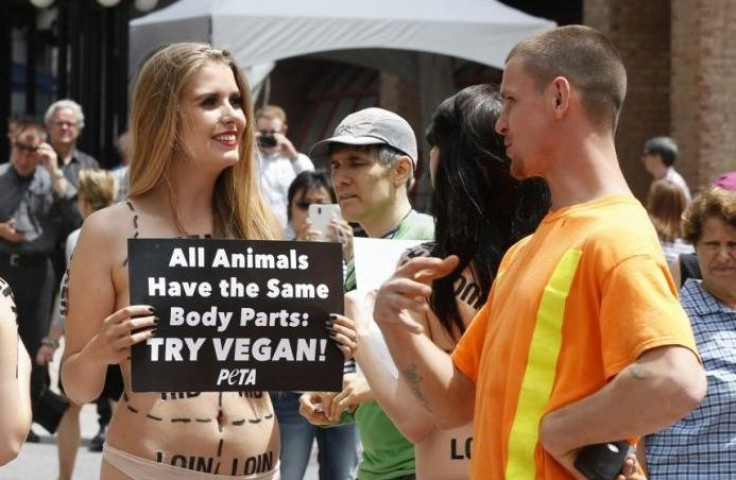 Media outlets like Think Progress and Jezebel also took PETA to task, with the latter calling the proposal "tone deaf." Many critics were offended by the idea of a pro-vegan campaign aimed at residents who ostensibly cannot afford the financial demands of a vegan diet, particularly as many urban Detroiters live in neighborhoods where grocery stores are a scarce commodity. "How about @peta helps Detroit families and doesn't bribe them into making a commitment that food deserts might prevent them from fulfilling?" tweeted journalist Allison Kilkenny.
Rajt said she understands that access to fresh foods might put some residents at a disadvantage, but she took issue with the idea that a vegan lifestyle is harder on the wallet than a meat-based diet. "It's absolutely an affordable option," she said. "I was vegan working full-time, minimum wage jobs for at least a year. I had no problem making peanut butter and jelly sandwiches, packing a Granny Smith apple in my lunch, going home and making pasta with marinara sauce."
PETA is no stranger to seizing upon ancillary health issues to forward its own aims. It's controversial "Got Autism?" campaign -- which attempted to play up link between the neurological condition and dairy products -- recently came under harsh criticism from autism advocates.
Reached by email, a spokesman for Detroit Water and Sewage Department made his feelings clear about PETA's vegan proposal, saying it did not warrant a comment. Meanwhile, the department itself is under increasing pressure to stop parching the city's most vulnerable residents. Last month, the United Nations Office of the High Commissioner for Human Rights called Detroit's water disconnections an affront to human rights. (International laws require municipalities to provide basic sanitation services unless it can be proved that delinquent residents are able to pay.) Earlier this month, the NAACP Legal Defense Fund called the service shut-offs discriminatory, as the vast majority of affected residents are African-American.
PETA is asking Detroiters interested in its campaign to mail their overdue water bills to PETA's Norfolk, Virginia, office by Aug. 1. Rajt said the group will not police chosen residents to see if they actually hold up their end of the bargain and stay meat-free. "It's the honor system," she said.
In the meantime, Turn on Detroit's Water, a new crowdfunding effort that allows donors to donate directly to Detroit residents, is taking a more traditional approach to charity -- offering to help residents without asking for anything in return.
Got a news tip? Email me. Follow me on Twitter @christopherzara.
© Copyright IBTimes 2023. All rights reserved.