Devyani Khobragade: US-India Row Escalates After Diplomat Complains About Strip-Search After Arrest On Visa Fraud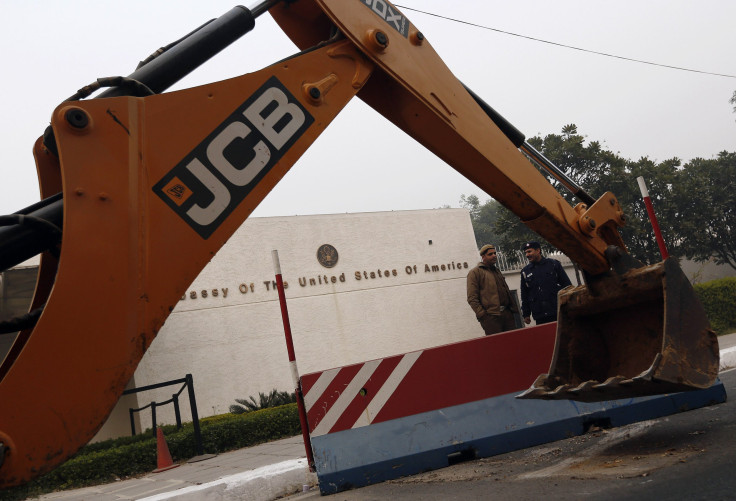 The U.S. and India are locked in a diplomatic row over the arrest of an Indian official in New York on charges of visa fraud, an issue that has sparked intense debate in India, with politicians and a section of the public condemning what's being perceived as maltreatment of a diplomat, while others say that her arrest was in line with U.S. labor and visa laws.
Security barricades around the U.S. embassy in New Delhi were removed in an apparent retaliation over the issue involving India's deputy consul general in New York, Devyani Khobragade, 39, who is accused of helping file a fraudulent document and of making false statements to the U.S. State Department to procure a visa for Sangeeta Richard, an Indian national, who was formerly employed as a babysitter and housekeeper at Khobragade's home in New York.
The Indian government asked personnel at U.S. diplomatic missions and their families to surrender their identity cards, and withdrew special amenities provided to them, including airport passes and a special duty-exemption license, including for the import of alcohol. The Indian government also sought information from the U.S. about the salary details of all Indian staff employed at American diplomatic facilities in India as well as the salary details of all Indian workers employed by U.S. officials at their homes in India, Indian media reported.
India's Home Minister Sushil Kumar Shinde cancelled a meeting with a visiting U.S. delegation, an incident termed as a "snub" by the Indian media, while Rahul Gandhi, the ruling Congress party's vice president, and Narendra Modi, the opposition Bharatiya Janata Party's prime ministerial candidate, also refused to meet with the U.S. delegation.
"Refused to meet the visiting USA delegation in solidarity with our nation, protesting ill-treatment meted to our lady diplomat in USA," Modi wrote on Twitter.
Khobragade was arrested on Thursday in New York when she was dropping her daughter off at school and was handcuffed in public, following a complaint raised by Richard. The official was then strip-searched and held in a cell before being released the same evening on a $250,000 bond after pleading not guilty in court, U.S. and Indian officials said.
Richard alleged that Khobragade was not paying her $4,500 a month, a salary that the former was promised in accordance with U.S. visa laws. Khobragade is alleged to have also falsely testified to the State Department about Richard's salary, media reports said.
Khobragade, who received a monthly salary of $4,120 paid Richard $3.31 an hour -- equivalent to roughly $500 a month and significantly lower than $9.75 mandated by U.S. minimum wage laws, Indian media reported.
"While I was going through it, although I must admit that I broke down many times as the indignities of repeated handcuffing, stripping and cavity searches, swabbing, in a holdup with common criminals and drug addicts were all being imposed upon me despite my incessant assertions of immunity, I got the strength to regain composure and remain dignified thinking that I must represent all of my colleagues and my country with confidence and pride," Khobragade was quoted as saying by the Times of India, which cited an email she reportedly wrote to her colleagues.
© Copyright IBTimes 2023. All rights reserved.