Wal-Mart Continues US Lobbying To Enter Indian Retail Despite Indian Government Probe Against The Practice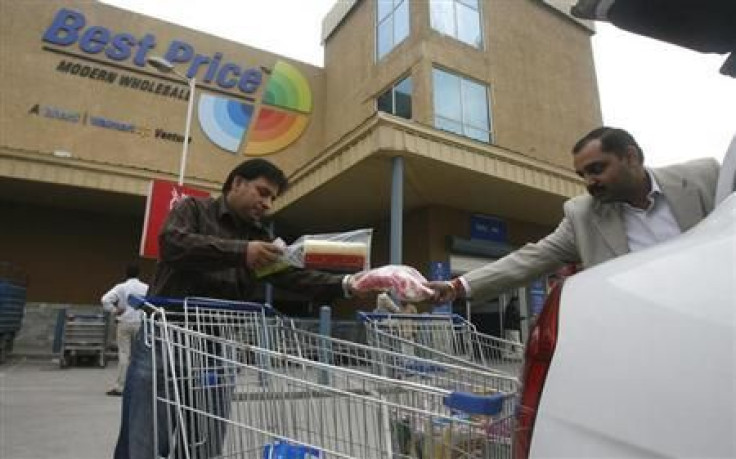 Wal-Mart Stores, Inc. (NYSE:WMT) continues to lobby with U.S. lawmakers over India's rules on foreign direct investment, or FDI, and has spent $1.5 million in total in the September quarter on a range of issues including FDI in India, as part of its ongoing efforts to establish a sizable presence in Asia's third-largest economy, after parting ways with local partner, Bharti Enterprises, earlier in October.
Bentonville, Ark.-based Wal-Mart's efforts to influence legislators to facilitate its business in India has sparked a furor in New Delhi in the past because lobbying is illegal in India and money spent on such activities is considered a bribe. The Indian cabinet is expected to debate the findings of an investigation, led by a retired judge, into Wal-Mart's lobbying to enter the Indian market, Press Trust of India, or PTI, reported.
The retail giant's lobbying efforts in the third quarter covered the Senate, the House, the State Department, the Labor Department, the U.S. Agency for International Development, or USAID, and trade representatives, according to its latest Lobbying Disclosure Form submitted to the Senate, as reported by PTI.
Wal-Mart, which has sought lawmakers' support over the past five years for its India venture, had not carried out any lobbying on India-specific matters in the June quarter, according to official disclosures, PTI reported.
Wal-Mart will continue to singlehandedly operate its wholesale business in India, under the Best Price Modern Wholesale brand, which was originally set up in partnership with Bharti. However, to start a multi-brand retail business in India, Wal-Mart needs to find a local partner to own 49 percent of the stake under the country's FDI rules. India relaxed FDI rules in retail only in September 2012 allowing overseas retailers to own a majority stake of up to 51 percent in multi-brand retail segment.
Although there have been few takers since the reform was implemented, Wal-Mart has been at the forefront of those urging India to open up its market to foreign companies. But its foray into India has so far run into difficulties, stemming from a range of factors including a sluggish bureaucracy and protests from certain sections of Indian society, which allege that Wal-Mart retail stores would cause Indian retailers and traditional mom-and-pop grocery stores to lose business.
Wal-Mart had said in September 2012 that it planned to open its first retail store within a timeframe of two years. Meanwhile, other retailers have been dissuaded by the regulatory uncertainty and specific rules that are perceived seen as burdensome prerequisites imposed on foreign companies, and have chosen to stay away from the Indian market.
Wal-Mart has spent about $25 million since 2008 for lobbying in the U.S. regarding its foreign investments, including in the Indian market, according to PTI, which cited company disclosure filings before the U.S. Senate.
© Copyright IBTimes 2023. All rights reserved.
FOLLOW MORE IBT NEWS ON THE BELOW CHANNELS