Devyani Khobragade: Was She Victimized By Indian-American U.S. Attorney Preet Bharara?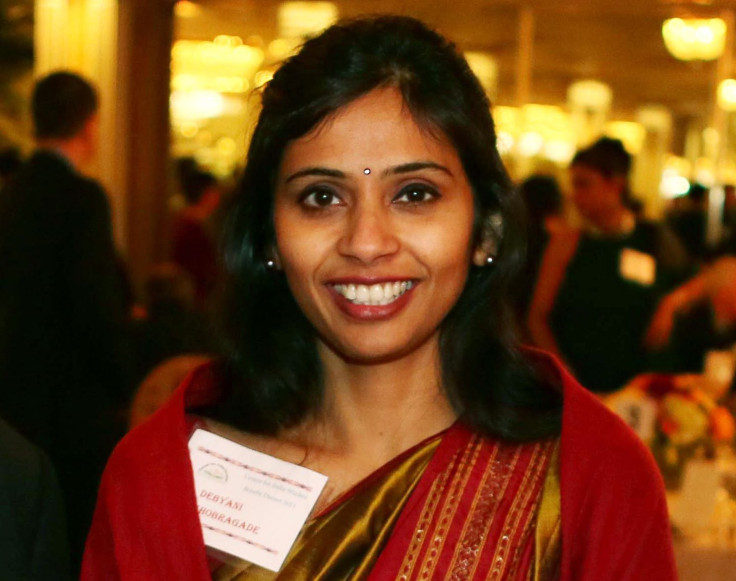 The saga of Devyani Khobragade, the Indian diplomat who was arrested for visa fraud by U.S. authorities last month and has now returned to India, has outraged a large swath of the Indian public, who cite this case as yet another example of the United States' general disdain for India and Indians. In the latest development to this international diplomatic furor, Khobragade, 39, reportedly returned to India Thursday evening after she was "asked to leave" the country by federal authorities. But there was some confusion about her actual whereabouts, with some news sources saying she was still in the U.S. at that time.
Khobragade also apparently received diplomatic immunity, although such a measure is rendered moot if she is no longer in the U.S. Confusing matters more, she was indicted by a grand jury, raising questions about the ultimate legal disposition of this complex case. "We understand that the defendant was very recently accorded diplomatic immunity status and that she departed the United States today," U.S. Attorney Preet Bharara wrote in a letter to Manhattan federal Judge Shira Scheindlin. "Therefore, the charges will remain pending until such time as she can be brought to court to face the charges."
Khobragade's lawyer, Daniel Arshack, then released a statement confirming that his client had indeed left the U.S. She was arrested last month for allegedly lying on the visa application for her domestic servant, an Indian national named Sangeeta Richard -- and for also paying her a salary significantly below the U.S. minimum wage. Khobragade was subsequently released on a $250,000 bond.
Indian officials have already demanded that the U.S. government withdraw the case against Khobragade and also apologize for treating the female diplomat to a humiliating strip-search and detention in a cell with hardcore criminals in mid-December (these charges were denied by Bharara and other U.S. officials). In addition, her status as deputy consul general in New York added to the rage in top Indian circles. The New Delhi government quickly acted to provide her with a G-1 visa, which would give her full diplomatic immunity. (Her departure to India ahead of her scheduled Jan. 13 indictment would appear to have resolved the matter, although the Indian government still wants all charges against Khobragade stricken from the record).
But there is an interesting twist to this ongoing diplomatic tussle: Much of the anger in India is directed at the U.S. attorney who prosecuted the case, a man named Preet Bharara, who just happens to be of Indian descent himself. Bharara, who was born in Punjab in 1968 and grew up in suburban New Jersey, has come under severe criticism from Khobragade herself, her family, her attorneys and also Indian media figures who suspect he is trying to "score points" by going after "his own kind" in an otherwise routine diplomatic episode that should have been disposed of without such media fanfare and forgotten about.
The Indian media has sharpened its knives on Bharara, who they note has prosecuted and convicted other high-profile Indians, including Rajat Gupta, a former director at Goldman Sachs, and Raj Rajaratnam, a billionaire hedge-fund manager, for insider trading, among other Indian defendants. "Is U.S. Attorney Preet Bharara using the Khobragade case for a political career?" wondered FirstPost of India. "There are whispers that Bharara jumped the gun because he is looking for trophy 'scalps' as a springboard to public office." Similarly, India Today explicitly asked: "Is Bharara targeting Indians?"
First Post also reported that many foreign diplomats bring their underpaid domestic servants to the U.S., but only Indians are being targeted for such practices. "Will Bharara lance more diplomats from India and other developing countries who can't afford to pay their help U.S. minimum wages?," FirstPost rhetorically asked. "Envoys say anything is possible as Bharara doesn't give a toss about diplomatic niceties or what India thinks."
Even the U.S. India Political Action Committee was upset by Devyani's arrest. "We are asking our members of Congress to investigate the arrest procedures of Ms. Khobragade," said Sanjay Puri, chairman of USINPAC. "The dignity and respect due to any diplomat is non-negotiable."
Bharara has defended his office's treatment of Khobragade. He told UPI last month that she was provided with courtesies "well beyond what other defendants, most of whom are American citizens, are accorded." He also sought to clear up other misconceptions about her arrest, which he claimed have made the episode more inflammatory than necessary. "She was not, as has been incorrectly reported, arrested in front of her children. The agents arrested her in the most discreet way possible, and unlike most defendants, she was not then handcuffed or restrained," said a statement from Bharara's office.
But Indian media are not satisfied. In an op-ed in First Post, columnist R. Jagannathan suggested Bharara is happily being used by U.S. authorities to victimize Indians. "The Americans practice sophisticated racism," he wrote. "Thus they will use a Preet Bharara to target Khobragade (or Rajat Gupta or Raj Rajaratnam) so that it looks like Indian-Americans are implementing the law, and hence not racist." Jagannathan further alleged that Bharara likely underestimated how India would react to his actions. "They thought there will be the usual diplomatic muttering under the breath and then business as usual." He bitterly added: "At the very least, we should target Preet Bharara for humiliating an Indian diplomat and make sure he never enters this country again."
Regardless of how Khobragade's case is ultimately resolved, diplomatic relations between the U.S. and India are likely to remain tense. For one thing, her indictment means that she cannot return to the U.S. without facing arrest (her husband and children are living in the States.) "It is this indictment -- and not the fact that, in the end, the U.S. gave her diplomatic immunity and allowed her to leave the country -- that will keep nerves raw and emotions high in Delhi for quite some time," said Michael Kugelman, senior program associate for South and Southeast Asia at the Woodrow Wilson International Center for Scholars, in an interview.
Kugelman conceded that there is certainly some reason for Indians to be outraged over the treatment of Khobragade. "It is very unusual for middle-class, well-educated Indian women like her to be treated the way she was," he said. "At the same time, many of the earlier rumors about her treatment -- such as that she was forced to undergo cavity searches --have been proven false. And some of India's countermeasures -- especially the decision to remove security barricades from the U.S. Embassy in Delhi -- do appear to represent an overreaction."
Jamie Chandler, a political scientist at Hunter College in New York, lamented that one of the more significant problems is that this incident has further soured the Indian public's opinion of the U.S. and this will help some Indian politicians create political hurdles to deepening U.S.-India relations.
With respect to Bharara, Kugelman said his vilification by Indian media and government has less to do with his ethnic origins and is driven more by "the perception in India that he has appeared arrogant and ego-driven throughout this whole affair."
© Copyright IBTimes 2023. All rights reserved.