Did Russia Help Donald Trump Win? Putin's Popularity Among Republicans Soars Despite 58% Americans Thinking Moscow Is US Enemy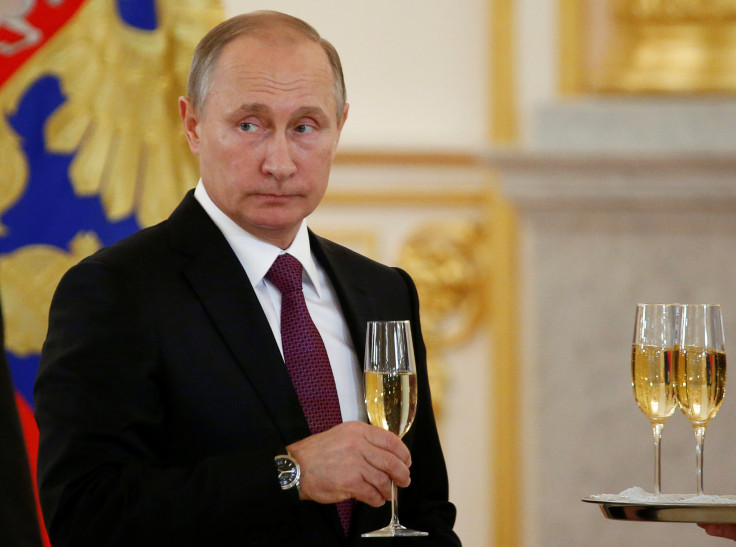 Russian President Vladimir Putin's net favorable rating among Republicans has risen by 56 percentage points, the results of a YouGov/Economist poll revealed Wednesday. The poll surveyed 1,465 U.S. adults between Dec. 10 and Dec. 13.
The poll revealed that 37 percent of Republicans had a very or somewhat favorable opinion of the Russian president while 47 percent had a very or somewhat unfavorable opinion of Putin. While still averaging on a negative overall, Putin's favorability among Republicans has jumped from -66 points in 2014 to -10 points in December 2016, YouGov US Elections Editor Will Jordan said.
Democrats, however, had a more negative view of Putin. In 2014, Putin's net favorability rating among Democrats stood at -54 points. In December 2016, his net favorability was at -62 points.
The poll found that 21 percent of Americans had a favorable opinion of Putin and 56 percent held an unfavorable opinion of the Russian president.
However, 58 percent of Americans believe Russia is an enemy to the U.S. That figure dips slightly when it comes to Republicans and people who voted for President-elect Donald Trump. Twenty-eight percent of Trump voters believe Russia is a U.S. ally and 31 percent of Republicans believe the same.
Meanwhile, 53 percent of Republicans have a favorable opinion of whistleblower website WikiLeaks, which published hacked emails from Democrat Hillary Clinton's campaign Chairman John Podesta's account. The account was allegedly compromised by Russian hackers.
However, only 25 percent of Democrats have a favorable opinion of Julian Assange's website.
Putin congratulated Trump on his November election victory and the two leaders agreed to reestablish relations between Moscow and Washington based on "principles of equality, mutual respect and non-interference in the internal affairs of each other."
The CIA released a report this week confirming Russian hackers influenced the U.S. election in an attempt to help Trump win. The real estate mogul dismissed the report as "ridiculous." However, President Barack Obama ordered an investigation into the matter with support from Democrats and some Republicans.
Sixty-eight percent of Americans believe Russia interfered in the 2016 race to help elect Trump while 25 percent believe the motive behind the hacks was to undermine confidence in the country's electoral system. However, only 34 percent of Republicans believe Russian hackers compromised email accounts to ensure a Trump victory.
Putin dismissed the allegations in October. "There is nothing in Russia's interest," he said. "The hysteria aims only to distract the attention of the American people from the substance of what hackers had put out. And the substance is the manipulation of public opinion."
"Does it really matter who did it?" he asked.
© Copyright IBTimes 2023. All rights reserved.