Digging Deep: Lonmin Struggles To Get South African Miners Back To Work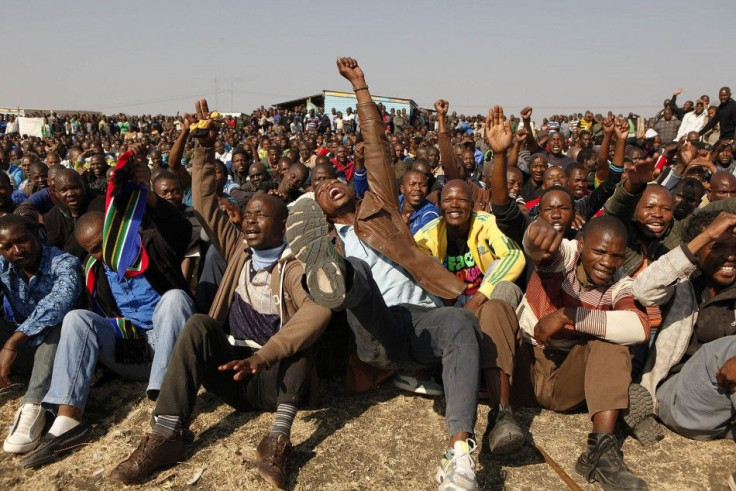 Lonmin PLC (London: LMI), the platinum producer whose Marikana mine in South Africa was the site of deadly protests during the past several weeks, is pushing for a return to business as usual after an operations shutdown caused by a wildcat strike and a period of national mourning.
Falling Fast
Marikana was temporarily shuttered after more than 3,000 rock drillers there went on strike. Demonstrators' clashes with South African security officials have resulted in 44 deaths, 34 of them in a single episode on Aug. 16 when police fired into a crowd of advancing strikers.
The incident drew international condemnation, harking back to the days of brutal oppression during the apartheid era and bringing the strikers' plight to the front pages of international newspapers.
But Lonmin is losing 15,000 ounces of production every week, according to South African news outlet Business Day Live, and it is unlikely to meet output goals for this year.
A company statement Friday called for a resumption of operations at the Marikana mine: "The company has always said, and maintains, that it will discuss the strikers' demands in the normal way, through their unions within the agreements which the company and all unions involved have signed up to, but that requires the unprotected action to end. It has never refused to consider their demands."
The company told Reuters that more than one-half of its 28,000 employees were present for their scheduled shifts on Saturday, but that still wasn't enough to resume operations.
What's Mine Is Yours
The miners are demanding wage increases, arguing that platinum revenue is enriching Lonmin and the government. Mining accounts for about 18 percent of South Africa's gross domestic product, according to the country's Chamber of Mines.
Meanwhile, many of the miners themselves live in dilapidated shantytowns surrounding their work sites. They feel entitled to a greater share of the profit from their difficult -- and often dangerous -- labors.
But the issue is complicated because South Africa's mining revenue has suffered in recent years due to a global recession, and major companies are loath to give more money to workers while profit is already on the decline.
The strikes also have a political element. The Lonmin workers' demonstrations were spearheaded by a group called the Association of Mineworkers and Construction Union, or AMCU. This group has challenged South Africa's more prominent miners' organization: the National Union of Mineworkers, or NUM.
The AMCU accuses the NUM of siding with the national government at the expense of the miners it claims to represent.
This conflict has intensified an emerging central conflict in South Africa. The popularly elected government, with its connections to major corporations such as Lonmin and unions such as the NUM, has paved the way for incredible economic growth and raised the standard of living for many.
But huge groups of citizens -- striking miners included -- feel this progress has passed them by. South Africa still has one of the world's biggest income gaps -- poverty is widespread and unemployment is about 25 percent.
Hitting Pay Dirt
In response to miners' pay demands, Lonmin clarified its stance on wages in its statement Friday: "[T]o ensure that Lonmin wages are market related, the company undertook research to assess the wage level in the industry. Based on these findings, Lonmin took a decision to implement a drilling allowance of R750 [750 South African rand, or $80] per month for the RDOs [rock drilling operators], a practice which occurs in the mining industry. This brings the RDO guaranteed wage to just shy of R10,000 [$1,192] per month and is in line with other industry participants. In addition, the RDOs can earn performance bonuses. The average bonus earned is R1,500 [$178], but some are in the order of R6,000 [$715]."
But the striking miners have called for a monthly wage of R12,500, or about $1,490.
South Africa's weeklong mourning period will end Monday. Lonmin's acting CEO, Simon Scott, who has taken the reins of the company while CEO Ian Farmer is absent due to medical issues, was sympathetic but firm.
"We are dealing with tragic and challenging issues, and will be for a long time to come," Scott said, according to Lonmin's statement. "But for the sake of the company, its many thousands of employees and the industry which supports them we need to find a sustainable peace accord which allows people to return to a working business. That we are committed to doing in the coming days."
© Copyright IBTimes 2023. All rights reserved.
FOLLOW MORE IBT NEWS ON THE BELOW CHANNELS