Does Doug Jones Have A Chance? Alabama Democrat Faces Close Election Battle With Roy Moore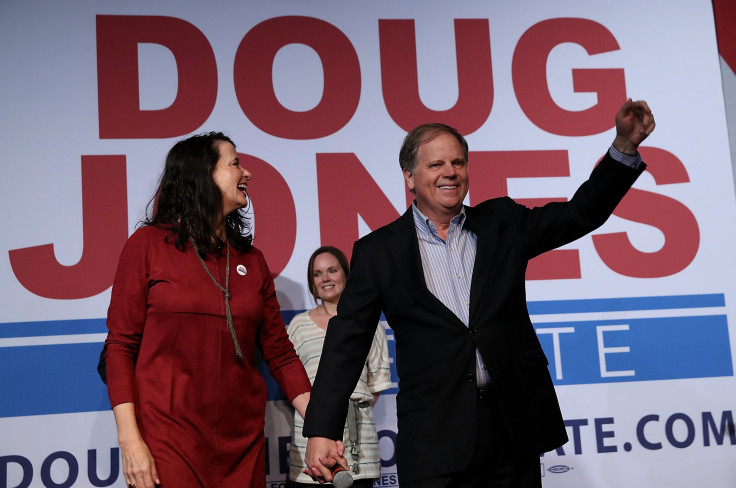 Ahead of Tuesday's special election for Alabama's U.S. Senate seat, Democrat Doug Jones received some positive news from a Fox News poll Monday that showed that he leads Republican Roy Moore, 50 percent to 40 percent.
But the election to fill the seat once held by Attorney General Jeff Sessions still appears to be a toss-up, as other recent polls show Moore with an advantage of up to 9 points. In 26 polls that date back to Sept. 9, Moore led in 17, Jones led in six and three were ties.
The election has drawn heightened media attention amid sexual misconduct allegations against Moore that include an accuser who claims she was assaulted by Moore in 1979 when she was 14 years old and when Moore was 32 years old. Tuesday's results are expected to be more about Moore than Jones, as the Democrat has struggled with name recognition while his opponent is so frequently a hot topic in local and national media.
Should Jones pull off a victory, he would arguably be the biggest underdog winner for a Senate candidate since Republican Scott Brown's 2010 Massachusetts special-election win over state Attorney General Martha Coakley for a seat Edward Kennedy had been occupied for decades.
Jones, 63, was born in Fairfield, Alabama, and graduated with a political science degree from the University of Alabama. He later graduated from law school at Samford University, located in a suburb of Birmingham, Alabama. Jones, a Methodist, is married with three children.
The longtime attorney is perhaps best known for successfully prosecuting two former members of the Ku Klux Klan in 2001 and 2002 for their roles in the 1963 bombing of an African American Baptist church that killed four girls and injured 22 people. He also helped prosecute Eric Rudolph, whose attack on a Birmingham abortion clinic resulted in the death of an off-duty police officer.
What makes Jones an interesting senate candidate is his lack of political experience, which he has used to rail against "career politicians" and how "Washington is broken." In an interview on NBC's "Meet the Press," Jones touted his "history of passion for equality, a passion for fairness."
Jones has attempted to appeal to conservative voters who would be willing to cross party lines and vote for a moderate. Many top Alabama publications have even endorsed Jones as a way of denouncing Moore.
Though Jones can expect some disenchanted right-leaning votes to go his way, a strong African-Americans turnout is considered crucial for his Senate hopes. But African-Americans only make up about 27 percent of the state's population, which presents a big challenge for Jones.
"If Doug Jones loses, it will not be because he didn't get enough African-American support," Artur Davis, a former Democratic congressman, told NBC News. "It will be because he did not get enough people of his own race, age and gender to vote for him."
Alabama is a solid red state with a Republican governor and Republican lawmakers outnumbering Democrats 26-7 in the State Senate and 70-33 in the State House. In the 2016 election, President Donald Trump defeated Democrat Hillary Clinton in Alabama by a 62.1-34.4 margin. Republican candidate Mitt Romney carried the state over Democrat Barack Obama in 2012, 60.6 to 38.4.
Turnout isn't expected to be particularly high for the Dec. 12 election, according to Alabama Secretary of State John Merrill.
"Our original projections had been up to 25 percent, and then because of some of the things that happened, and people being less inclined to be enthusiastic about the race, we had lower debt expectation. But now, it seems like the enthusiasm has returned and I expect that we're going to have 25 percent or higher," Merrill told NPR's Jeremy Hobson.
Should Jones prevail, he would be the first Democrat elected to the U.S. Senate from Alabama since Howell Heflin left office in 1997.
© Copyright IBTimes 2023. All rights reserved.