Dog Rescued From Rubble: Oklahoma Tornado Survivor Barbara Garcia Finds Missing Dog During Live Interview
A survivor of the massive tornado that struck Moore, Okla., on Monday, killing at least 24 people, according to the Associated Press, got a much needed piece of good news when she was unexpectedly reunited with her missing dog during a live interview. Barbara Garcia was being interviewed on-air by CBS News' Anna Werner about the destruction to her home, when someone off-camera noticed that the dog had been buried alive under rubble.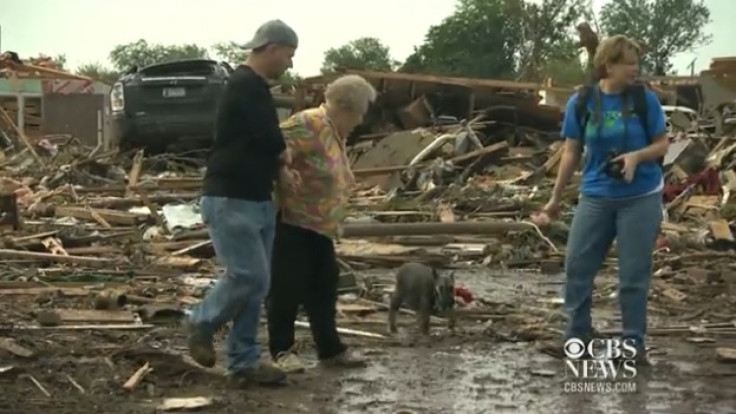 In a mournful interview, Garcia explained how she survived the tornado, which ripped apart the nearby Plaza Towers Elementary School, by hiding in her bathroom. "This was the game plan all through the years, to go in that little bathroom," Garcia said of the backup plan.
But her dog, she said, had not been as lucky. Garcia explained that she had been holding onto the animal when she went into the other room, but couldn't locate him after the tornado had passed.
"I hollered for my little dog. ... he didn't answer," she said. "So I know he's in here somewhere."
When Werner asked her what she thought of the devastation, Garcia replied, "This is life in the big city." But just moments afterward, a woman's voice off-camera proclaimed, "The dog, the dog! Hi, puppy!"
As Garcia turned around, the camera panned over to a large piece of metal debris underneath which the grey schnauzer could be seen trying to wriggle free. "Oh thank God. … Bless your little bitty heart," Garcia said, pulling the dog out from the wreckage and brushing debris off his coat. "I thought God just answered one prayer — to let me be OK — but he answered both of them, because this was my second prayer."
The dog, nicknamed "Toto" by media, appeared to have survived the tornado unscathed, and was later seen walking away from the wreck alongside Garcia. The initial death toll from the tornado was reported at 51 people, including 20 children, but according to the AP, the Oklahoma medical examiner's office has since revised that number to 24, seven of whom were children.
© Copyright IBTimes 2023. All rights reserved.