Dog 'Savages' Man, Puppy At Pet Store, Investigation Underway
In a horrific incident, a Staffordshire Bull Terrier "savaged" a man and a puppy in a Pets at Home store in Staffordshire, England. The attack took place on Saturday afternoon and eye-witnesses were left shaken by the attack.
"A man and puppy were savaged by a Staffie in Pets At Home. I'm not sure if he was the puppy's owner," a person who was at the store at the time told U.K.'s the Sun. "The store was very busy at the time. The counter blocked my view but plenty of other people saw it happen... Judging by the state of him, I think the man will have been taken to hospital."
Another customer, Bonnie Miles, said she was petting the dog moments before the attack occurred.
"I was at the till when it happened, thankfully I was on the other side. I do hope that puppy is ok - I thought about the pooch all night," Miles said in a Facebook post. "I never knew a man had gotten bitten too! I do hope he recovers quickly. I walked out because there was nothing I could do and to be honest I was shaking."
Paramedics arrived at the scene took the man to the Royal Stoke University Hospital for his injuries. The extent of both the man and puppy's injuries remain unknown.
Staffordshire Police told local media that they were aware of the incident that took place at Pets at Home store in Festival Heights.
"A man and puppy had reportedly been attacked by another dog in the store but we are yet to speak to the injured party so we can not release any further details at this time," authorities said Sunday, "The incident has been passed over to our neighborhood police team to investigate."
One eye-witness, named Ian Summerfield, said he saw the dog's owner tried to pull it away as it launched an attack on the man and the puppy.
"I was on other side of counter at time. Unpleasant incident - the man's arm was a mess," Summerfield said.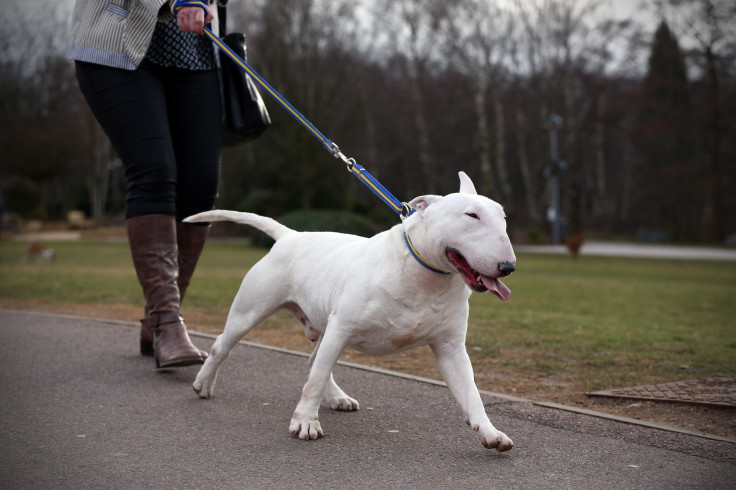 In November, a baby boy was attacked by his Staffordshire Bull Terrier at his family home in Yaxley, near Peterborough. The 1-month-old baby fought for life at Addenbrooke's Hospital in Cambridge following the attack.
"Two dogs, Staffordshire Bull Terriers, were taken from the property and are in police kennels," authorities said at the time.
U.K.'s Dangerous Dogs Act [1991] bans four breeds of dogs — Pit Bull Terrier, Japanese Tosa, Dogo Argentino and Fila Brasileiro — from being owned or bred.
© Copyright IBTimes 2023. All rights reserved.