Doksuri Philippines: 13 Dead, 20 Missing, 12 Injured, $1.1M In Agricultural Damages Reported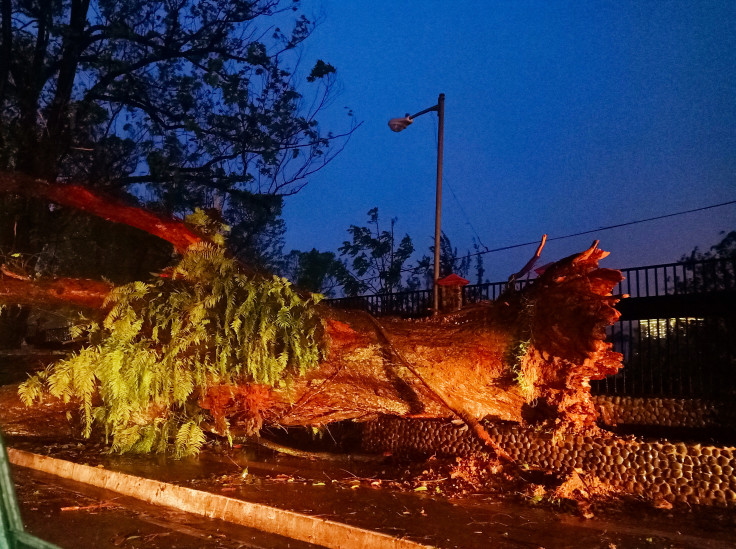 KEY POINTS
Doksuri has affected 502,782 people across 1,612 barangays as of Friday
The estimated damage and losses to the agricultural sector has so far reached $1.1 million
Dagupan City and Sanchez Mira have declared a state of calamity
As the Philippines braces for another storm, super typhoon Doksuri's rampage has left 13 people reported dead, millions worth of damages to the agricultural industry and some areas still without power a day after it left the Southeast Asian nation.
The Philippine Office of Civil Defense (OCD) said in a Friday report that 13 people were reported to have died in relation to Doksuri, locally called Egay. Nine (five validated) of the deceased were reported in the Cordillera Administrative Region (CAR).
Twelve people were reported to have been injured in four regions. A total of 17,008 individuals were pre-emptively evacuated in five regions across the country.
Of the 297 reported incidents in connection with Doksuri, 115 involved flooding while 13 had to do with tornadoes. There was one maritime incident, five incidents with fallen trees, one river overflow and 10 landslides. A total of 502,782 persons across 1,612 barangays were affected by the heavy rains and strong winds, as per the OCD.
As of Friday, 29,223 individuals have stayed in 479 evacuation centers across the country and 13,608 persons have left their homes to stay with their relatives or friends.
In seven regions, 400 houses were reported to have been damaged, 38 of which have been totally damaged as of Thursday. A total of 22 infrastructures were damaged in five regions with estimated costs of 1.7 million Philippine pesos (approximately $31,004).
In a late Thursday report, the Department of Agriculture (DA) estimated damages and losses to agricultural crops of corn, rice and livestock to have reached 62 million Philippine pesos (approximately $1.1 million). Corn plantations saw the biggest hit, making up for 32.6 million Philippine pesos (approximately $594,646) in damages and losses.
On Tuesday, Metrobank, the fourth-largest bank in the country said it was temporarily shutting down or shortening banking hours in some areas due to the typhoon. The following branches were still closed Friday: Balagtas-Bulacan, Bocaue-Bulacan, Marilao-Bulacan and Camiling-Tarlac.
As of Friday, 21 roads have remained closed due to Doksuri even as 25 roads have been cleared, the Department of Public Works and Highways (DPWH) said. The roads were closed due to soil collapse, damaged bridges, landslides, flooding and eroded carriageways. Most of the road closures as of Friday have been reported in CAR, the agency said.
In Baguio City, where 130 trees were either felled or damaged by Doksuri, response teams from various local agencies continue, the Baguio City Public Information Office (PIO) said Friday.
The Baguio PIO also noted that the power provider Beneco has restored power to 63.07% of its constituents as of Friday. Power has already been restored to 98 of the 129 barangays that saw a power cut due to the typhoon.
In Buguias, where four people died Wednesday due to a landslide, only 19.90% of constituents have seen power restored. Beneco said it has estimated electric cooperative damages of up to 5.1 million Philippine pesos (approximately $92,926) as of Friday.
In Dagupan City, Pangasinan, Mayor Belen T. Fernandez declared a state of calamity Friday. About 50% of the entire city's population and business sector needs emergency assistance, Fernandez said, adding that 191 houses have been partially damaged while 21 houses have been totally damaged.
In Cagayan, where Wind Signal No. 4 (category three hurricane) was hoisted Tuesday, the Cagayan PIO said in its latest update Friday that 1,542 houses were partially damaged while 83 houses were totally damaged. As of writing, a total of 43,222 individuals have been affected by Doksuri, but the agency said it continues to assess damages and impacts.
A state of calamity has been declared in the municipality of Sanchez Mira after Doksuri forced 423 individuals out of their homes.
Authorities are still searching for four rescuers with the Philippine Coast Guard (PCG) Cagayan who went missing Tuesday while responding to seven stranded residents in Aparri, Cagayan. Sixteen other people are missing, as per the OCD.
Meanwhile, the Philippine Atmospheric, Geophysical and Astronomical Services Administration (Pagasa) said it has been monitoring Tropical Storm Khanun, which is expected to enter the Philippine Area of Responsibility (PAR) sometime late Saturday or early Sunday morning. Once inside PAR, Khanun will be given the domestic name Falcon. It is expected to increase strength within the next five days and reach peak intensity by late Monday or early Tuesday.
© Copyright IBTimes 2023. All rights reserved.