Donald Trump Cabinet And Islamophobia: President-Elect's Picks And Their Comments On Islam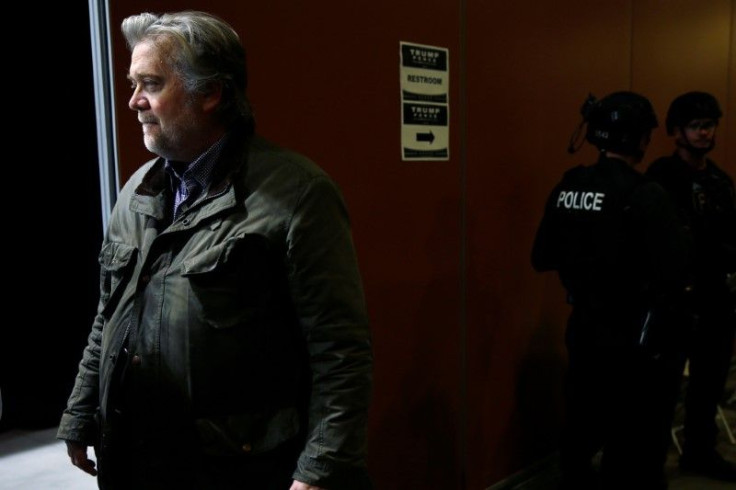 Donald Trump is slowly starting to fill out his important cabinet positions ahead of his inauguration on Jan. 20.
And like the President-elect himself, many have a past littered with controversial comments. In particular, those in the frame are unlikely to assuage the fears of the Muslim community, already on edge by Trump's rhetoric during the election campaign. In the days since Trump defeated Hillary Clinton last week, a spike in anti-Muslim crimes has been reported.
Steven Bannon, Michael Flynn, Jeff Session and Mike Pompeo have expressed views that can be considered extreme.
Steve Bannon – Chief Strategist (Confirmed)
Trump's appointment of the former chief of alt-right website Breitbart News earlier this week has already provoked a flurry of protests. On the subject of Islam, Bannon has been particularly outspoken, both directly and through Breitbart.
In the transcript of a 2014 speech, published this week by Buzzfeed, Bannon said: "We're now, I believe, at the beginning stages of a global war against Islamic fascism."
Meanwhile, under Bannon's helm, Breitbart published a story that claimed "The Muslim rape culture" is "integral to Islam." In addition, he has praised Pamela Geller, who the Southern Poverty Law Center calls "probably the best known — and the most unhinged — anti-Muslim ideologue in the United States," as "one of the top world experts in radical Islam and Shariah law."
Bannon also endorsed Paul Nehlen, who during his primary challenge to House Speaker Paul Ryan this year suggested deporting all Muslims from the United States.
Michael Flynn – National Security Advisor (Offered)
Although not a cabinet position, the national security advisor has a pivotal role in shaping military and foreign policy. As a retired army lieutenant general and a loyal supporter to Trump during his campaign, he is expected to have significant influence.
Flynn was also the former director of the Defense Intelligence Agency. But he left his post in 2014 before becoming a sharp critic of President Barack Obama's administration and particularly it's handling of "radical Islamic terrorism" and what he believes is the hindrance of "political correctness."
Flynn has said that "Islam is a political ideology based on a religion," and even said it was like "cancer."
In a tweet earlier this year, he wrote that "fear of Muslims is rational."
Jeff Sessions – Attorney General (Reported)
The four-term Alabama senator looks set to become the top law enforcement official in the Trump administration. An early supporter of Trump during his campaign, Sessions helped Trump craft his immigration policy and steadfastly supported his call for a temporary ban on Muslims entering the country.
"It cannot be the policy of the United States that millions of foreign nationals are able to demand permanent entry into this country as refugees or asylees, particularly when our law enforcement and intelligence communities cannot adequately screen these individuals for security risks," he said in March. "There must be limits."
In 2013, Sessions wrote a letter to the National Endowment for the Humanities questioning its grant process. He focused on a project called "Bridging Cultures Bookshelf: Muslim Journeys," and queried whether the NEH was taking a "fair and balanced approach to promoting culture," asking for an itemized list of all spending related to Christianity and Judaism.
Mike Pompeo – CIA Director (Reported)
Trump's pick to head the Central Intelligence Agency has a long history of anti-Islamic comments. Speaking on the House floor two months after the Boston Marathon bombing in 2013, the Republican congressman from Kansas suggested that Muslim leaders in the U.S. bore some responsibility for such terrorist attacks.
"Instead of responding, silence has made these Islamic leaders across America potentially complicit in these acts, and more importantly still, in those that may well follow," he said.
In 2015, Pompeo went on a radio show with noted Islamophobe Frank Gaffney and appeared to agree with his suggestion that Obama has a "kind of an affinity" for the cause of violent Islamic extremists.
"Every place you stare at the president's policies you see what you just described," Pompeo replied.
On the same show, he suggested that there was a danger of Congress being infiltrated by radical Islam.
"I'm always concerned when there's risk—counterintelligence risk, risk of influence that could take place. So we all as members of Congress, who have a constitutional obligation, have a duty to make sure that we all live to that standard."
© Copyright IBTimes 2023. All rights reserved.