Is Donald Trump Doing A Super Bowl Interview Before Patriots vs. Eagles?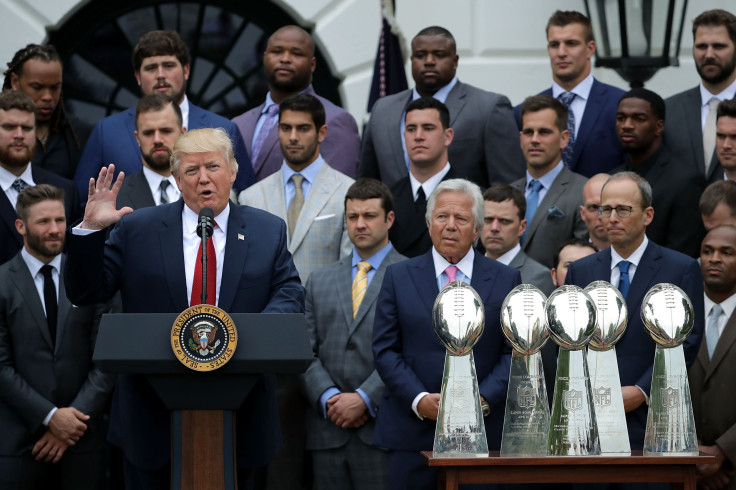 Donald Trump won't participate in an interview before Super Bowl 2018 between the New England Patriots and Philadelphia Eagles. It's the first time in several years that the President of the United States will not be interviewed on national television on Super Bowl Sunday.
A White House official told CNN Wednesday that President Trump turned down an interview request by NBC, who is broadcasting the big game. CNN has reported that NBC would still speak with Trump if he changes his mind.
Trump did accept an invitation to be interviewed during his first year in office. He sat down with Bill O'Reilly last year when FOX broadcasted the Super Bowl. That interview might be best known for Trump's comments about Russian President Vladimir Putin.
"There are a lot of killers," Trump replied when O'Reilly called Putin a "killer." "We've got a lot of killers. What, do you think our country's so innocent?"
It doesn't come as much of a surprise that Trump has decided not to be interviewed during his second year in office. He's often criticized NBC for reporting "fake news."
Trump hasn't been averse to doing any interviews on NBC's other networks. He sat down with CNBC's Joe Kernen just a week ago.
George W. Bush was interviewed on Super Bowl Sunday during his time in office, sitting down with CBS' Jim Nance in 2004. Barack Obama made it a yearly tradition, starting in 2009.
The Super Bowl is always the most-watched television event of the year, and Sunday's game will be no different. Well over 100 million Americans are expected to tune into the contest as Tom Brady tries to win a record-setting sixth Super Bowl ring.
The Super Bowl pregame show benefits from those ratings, and that includes the yearly interview with the President. FOX's interview with Trump prior to the 2017 Super Bowl between the New England Patriots and Atlanta Falcons drew an average of 12.2 million viewers.
Obama's last Super Bowl interview was seen by an average audience of 17.3 million viewers. When NBC's Matt Lauer first interviewed Obama in 2009, 21.9 million people tuned in.
© Copyright IBTimes 2023. All rights reserved.