Donald Trump Foreign Policy: 10 President Quotes On Allies, Enemies And Feuds With Foreign Leaders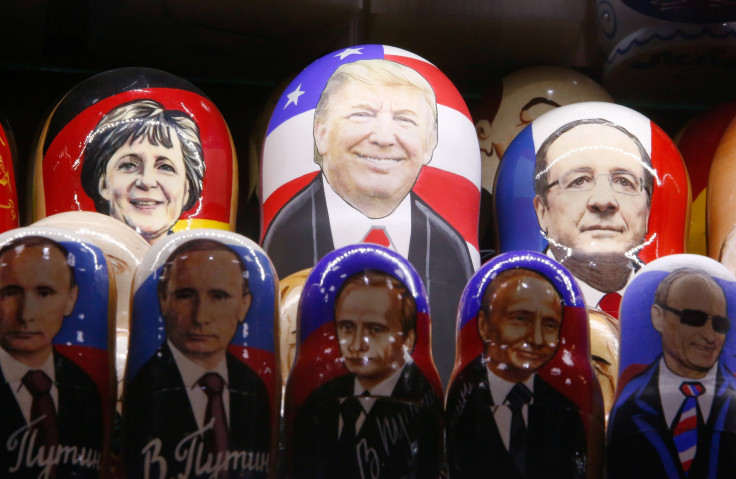 President-elect Donald Trump began his swearing-in ceremony Friday in Washington as not only the nation, but the world watched as the Republican billionaire businessman became the 45th president of the United States.
Trump's rise to political fame, bolstered by the success of his real estate empire and establishment in elite circles of pop-culture, has been characterized by his bombastic personality and unpredictability. His surprise election, which defied exit-poll predictions and the expectations of many leaders around the world also comes as a shock to the international community. Trump has not only expressed opposition toward the policies of predecessor Barack Obama, but has voiced views that at times defied the bipartisan tradition of U.S. policy.
With Friday's inauguration, Trump officially becomes a political equal to the heads of state who weighed in on his candidacy, and in many cases, to whom he responded. International Business Times gathered some of the more memorable remarks Trump has shared concerning foreign leaders up to his inauguration.
President Barack Obama
"President Obama will go down as perhaps the worst president in the history of the United States!" Trump tweeted in August as he escalated his presidential campaign against his rival and Obama's political ally Hillary Clinton.
German Chancellor Angela Merkel
"What Merkel did to Germany is a shame, it's a sad, sad shame," Trump said in March 2016, regarding Merkel's open-door policy to Syrian refugees.
Pope Francis
"If and when the Vatican is attacked by Isis, which as everyone knows is Isis's ultimate trophy, the pope can have only wished and prayed that Donald Trump would have been president because this would not have happened," Trump said in a February speech, responding to the pontiff's criticism of Trump's strict border policies.
Russian President Vladimir Putin
"Well, if Putin likes Donald Trump, I consider that an asset, not a liability," Trump said during his first post-election press conference last week. The remark was the latest praise shared between the two leaders, whose relationship has been the subject of controversy.
Syrian President Bashar Assad
"He's just much tougher and much smarter than her [Hillary Clinton] and Obama. And everyone thought he was gone two years ago, three years ago. He aligned with Russia, he now also aligned with Iran, who we made very powerful," Trump said in October about Damascus' strongman who the Obama administration opposed throughout Syria's ongoing nearly six-year civil war.
Japanese Prime Minister Shinzo Abe
"It was a pleasure to have Prime Minister Shinzo Abe stop by my home and begin a great friendship," Trump wrote on Facebook in November after a post-election meeting with Abe in Washington.
Saudi Arabian Prince Alwaleed Bin Talal
"@Alwaleed_Talal wants to control our U.S. politicians with daddy's money. Can't do it when I get elected," Trump tweeted in December 2015, tagging the Saudi billionaire royal. The two business magnates feuded over remarks made by Trump on the campaign trail.
Israeli Prime Minister Benjamin Netanyahu
"I have known him for many years and we'll be able to work closely together to help bring stability and peace to Israel and to the entire region," Trump said in his address to the influential American Israeli Political Affairs Committee in March.
Former Iraqi President Saddam Hussein
"He was a bad guy - really bad guy. But you know what? He did well? He killed terrorists. He did that so good. They didn't read them the rights. They didn't talk. They were terrorists. Over. Today, Iraq is Harvard for terrorism," Trump said at a Tennessee rally in July.
General Qassem Suleimani of Iran's Quds Force, Hezbollah Secretary General Hassan Nasrallah, Al Qaeda leader Ayman al-Zawahiri, Nusra Front leader Abu Mohammad al-Julani and Islamic State leader Abu Bakr al-Baghdadi.
"Of course I don't know them. I've never met them. I haven't been, you know, in a position to meet them. If they're still there, which is unlikely in many cases, but if they're still there, I will know them better than I know you," Trump said during an interview with conservative talk radio host Hugh Hewitt in September 2015 when the president was apparently unable to identify the militant leaders.
© Copyright IBTimes 2023. All rights reserved.
FOLLOW MORE IBT NEWS ON THE BELOW CHANNELS