Did Putin Help Trump Win? A Timeline Of Barack Obama's Relationship With Russia And The 'New Cold War'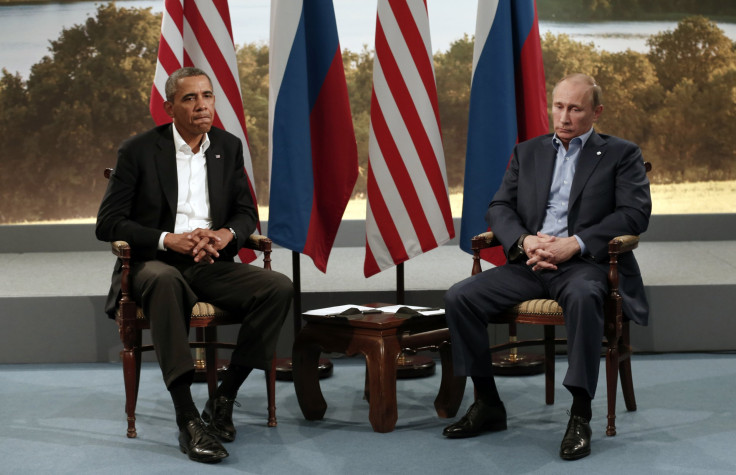 President Barack Obama first met Russian President Vladimir Putin in July 2009 at Putin's Dacha, or country home, outside of Moscow, and in spite of the tensions between the two leaders, the men spoke optimistically of a new relationship between their countries.
Obama told Putin, who was then serving as prime minister under his handpicked presidential successor Dmitry Medvedev, that he was aware of "the extraordinary work that you've done on behalf of the Russian people," and that "We think there's an excellent opportunity to put U.S.-Russian relations on a much stronger footing." Putin responded to Obama that, "With you we link all our hopes for the furtherance of relations between our two countries."
Eight years later, those hopes have been dashed. Obama extended sanctions against Russia after its invasion of Ukraine and recently expelled Russian diplomats after U.S. intelligence credited Putin with ordering hackers to interfere with the recent presidential election. A military buildup is under way in Eastern Europe, leading many experts in both Russia and the U.S. to fret about a new Cold War.
"By whatever name, we're closer to war with Russia today than we have been since the Cuban Missile Crisis in 1962," Stephen F. Cohen, a professor of Russian Studies and Politics at New York University, said during a forum at the Council on Foreign Relations in October.
As Obama prepares to turn the presidency over to Donald Trump Friday, here's a look back at how the relationship between Obama and Putin brought the U.S.-Russia relations to its frostiest point since the end of the Cold War.
2009: The "Reset"
After winning the presidency in 2008, Obama made Russia a priority. At the end of the Bush administration, U.S.-Russian relations were in another chilly period following Russian military action in Georgia. After taking office, Obama said that Putin was a man with "one foot stuck in the past," and praised Medvedev for being forward thinking. Still, Obama wanted to work with Russia on nuclear disarmament and securing of nuclear materials, calling for a "reset" of the relationship. Hillary Clinton, then serving as secretary of state, actually delivered a physical "reset button" to Russian Foreign Minister Sergei Lavrov during a March 2009 meeting in Geneva.
Given the current state of the U.S.-Russia relationship, it may seem like the reset was ultimately a failure. But that's not the case, said Robert Legvold, a Russia expert and professor at Columbia University in New York City. Legvold said the reset had four goals, which included securing a continuation of the START nuclear arms reduction treaty, getting help from Russia on Iranian sanctions, securing cooperation with Russia on creating a northern route to bring weapons into Afghanistan and creating an international conference on securing nuclear materials.
"Retrospectively the reset is being treated as a failure," Legvold told the International Business Times. "Those goals were delayed, but they were achieved. With a little luck, and maybe a little more of an effort, they could have built on it."
2012: The Return of Putin
After a serving as prime minister under Medvedev for four years, Putin returned to the Russian presidency in 2012, an office he had previously held from 2000 to 2008. Putin won the 2012 election by a large margin, but international observers said he benefited from "lavish government spending on his behalf" and "no real competition," the New York Times reported. The Obama administration remained mostly quiet about the election results.
Putin's victory followed civil unrest and demonstrations that broke out after 2011 parliamentary elections. Putin's party lost seats in parliament, but disputed results prompted Clinton to call for investigations into reports of voter fraud and intimidation, a move which angered Putin. The Guardian called the protests "the biggest challenge to Vladimir Putin's rule."
Putin blamed the unrest on outside forces, including the U.S. government, trying to weaken Russia. "We have shown that nobody can impose anything on us," he said during his victory speech.
In the early months of his presidency, Putin showed that his nationalist rhetoric would be backed by action. The Russian parliament passed the "Foreign Agents Law" a few months later, which required all NGOs to register with the government as "foreign agents" if they received any foreign funding. This led to a crackdown of foreign groups, including election monitors. The U.S. Agency for International Development (USAID) was forced out of the country. Also in 2012, Russia enacted a ban on the adoption of Russian babies by foreign parents and Kremlin critic Alexander Perepilichny died under mysterious circumstances while in exile in London.
That same year, Obama belittled Mitt Romney during a presidential debate for suggesting Russia was the U.S.' biggest foe. "The 1980s are now calling to ask for their foreign policy back because the Cold War's been over for 20 years," Obama said.
2013: Edward Snowden
With the war in Syria raging, Obama was scheduled to meet with Putin in Moscow ahead of the G-20 summit in St. Petersburg in September 2013. But the meeting was canceled due to what the White House called "not enough recent progress in our bilateral agenda." The cancelation was widely attributed to Putin's decision to grant asylum to NSA leaker Edward Snowden that summer. Obama personally called Putin to discuss Snowden but Russia declined to hand the former NSA contractor over to U.S. authorities.
"How do I feel about Obama after Snowden's revelations?" Putin asked after he granted Snowden asylum. "I envy him because he can do this without incurring any consequences."
2014: Crimea and Sanctions
In early 2014, Ukrainian president Viktor Yanukovych was ousted from power, which led to fighting between pro-Russian separatists and Ukrainian forces. Russian forces entered Crimea, a Ukrainian territory on the Black Sea, and seized government buildings, including the Crimean Parliament, dissolving the government and installing a pro-Russian prime minister.
The new government then voted to join the Russian Federation. The annexation of Crimea by Russia brought about international condemnation. In March, Obama signed executive orders imposing sanctions on "individuals and entities responsible for violating the sovereignty and territorial integrity of Ukraine." In retaliation, Russia banned the importation of certain foods from Western countries.
2015: Iran Nuclear Deal
In the summer of 2015, Iran, China, France, Germany, Russia, the U.K. and the U.S. reached a deal to prevent Iran from building a nuclear weapon in exchange for the easing of sanctions. Obama called Putin after the deal was reached to thank him.
"The president thanked President Putin for Russia's important role in achieving this milestone, the culmination of nearly 20 months of intense negotiations," the White House said in a statement.
This deal was the highlight of the Obama administration's dealings with Russia, said Jennifer Harris, a senior fellow at the Council on Foreign Relations.
"The singular goal of U.S. foreign policy for many years was halting Iran's nuclear program," Harris told IBTimes. "So achieving Russian cooperation in that was probably the highlight [of the Obama administration], if you're measuring the effectiveness of the bilateral relationship."
2016 to 2017: Election Hacking
The relationship between the two countries reached its post-Cold War nadir following assessments by U.S. intelligence agencies that Putin deployed hackers to influence the U.S. presidential election. Obama made 35 Russian diplomats leave the country, closed two Russian compounds and issued sanctions against Russian individuals and entities in retaliation.
"These actions follow repeated private and public warnings that we have issued to the Russian government," Obama said in a statement.
While Obama and Putin continue to spar publicly about the role of the Russia in the election, the U.S. has moved troops into Poland, a NATO ally, in the largest U.S. military buildup in Europe in decades. The Kremlin called the move "a threat."
"These actions threaten our interests, our security," Putin's spokesman said.
As Trump moves into the White House Friday, a new chapter will begin in the relationship between U.S. and Russia. Trump has been noticeably friendlier in his tone toward Russia, even going so far as calling Putin a stronger leader than Obama. Like Obama before him, Trump will seek his own "reset" of relations between the two countries.
FOR FREE to continue reading
✔️ Unlock the full content of International Business Times UK for free
offer available for a limited time only
✔️ Easily manage your Newsletters subscriptions and save your favourite articles
✔️ No payment method required
Already have an account?
Log in
© Copyright IBTimes 2023. All rights reserved.