Donald Trump Invited For Canelo Alvarez vs. Rocky Fielding Fight
Streaming service DAZN is inviting President Donald Trump and incoming Mexican President Andrés Manuel López Obrador to attend the super middleweight title fight between Canelo Alvarez and Rocky Fielding on Dec. 15 at Madison Square Garden, New York City.
Following his controversial unanimous decision win over Gennady Golovkin in their September rematch to become the unified middleweight champion, Alvarez will be moving up to 168 pounds to challenge Fielding for his World Boxing Association super middleweight title.
The fight will be streamed on DAZN in what will be the Mexican superstar's first fight since signing a record-breaking 5-year, 11-fight, $365 million deal with the service in October.
And to further boost interest in the contest, DAZN will be running an ad Friday in USA Today in the United States and in La Reforma in Mexico, according to Darren Rovell, offering the two presidents ringside seats to the event.
"There's a new President in Mexico and in time, you'll welcome him to our nation's capital," the ad read, addressing Trump. "We have a better idea. A chance for you to host President López Obrador at one of your country's greatest buildings in front of one of his country's national heroes."
"No sitting president has ever attended a prize fight. You would be the first. Let's make some history on December 15," the ad concluded.
DAZN's ad also has political overtones, given Trump's comments about Mexican immigrants and his plan of building a wall along the border. When it was rumored he would attend Alvarez's fight with Amir Khan in May 2016 during his campaign, the former notably revealed he wasn't too happy with comments made about his countrymen.
"I don't like to get into political issues like that, but what I can say is, it hurts and offends," Alvarez said. "I want him to understand and for people to know that when I'm out there running, I see a lot of countrymen working hard, working in the fields."
"Not everybody's coming here to rob and steal, and of course that hurts. But we want to come show him that us Mexicans and a lot of the immigrants, we come here to succeed and be victorious."
It's not the first time Trump been invited to a combat sports event since he became president. UFC president Dana White invited the 72-year-old to many marquee events over the past two years, the most recent one being UFC 229 in October that featured Khabib Nurmagomedov's lightweight title fight with Conor McGregor in the main event. However, Trump has not attended any major combat sports event since he entered the Oval Office.
Trump has also hosted various boxing events in the past at his Atlantic City property and being a big fan of the sport, has attended many fights in recent years. However, it seems unlikely he will take up any such offer, mainly due to security concerns.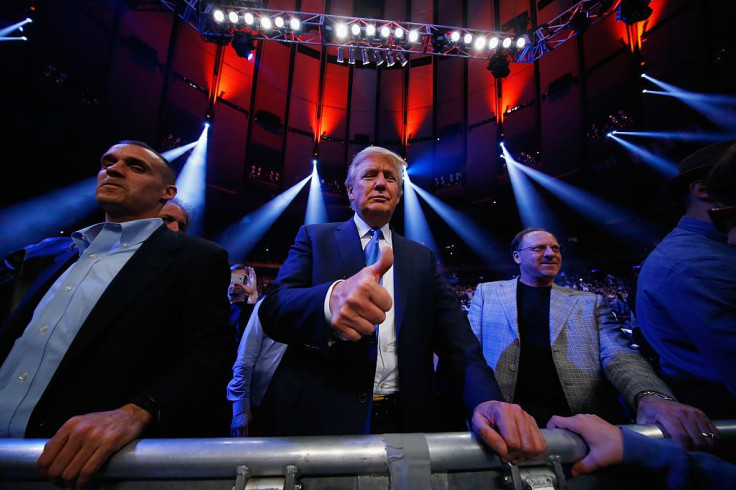 © Copyright IBTimes 2023. All rights reserved.