Donald Trump Racism Timeline: Breaking Down Presidential Candidate's Past Comments On Black People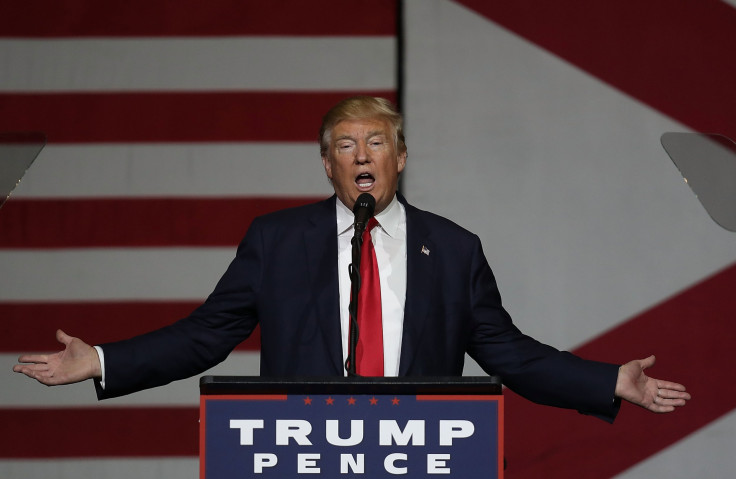 While speaking at his latest rally in West Palm Beach, Florida, on Thursday, Republican presidential nominee Donald Trump repeated his question and plea to black voters: "What do you have to lose?" Also asking the same of Latino voters, it was the latest attempt by Trump to assuage minority groups that polls indicate are heavily against him.
Specifically, in the case of black voters, it seems highly unlikely Trump can cut into Democratic opponent Hillary Clinton's substantial lead in support given the number of times both in the past and during the campaign that the billionaire businessman's been accused of overt or subverted racism.
Here's a timeline of the times Trump's comments have led to accusations of racism against blacks.
1973 DOJ Lawsuit
While running his father's Trump Organization, according to numerous reports, the Department of Justice brought suit against the company alleging it used a secret code on apartment applications in order to discriminate against black tenants. A building superintendent claimed the code letter "C" stood for "colored" would be put on a piece of paper separate from the application but included in the paperwork so as to root out potential black residents, according to The Daily Beast. Trump and his family denied the claim and filed a $100 million countersuit.
1991 Former Trump Exec Cries Racism
John R. O'Donnell, who was president of the Trump Plaza Hotel & Casino for a year, wrote in his book "Trumped!" that the GOP nominee repeatedly described blacks in a poor light.
One quote from the book in reference to a former financial executive, who was black, read: "And isn't it funny. I've got black accountants at Trump Castle and Trump Plaza. Black guys counting my money! I hate it. The only kind of people I want counting my money are short guys that wear yarmulkes every day. ... I think the guy is lazy. And it's probably not his fault because laziness is a trait in blacks. It really is, I believe that. It's not anything they can control."
O'Donnell also quoted Trump about another black employee.
"I think the guy is lazy," Trump allegedly said. "And it's probably not his fault because laziness is a trait in blacks. It really is, I believe that. It's not anything they can control."
1992 Trump's Casinos
The New Jersey Casino Control Commission reportedly fined the Trump Plaza Hotel and Casino in Atlantic City, $200,000 for replacing black and women card dealers at other tables upon the request of a mobster, according to Yahoo.
2011 Obama "Birther" Accusations
Trump famously led the so-called "birther movement," which firmly believed that President Barack Obama was born in the African nation of Kenya and not in the U.S. state of Hawaii, thus making him ineligible to be president. Many have felt Trump championed the movement because Obama is the first black president.
Obama eventually did release his birth certificate after Trump repeatedly asked the president to present it to disprove theories that it was inauthentic. In a stunning and somewhat unexpected move, Trump said at an event in Washington last month: "President Barack Obama was born in the United States. Period." However, in a Washington Post interview one day before backing away from his original stance, Trump said he still wasn't prepared to acknowledge Obama's birthplace.
2015 Black Protester Beaten At Alabama Rally
Last year, supporters at a Birmingham rally violently attacked a man who started chanting "Black Lives Matter" during Trump's speech. He was punched and kicked before being removed from the building.
The next day Trump was quoted saying about the incident: "Maybe [the protester] should have been roughed up," he mused. "It was absolutely disgusting what he was doing."
2016 David Duke, White Supremacist Support
Trump hasn't been accused of aligning himself with white supremacists or their leaders like former KKK grand wizard David Duke, but he did face criticism for taking too long to distance himself from Duke's support earlier this year.
In February, Duke said on his radio show that while he wasn't issuing an official endorsement, he did say that voting for anyone other than Trump was "treason to your heritage." Trump appeared on CNN on Feb. 28 after those comments and was asked several times about Duke, to which Trump disavowed any knowledge of Duke or white supremacy groups. One day later, Trump said he didn't answer the questions because of a faulty earpiece and later disavowed Duke.
2016 Former Apprentice Contestant
Kwame Jackson, who was runner-up on the first season of Trump's reality show "The Apprentice" in 2004, told Salon.com on Tuesday that while he didn't witness any instance of racism on Trump's part during the show, over the course of his 10-year relationship with Trump he's come to believe he is a racist.
"I have no interest in supporting someone who I think is, at his core, racist," Jackson said. "I was one of the first people to say 'racist.' Before, people were flirting with the idea, [saying] 'Oh he has racist tendencies' or 'Maybe he is echoing racism,' and I was like: No, actually he is a racist!"
FOR FREE to continue reading
✔️ Unlock the full content of International Business Times UK for free
offer available for a limited time only
✔️ Easily manage your Newsletters subscriptions and save your favourite articles
✔️ No payment method required
Already have an account?
Log in
© Copyright IBTimes 2023. All rights reserved.