Donald Trump Says Waterboarding Is OK; Marco Rubio Calls Paris Attacks 'Positive Development' [VIDEO]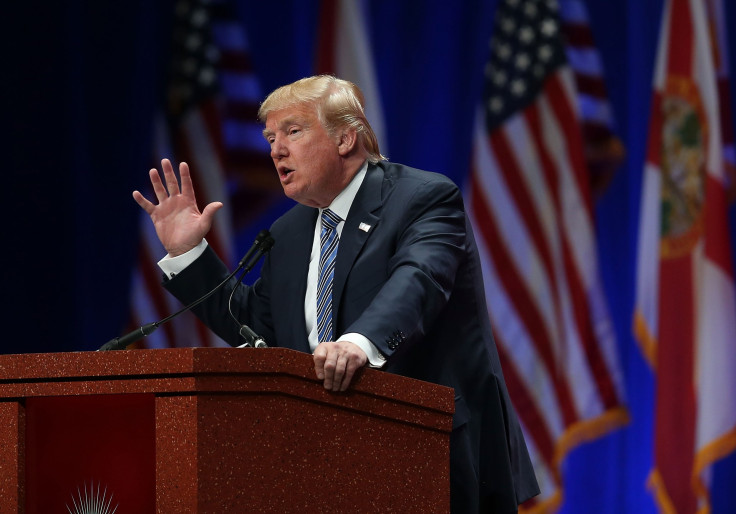 Republican presidential hopeful Donald Trump Sunday said "strong interrogation techniques," including waterboarding, should be brought back to fight the Islamic State group and added if the victims of last week's deadly attacks in Paris had guns, "very few people" would have died.
Former Defense Secretary Chuck Hagel told CNN's "State of the Union" there are no simple solutions to the terror threat, and Republican presidential candidate Sen. Marco Rubio, R-Fla., called last week's deadly attacks in Paris a "positive development" in an interview on "Fox News Sunday."
"Waterboarding is peanuts compared to what they do to us," Trump said on ABC's "This Week," citing reports of jihadis putting people in cages and then submerging them. "We need to bring back strong interrogation."
Trump's rival, retired neurosurgeon Ben Carson declined on "This Week" to back the idea of waterboarding, saying he's "not big on telling them [the terrorists] what we would do or not do," but he agrees "there's no such thing as political correctness when you're fighting an enemy who wants to destroy everything in which you believe."
Hagel said a number of the presidential candidates are taking too simplistic an approach to dealing with the Islamic State group. "There are no easy, simple solutions. There are none," he said. The world needs to develop a plan that clearly defines a political strategy along with a military strategy if the terrorist group is to be defeated.
"I think it's pretty clear ISIS presents the real threat to our country, to the world," he said, acknowledging at the same time the U.S. cannot abandon the goal of replacing Bashar Assad as Syria's president, whom he described as "a very bad guy."
"We need to build a platform of stability," Hagel said. "We can't keep playing a proxy war game."
Rubio said while he's "not happy" about last week's terror attacks in Paris, they are a "positive development" because Americans will be forced to focus more on national security.
When Trump was asked if he would adopt measures to limit the ability of those on the U.S. terror watch list to buy guns and explosives as they are under current law, the real estate mogul trumpeted his support of the Second Amendment. He then said if "those people in Paris had guns, there would have been a shootout, and…very few people would have been hurt. The terrorists would have been hurt."
Trump insisted he saw people cheering in New Jersey as the World Trade Center towers collapsed in the 9/11 attacks, despite police agencies saying that never happened. "There were people who were cheering as those buildings came down," Trump said, saying he witnessed it.
Trump denied he wants to close mosques throughout the United States. He said instead authorities should ramp up surveillance. "There are people in those mosques who aren't involved, but they know the bad ones, they know the good ones, but they won't talk," Trump said.
Carson appeared to agree, saying the U.S. needs to gather better intelligence and fix the errors on the terror watch list.
© Copyright IBTimes 2023. All rights reserved.