Republican Debate 2016: Is Marco Rubio A True Conservative? Rand Paul Takes Shot At Rising Star On Values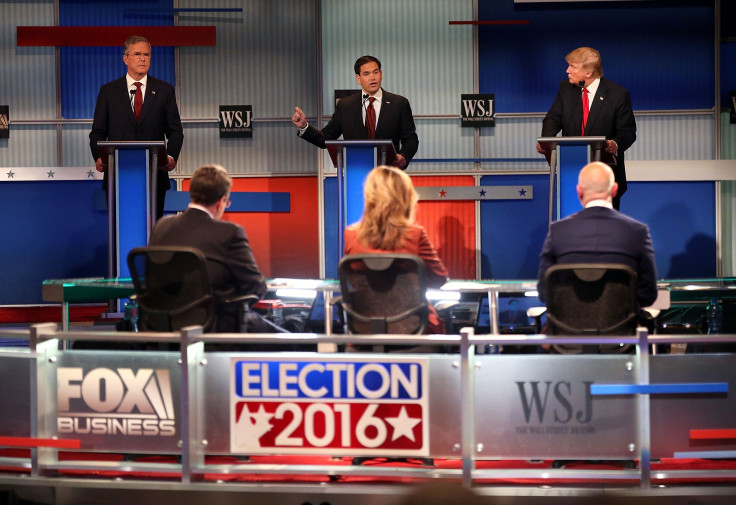 Kentucky Sen. Rand Paul dueled with Florida Sen. Marco Rubio over the intersection of military spending and conservative values in one of the most heated exchanges of the Fox Business Network debate Tuesday.
"I know the world is a safer and better place when America is the strongest military power in the world," Rubio said.
Paul jumped in, saying that Rubio's economic plan was not truly conservative since it adds a major childcare tax credit and increases military spending. "Can you be a conservative and be liberal in military spending?" Paul asked.
Sen. Paul said he wanted a strong defense but that excessive spending was not the way to strengthen the country.
"Rubio zings Paul right back, accusing him of being an isolationist, then goes on to talk about the importance of American defense," wrote The Atlantic's David Graham. "It's just like with Bush in the last debate: It doesn't matter how well his opponents have prepared, Rubio is really good at turning their questions around and making them into big wins for himself."
In past debates, Rubio has received higher marks from pundits than retired neurosurgeon Ben Carson and businessman Donald Trump, both of whom lead him in the polls. His poll numbers are on the rise, but they have not been able to surpass the two "Washington outsiders."
Rubio and Paul were joined onstage Tuesday by Hewlett-Packard CEO Carly Fiorina, former Florida Gov. Jeb Bush, U.S. Sen. Ted Cruz of Texas, businessman Donald Trump, retired neurosurgeon Ben Carson and Ohio Gov. John Kasich.
The four most recent major polls conducted before the Nov. 4 cutoff determined where candidates were positioned on the stage. The polls considered were from Fox News, Quinnipiac, NBC/Wall Street Journal and CBS/New York Times.
Marco Rubio Presidential Candidate Profile | InsideGov
The top-tier GOP debate was broadcast on Fox Business Network at 9 p.m. EST from the Milwaukee Theater in Wisconsin. Gerard Baker, Neil Cavuto and Maria Bartiromo moderated the primetime event.
© Copyright IBTimes 2023. All rights reserved.