Donald Trump Vs Sarah Palin -- Republican Presidential Candidates 2012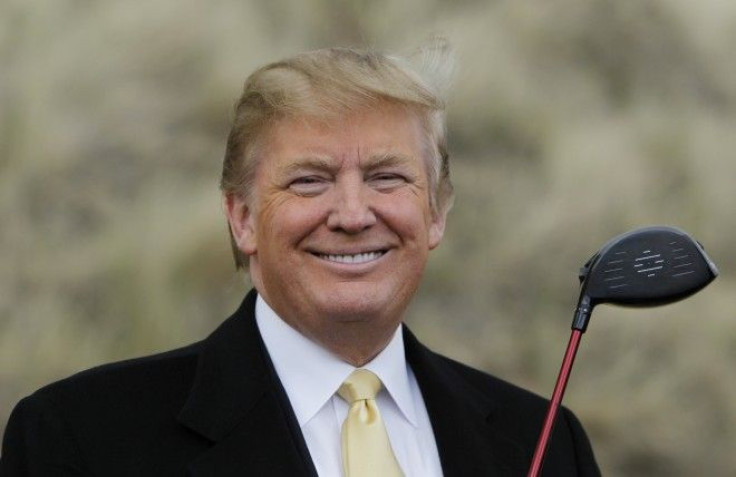 As the 2012 presidential race approaches, the Republicans are exploring all possibilities to deny Barack Obama a second term. As the potential Republican candidates met in Washington for the Conservative Political Action Conference (CPAC), the real estate mogul Donald Trump made a surprise appearance to reiterate the possibility of him running for president in 2012. Among the likes of Mike Huckabee, Mitt Romney and Ron Paul, the real estate mogul will have to first beat out the ever popular Sarah Palin to even be considered.
Although Trump flirted with the idea way back in 1999 when Bill Clinton was the President on a Reform Party ticket, he recently stated his plans of running for president in November 2010. He had told ABC it could be fun to run because he wanted to see some positive things happen for the country. Before that in October, he had told Fox News that if he were to run for president he would as a Republican.
Now, his February appearance on the CPAC has set off a strong buzz that Trump would run for the White House in 2012. According to media reports, it was the Trump camp that reached out to organizers of the event on the possibility of the potential presidential contender delivering a speech. Trump also made some strong statements on Thursday as he felt that the country was becoming the laughingstock of the world.
Trump, best known worldwide for the NBC reality game show The Apprentice, will first have to face-off other Republican contenders, the biggest of whom would be Sarah Palin.
Do not underestimate Sarah Palin, Trump had said back in November 2011, identifying the former Alaska Governor as the big challenge. This statement came right after Palin signaled she's seriously considering running for president in the next election cycle.
Donald Trump Vs Sarah Palin: Basic Facts
Born in 1946, Trump has emerged as an influential figure with a personal worth of over $2 billion. He is the Chairman and CEO of the Trump Organisation, a real estate firm, and founder of Trump Entertainment Resorts, which operates casinos and resorts across the globe.
Sarah Palin became the first woman elected Governor of Alaska in February 2003. The politician rose to popularity after the Republican Party presidential candidate John McCain chose her as the vice presidential nominee in 2008. Over the past two years, Palin has won over a large portion of GOP base. She even released a book Going Rogue: An American Life, which sold over 1 million copies.
Reputation and Popularity quotient
While Trump almost has a celebrity status due to his ultra popular TV show, Palin is a political celebrity of sorts as she enjoys a considerable amount of media attention.
Even though Trump's ambition of becoming the president has raised quite a few eyebrows, there exists a fraction of the country that considers him able. For instance, people of New Hampshire ranking the businessman high on the list of possible candidates.
Palin, on the other hand, possesses a strong hold in the Republican camp. She has beaten her male counterparts by using social media tools and has fought stereotypical notions about not being tough enough. However, a recent ABC News-Washington Post survey showed six in ten Americans found her unqualified for the post of President.
One factor that may add to Palin's appeal is the fact that while the United States found its first African-American President in Barack Obama, the country is yet to see its first female president. Sarah Palin and Hillary Clinton are the most likely to make this happen.
Reality TV push and pull
While Trump enjoys the leverage of the reality TV with this show The Apprentice, Sarah Palin faces flak for her Sarah Palin's Alaska. Even on Friday, John Thune attacked Palin for the show.
The closest I've come to being on a reality TV show is C-SPAN's live coverage of the Senate floor, Thune, who is yet to decide if he wants to enter the presidential race, said at the CPAC prompting cheers from the crowd.
With the reality series averaging 3.2 million viewers per week, TLC is set to pull the plug on the show.
Trump, on the other hand, enjoys a pull due to his show. In fact, his rhetoric on the presidential race is almost identical to the way he speaks on the show.
I'm also well acquainted with winning, and that's what this country needs right now: winning, he said.
His Apprentice-style rhetoric has become so evident that it has given birth to jokes. One among those circulating predicts that Trump's bumper sticker would read, Barack Obama, You're fired!
Lofty Promises and Philosophy
While Sarah Palin promises to win Iraq, cut taxes, build infrastructure, and create jobs, Trump has far more detailed plans.
The billionaire promises to erase the national debt with a one time 14.25 percent tax on wealth paid over ten years, offset by repealing the inheritance tax. While he also prioritizes education, he hopes to renegotiate trade agreements towards making them tougher. He also endorses making legal immigration more difficult.
He describes himself as pro-life, anti-gun control, and anti-ObamaCare. He is also known to be fanatically anti-China as he re-asserted the need to reassess U.S. foreign policy, especially the relationship with China, whom he considers the enemy.
Questioning Palin's ability to taken down Obama, Trump said, I don't think there is a leader right now of the [GOP] candidates. Romney, I guess, would be somebody that people are thinking about, but it's not resonating, he said. Sarah Palin is somebody that I happen to like, I just don't think she can win the election, and a lot of people agree.
She can win [primaries] perhaps, but she can't she can't win the election. I can tell you [President Barack] Obama is dying to run against Sarah Palin.
© Copyright IBTimes 2023. All rights reserved.