Dow Hits 13,000 as Global Markets Show Muted Relief on Greek Deal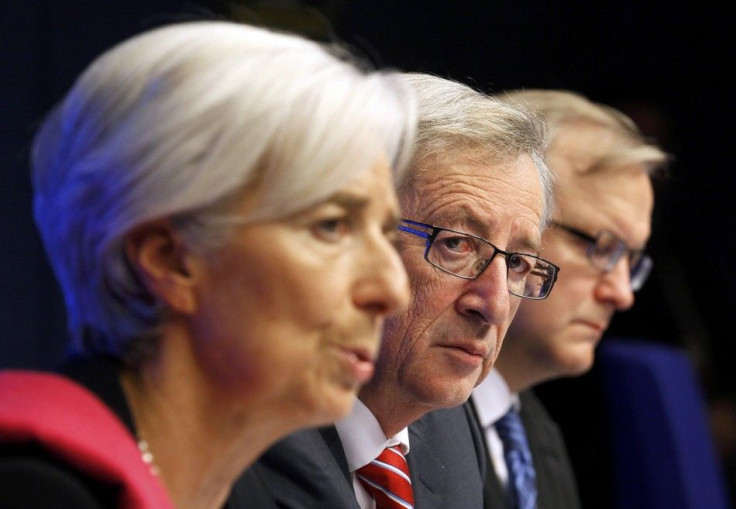 The Dow industrial average broke the 13,000 barrier for the first time in nearly four years today, amid signs markets were finally warming to the latest Greek bailout package.
Tuesday's long-awaited second rescue deal removed the immediate threat of a disorderly bond default, but markets remained cautious in early morning trading, fearful of what lies ahead for the stricken country.
After topping 13,000 in the late morning, the Dow Jones industrial average eased to 12,996.04, gaining 46.17 points, or 0.36 percent. The Standard & Poor's 500 Index gained 5.27 points, or 0.39 percent, to 1,366.50. The Nasdaq Composite Index gained 9.94 points, or 0.34 percent, to 2,961.72.
The euro initially jumped over half a cent against the U.S. dollar, on relief that the bailout deal approved by euro zone finance minsters had been signed, to a two-week high of $1.3293 before it stabilized near $1.3230 as worries over the impact of the deal left investors in a cautious mood.
For now the Greek deal arguably has diverted rather than averted disaster, Richard McGuire, senior fixed-income strategist at Rabobank, told Reuters.
After 13 hours of talks, euro zone ministers finalized an emergency-loan package worth 130 billion euros ($171 billion) for Greece by forcing its government to commit to unpopular budget cutbacks and private bondholders to accept deeper losses, ensuring the country can meet a debt repayment due next month.
In a confidential report, however, experts from Greece's so-called troika of lenders -- the European Union, the European Central Bank and the International Monetary Fund -- on Monday questioned the assumption that Greece will be able to return to capital markets in the coming years.
Across the Atlantic European stocks fell on Tuesday, retreating from near-seven month highs, as investors booked recent profits.
However, fund managers and traders said cheap valuation levels and the prospect of a second long-term funding operation by European Central Bank due next week limited the losses and should support European equities in the medium term.
There is a fundamental tension between the program objectives of reducing debt and improving competitiveness, in that the internal devaluation needed to restore Greece's competitiveness will inevitably lead to a higher debt to GDP ratio in the near term, Reuters cited the report as saying. Given the risks, the Greek program may thus remain accident-prone, with questions about sustainability hanging over it.
The muted response by stock and commodities markets is in contrast to recent rallies driven by anticipation of the Greek rescue deal, and comes in the wake of easier monetary-policy stances by the world's major central banks, which has boosted demand for riskier assets.
The bailout bandage is on, but it won't take much to unravel, said David Miller, a partner at Cheviot Asset Management.
The lack of economic growth in peripheral Europe and structural imbalances are slowly being mixed into the crisis.
Yields on Spanish and Italian bonds, seen as a gauge of risk for other peripheral euro zone nations, fell on relief that Athens had at least sealed a bailout deal, but Portugal's debt came under initial pressure on fears it could be the next in line after Greece.
We are concerned that the Greece deal will act, via its restructuring, as a template rather than a one-off solution, and the market will speculate that Portugal is set to go down the same route, McGuire said.
Reuters contributed to this story
© Copyright IBTimes 2023. All rights reserved.