Dow Jones Industrial Average Closes Up 217 Points As 'Grexit' Fears Ease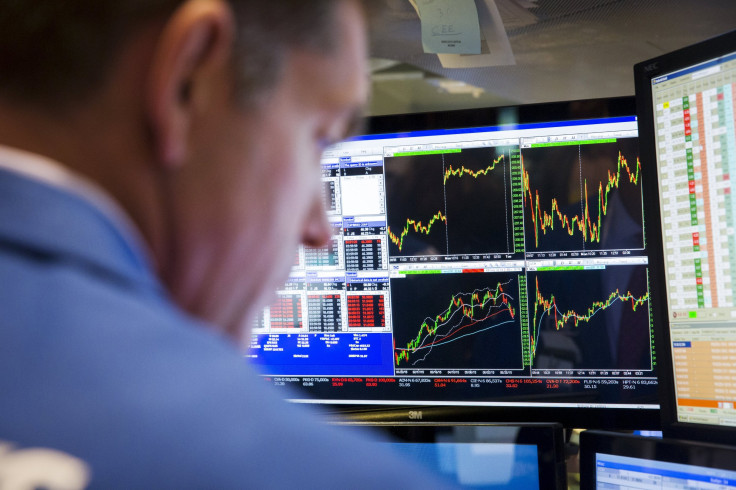 U.S. stocks closed sharply higher Monday, with all three benchmark indexes gaining more than 1 percent after Greece reached a tentative bailout deal with its international creditors. All 10 sectors in the S&P 500 finished higher, led by gains in the information technology and consumer discretionary sectors.
The Dow (INDEXDJX:.DJI) leaped 217.27 points, or 1.22 percent, to close at 17,977.68. The Standard & Poor's 500 index (INDEXSP:.INX) rose 22.98 points, or 1.11 percent, to end at 2,099.60. And the Nasdaq composite (INDEXNASDAQ:.IXIC) gained 73.82 points, or 1.48 percent, to finish at 5,071.51.
Nearly all 30 stocks in the Dow closed higher Monday as chemical maker DuPont Co. (NYSE:DD) led the blue-chip index higher, gaining more than 2 percent. Technology also drove the index higher as software company Microsoft Corporation (NASDAQ:MSFT), iPhone maker Apple Inc. (NASDAQ:AAPL) and chip maker Intel Corporation (NASDAQ:INTC) all rose more than 2 percent.
Healthcare company Merck & Co. Inc. (NYSE:MRK) was the only stock to close lower in the Dow, shedding just 0.16 percent.
Meanwhile, the Nasdaq rallied higher after social media giant Facebook Inc. (NASDAQ:FB), e-commerce company Amazon.com Inc. (NASDAQ:AMZN) and video streaming service Netflix Inc.(NASDAQ:NFLX) recorded all-time highs.
Dow Jones Industrial Average (Closing) | FindTheData
Earnings season will also be in full swing this week as banking giants JPMorgan Chase & Co. (NYSE:JPM) and Wells Fargo & Co. (NYSE:WFC) are scheduled to release second-quarter results ahead of the opening bell Tuesday. Other notable companies reporting this week include Google Inc. (NASDAQ:GOOGL), Goldman Sachs Group Inc. (NYSE:GS), Citigroup Inc. (NYSE:C), Intel Corporation (NASDAQ:INTC) and General Electric Company (NYSE:GE).
Wall Street forecasts corporate earnings to have fallen 3.1 percent in the second quarter from a year ago, according to analysts polled by Thomson Reuters.
Separately, economists are looking ahead to Tuesday's economic calendar, which includes the Commerce Department's retail sales figures for June.
U.S. retail sales rebounded in May, jumping 1.2 percent, a sign economic growth is on the rebound following a sluggish winter, the Commerce Department said last month. Wall Street forecasts retail sales to increase 0.2 percent in June, according to analysts polled by Thomson Reuters.
Global stock markets across the U.S., Europe and Asia rallied Monday after Greece agreed to tough tax hikes and pension measures in a reform-for-aid deal for the debt-stricken country. The pan-European Stoxx 600 index closed up nearly 2 percent, while the Shanghai composite finished up 2.4 percent.
The bailout totals 86 billion euros ($95 billion) over three years, but the agreement requires Greece to pass laws by Wednesday that would reform labor markets, pave the way for privatization of public assets and implement independent oversight of Greek fiscal policy.
Greece's GDP Growth | FindTheData
If Greece and its European creditors strike a finalized deal this week, it'll be good for the euro and Greece, but experts warn high hurdles remain for Athens, says Tim Dreiling, senior portfolio manager at the Private Client Reserve at U.S. Bank.
"The current government may have painted themselves into a corner because they were encouraging a vote against austerity," Dreiling said. "Now Alexis Tsipras is returning home with a much worse deal than he was telling his people to vote against. It's a tough sell."
The deal still needs approval by national parliaments in Europe, including the Greek parliament by Wednesday.
The euro tumbled against other major currencies Monday, falling 1.3 percent to $1.1007 after initially rising near $1.12 in morning trading.
© Copyright IBTimes 2023. All rights reserved.