Dow Jones Industrial Average Closes Lower As Apple Inc (AAPL) Shares Sink 4%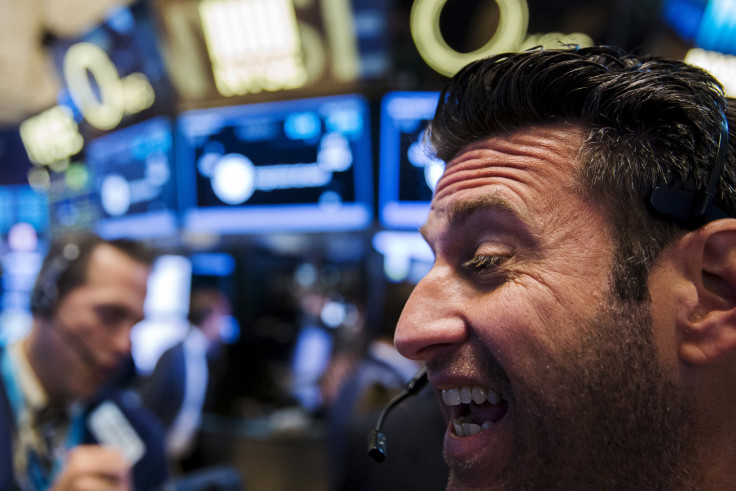 U.S. stocks closed lower for the second straight day as mixed results from technology giants cast a shadow over second-quarter earnings season. Meanwhile, gold prices tumbled for the 10th straight session, recording its longest losing streak since 1996.
The Dow Jones Industrial Average (INDEXDJX:.DJI) dropped 92.37 points, or 0.52 percent, to close at 17,826.92. The Standard & Poor's 500 index (INDEXSP:.INX) dipped 6.57 points, or 0.31 percent, to finish at 2,112.73. The Nasdaq composite (INDEXNASDAQ:.IXIC) lost 40.95 points, or 0.78 percent, to end at 5,167.36.
Five of the 10 Standard & Poor's 500 sectors closed lower, led by a nearly 2 percent decline in information technology. Dow components Apple Inc. (NASDAQ:AAPL) and Microsoft Corporation (NASDAQ:MSFT) led the blue-chip index lower Wednesday, dropping 4.5 percent and 4 percent, respectively.
Dow Jones Industrial Average (Closing) - 1 Year | FindTheData
U.S. companies are forecast to report their worst sales decline in nearly six years in the second quarter as currency issues remain for multinationals. A stronger U.S. dollar isn't exactly good news for American corporate bottom lines.
The robust dollar over the last year has been a huge drag on growth for the benchmark S&P 500 because the index's companies derive more than 40 percent of their revenue from overseas. More than 12 percent of companies in the S&P 500 have reported results, and so far, 70 percent of companies have turned in earnings above analyst expectations, while 53 percent have beaten revenue forecasts, according to Thomson Reuters data.
Apple, the world's most valuable company, missed Wall Street sales forecasts for its iPhone, the tech giant's biggest product category by unit sales and revenue. Shipments for its flagship iPhone, Apple's biggest product category by unit sales and revenue, came in at 47.5 million, below analysts' forecasts of 50 million.
Despite the sales miss on its flagship iPhone, S&P Capital IQ maintained its Hold rating on Apple, with a 12-month price target of $150.
"While we see iPhone growth decelerating significantly, we are impressed by [last quarter's] pricing trends due to strong consumer interest for the iPhone 6 Plus. We think [last quarter's] Apple Watch sales were well below expectations, but see better times ahead for the device," Angelo Zino, equity analyst at S&P Capital IQ, said in a research note.
Apple shares have gained just over 32 percent in the last 12 months, as of the close of trading Wednesday.
Apple Inc. - Trailing Year | FindTheCompany
Microsoft, the world's largest computer software company, saw its quarterly earnings dragged down from a year ago by a $7.6 billion write-down and restructuring in the company's Nokia mobile-phone operation. The stock fell 4 percent to close at $40.12.
JPMorgan Chase & Co. (NYSE:JPM) was the biggest gainer in the Dow, adding nearly 1.5 percent.
Meanwhile, shares of Caesars Entertainment Corp. (NASDAQ:CZR) plunged 60 percent during the last hour of trading to as low as $3.30 after U.S. Bankruptcy Judge Benjamin Goldgar refused to halt creditor suits against the casino company. The stock closed down 40 percent to $4.75.
Shares of Caesars Entertainment have lost more than 70 percent in the last 12 months.
Caesars Entertainment Corporation - Trailing Year | FindTheCompany
Gold extended losses Wednesday, falling more than 1 percent to a five-year low Wednesday, weighed down by a strengthening U.S. dollar. Gold has lost more than 6 percent over the last 10 sessions and Wednesday is the first time futures closed below $1,100 since March 2010, marking the longest losing streak since September 1996.
Investor sentiment toward precious metals has deteriorated further over the past month. Since mid-June, precious metal prices have slumped as the correction in equity prices in China damaged confidence in global commodity markets while investors shrugged off the threat that Greece might leave the eurozone.
"While a deterioration in investor sentiment has been a headwind for commodities over the past month, in part due to the correction in China's stock market undermining confidence in commodity markets, renewed strength of the U.S. dollar has also put downward pressure on commodity prices," Caroline Bain, senior commodities economist at Capital Economics, said in a research note Wednesday.
U.S. gold futures for August delivery closed down $12 an ounce, losing just over 1 percent, at $1,091.50.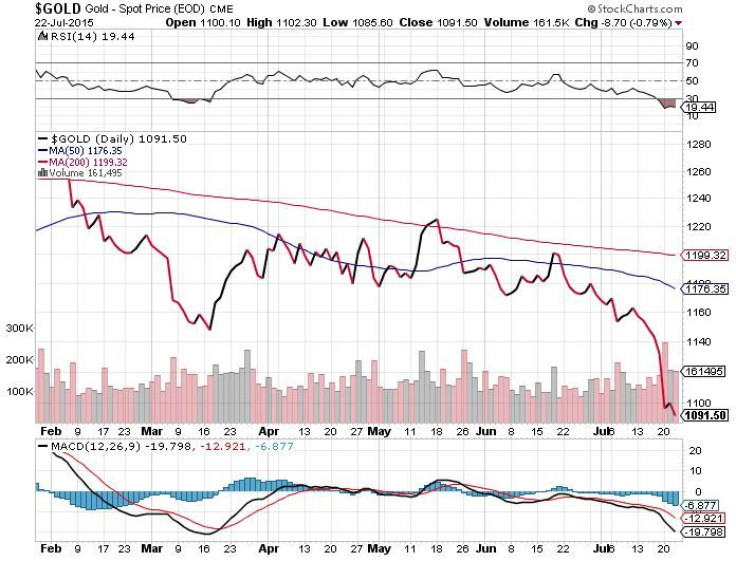 Market professionals are looking ahead to Thursday's economic calendar, with weekly jobless claims -- the number of Americans filing new claims for unemployment -- due out at 8:30 a.m. EDT. Filings for U.S. unemployment benefits declined last week for the first time in a month as filings declined 15,000 to 281,000 for the week ended July 11, the U.S. Labor Department said last week.
Economists forecast that jobless claims last week fell by 1,000 to 280,000 for the week ended July 18, according to analysts polled by Thomson Reuters.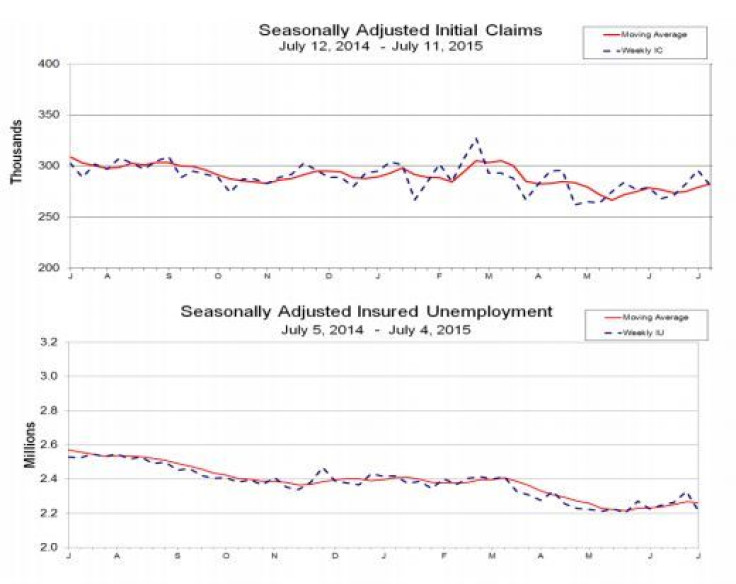 © Copyright IBTimes 2023. All rights reserved.
FOLLOW MORE IBT NEWS ON THE BELOW CHANNELS