Dow Jones Industrial Average Drops Nearly 400 Points In Global Sell-Off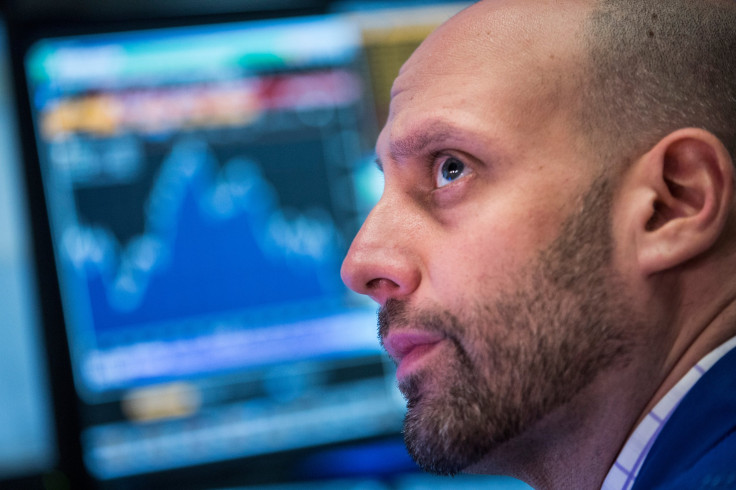 This story was updated at 4:26 p.m. EST.
Global stock indexes tumbled deeply into the red Monday on the first trading day of 2016 as weak China manufacturing data rekindled concerns of a considerable slowdown in the world's second-largest economy. The Dow Jones Industrial Average was on its way to having the worst start to a year since 1932, according to Reuters.
China's mainland Shenzhen Composite had its worst day since 2007, shedding 8.2 percent, while the Shanghai Composite lost nearly 7 percent. The sell-off triggered "circuit breakers" on both exchanges Monday afternoon, which halted trading for the day.
Emerging markets, the main drivers of global growth in recent years, are feeling the pain of China's reduced demand for goods like soybeans, iron ore, oil and copper. Further signs of a decelerating Chinese economy would put the possibility of a global slowdown — in the United States and Europe, too — on the table. And all signs seem to indicate that a nearly seven-year U.S. bull market is over, according to Adam Sarhan, founder and chief executive of Sarhan Capital.
"The big trigger here is, heading into 2016 we've been seeing a lot of bearishness forming on Wall Street. Demand for commodities is down everywhere," said Adam Sarhan, founder and chief executive officer of Sarhan Capital. "Transportation stocks are getting mauled even though they usually do well when energy prices are down. Clearly we're seeing demand destruction across the globe — and this could just be the beginning."
The Dow (INDEXDJX:.DJI) ended the day down 276 points, or 1.6 percent. The Standard & Poor's 500 index (INDEXSP:.INX) fell 31 points, or 1.5 percent. The Nasdaq composite (INDEXNASDAQ:.IXIC) shed 104 points, or 2.1 percent. All 10 S&P 500 sectors were down Monday morning, with the biggest drops in financials and healthcare stocks.
China Overview | FindTheData
The yield on the benchmark 10-year Treasury fell 1.06 percent on heavy trading volume Monday as traders sought a safe place to park their money amid the global sell-off. Gold, another safe-harbor investment, was up 1.2 percent to $1.072.90 per ounce.
Asian stocks followed China's mainland exchanges down Thursday after news that China's factory activity had contracted for the 10th straight month in December. The decline in China's factory survey, which tracks the manufacturing base that's the heart of the country's economy, highlighted market sensitivity to the possibility that its slowdown could accelerate. An upcoming (Jan. 19) report on how Chinese GDP fared in the final quarter of 2015 could also weigh heavily on stocks.
As part of its continuing effort to stimulate exports and ease capital outflows the People's Bank of China pushed the currency, the renminbi, downward for the fifth straight day. The central bank set the reference rate for the currency at 6.5 to the dollar for the first time since May 2011.
Hong Kong's Hang Seng shed 587 points, or 2.7 percent, and Japan's Nikkei lost 583 points, or 3 percent. European markets fell Monday, led by the German DAX, which declined 460 points, or 4.3 percent. The Paris CAC 40 dropped 115 points, or 2.5 percent, while the London FTSE was down 149 points, or 2.4 percent.
Oil prices more than erased gains from earlier in the day amid rising tensions between oil kingpin Saudi Arabia and Iran that boosted concern oil supplies could be disrupted. But sentiment shifted as traders bet sour relations between the two OPEC members would make it more difficult to implement measures to support higher prices in the longer term.
West Texas Intermediate crude oil, the U.S. benchmark for oil prices, fell 0.59 percent to $36.82 per barrel for February delivery on the New York Mercantile Exchange. Brent crude, the global benchmark for oil prices, gained a slight 0.08 percent to $37.31 for February delivery on the London ICE Futures Exchange.
© Copyright IBTimes 2023. All rights reserved.