China's Stock Markets Suspend Trading After 7% Fall Following Negative Manufacturing Data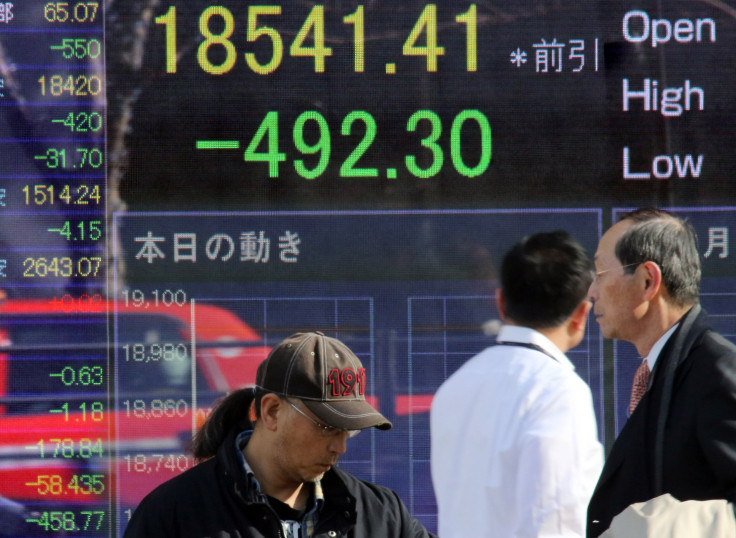 SHANGHAI — Trading on China's stock markets was suspended for the day on Monday afternoon, as the CSI 300 Index fell 7 percent on negative manufacturing data and concerns about tension in the Middle East. The fall triggered the Chinese market's new circuit-breaker mechanism, which was introduced in an attempt to avoid the type of volatility that saw Chinese stocks plunge 30 percent in a month last summer.
The main Shanghai Composite Index was down 6.86% when trading suspended, while Hong Kong's Hang Seng Index was trading down 2.8 percent by mid-afternoon Monday.
Analysts said the relaxation of rules imposed last summer on major shareholders selling their stakes in companies also contributed to the sell off — but a major factor was the unexpected further contraction in the December Caixin Purchasing Managers' Index, which measures industrial activity at private and small enterprises.
The index was at 48.2, down from 48.6 in November — countering predictions that it would rise to 49. (Any number less than 50 suggests negative sentiment.) Observers said the fall was a reminder of the challenges facing China's economy, which officials have predicted will begin to turn around in 2016, after a year in which growth slowed and exports contracted.
It was the tenth straight month that the Caixin index declined, with falling exports seen as one of the main causes of negative sentiment. And after two months of slight increases in new export orders, Caixin said these fell again in December. As a result, it said, companies were laying off more workers. And it said that China's domestic demand, seen as a key driver of growth, also softened.
Official PMI figures issued by the government, in a separate survey focused more on larger state-run companies, did rise slightly in December, from 49.6 to 49.7. However, analysts said the latest data were worrying.
"The forces driving an economic recovery have encountered obstacles, and the economy is facing a greater risk of weakening," Dr. He Fan, chief economist of Caixin Insight Group, said in a statement released with the survey.
He also warned that the recent decision by the U.S. Federal Reserve to raise interest rates for the first time in nine years would lead to "more fluctuations in global markets." And he called on the Chinese government to "pay more attention to external risk factors in the short term and fine-tune macroeconomic policies accordingly so the economy does not fall off a cliff."
He also said the government needed to push ahead with the "supply side reform" it has promised to introduce this year. The Chinese government has pledged to reduce overcapacity in manufacturing, housing and other sectors, to cut bureaucracy for businesses and to promote innovation — saying this would unleash untapped potential in China's economy, some sectors of which remain dominated by state-owned monopolies.
Analysts from ANZ Bank said in a research note sent to International Business Times Monday that the weak industrial figures suggested that China's GDP growth for the final quarter of 2015 might have declined to 6.8%. This would be below the third quarter figure of 6.9 percent, which was China's lowest growth rate since early 2009.
Analysts also predicted that the country's growth could slow to 6.4 percent in 2016. They said China's service industry, seen as another key area of growth, continued to perform strongly, but domestic demand remained weak. Full Caixin service sector data will be released later this week.
The Chinese government has targeted growth of 6.5 to 7 percent in the coming years, and has vowed to introduce measures to boost the economy in the coming months — it will unveil its full economic plan for the next five years at the annual meeting of China's legislature in March. Prime among its proposals is a plan to relax rules to allow migrant workers from rural areas to buy unsold housing in China's cities. The rise in housing inventory, and the resultant slowdown in new construction, has been significant factors in the slump in China's demand for commodities in recent years, which has had a knock-on effect on both the domestic and global economy.
The government has also relaxed China's one child policy — to allow all couples to have two children from this month — in the hope that several million extra births each year will boost the economy and help counter the problem of an increasingly ageing population.
However, the ANZ analysts said that "as reform measures and policy implementation will take time, we believe that China may undergo a period of slower growth in the coming years," but added that "rebound could shape up after the deleveraging process is completed."
Some observers have predicted that China will continue to cut bank interest rates — as it did six times in the past 14 months — to make it easier for companies to borrow money to weather the current storm. However the official Global Times newspaper on Monday quoted analysts as saying that rate cuts and other monetary policy tools have "not proved that effective recently", and predicted that the government would continue to increase public spending to help stem the downturn.
While China has said it will not launch a fiscal stimulus package on the scale of that introduced following the global financial crisis in 2009, there are signs that infrastructure spending will continue to rise this year. Figures released last week showed that China's investment in its network of high-speed railways rose to some 820 billion yuan (around $125 billion) last year — the highest level since 2010's 840 billion yuan. And officials say that such spending — some of it from private sources — will rise even further this year, according to Caixin magazine.
However, some analysts argue that deeper reforms of China's tax and welfare systems will be crucial if the government wishes to unleash domestic consumption and compensate for the slowdown in global demand.
© Copyright IBTimes 2023. All rights reserved.
FOLLOW MORE IBT NEWS ON THE BELOW CHANNELS