Dow Jones Industrial Average Plunges 260 Points Amid Global Fears; NYSE Resumes Trading After 'Surprise' Halt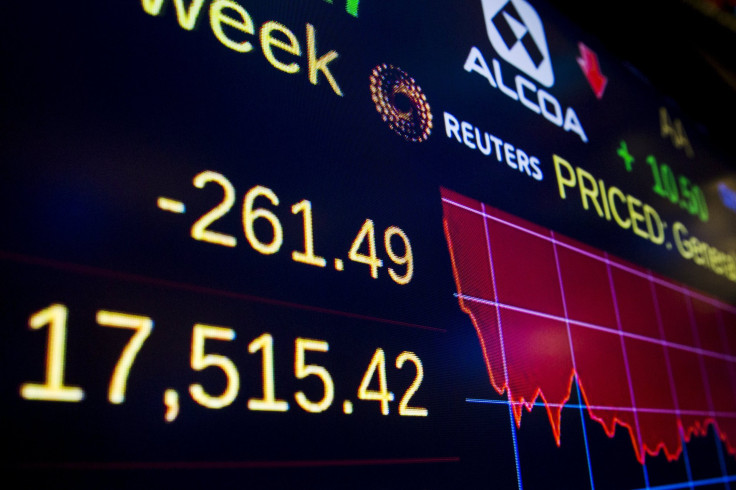 U.S. stocks closed sharply lower following a volatile trading session, with the Dow Jones Industrial Average plunging 260 points amid global fears in Greece and China. Adding to the mix was an unexpected trading glitch at the New York Stock Exchange, which halted trading for nearly four hours.
The Dow (INDEXDJX:.DJI) plummeted 261.49 points, or 1.47 percent, to close at 17,515.42. The S&P 500 index (INDEXSP:.INX) lost 34.66 points, or 1.67 percent, to end at 2,046.68. And the Nasdaq Composite (INDEXNASDAQ:.IXIC) sank 87.7 points, or 1.75 percent, to finish at 4,909.76.
Even before the trading glitch Wednesday, U.S. equities were under pressure. The Dow tumbled more than 200 points after the opening bell amid global uncertainty in China and Greece. All 10 sectors in the S&P 500 closed lower, led by declines in the materials and telecommunications sectors.
Meanwhile, all 30 stocks in the Dow ended the trading session lower, led by losses from iPhone maker Apple Inc. (NASDAQ:AAPL), General Electric Company (NYSE:GE) and American Express Company (NYSE:AXP), which all fell more than 2 percent.
Trading was stopped at the NYSE around 11:30 a.m. EDT, and the exchange said on Twitter that the source of the problem was "an internal technical issue and is not the result of a cyber breach."
Trading resumed at the New York Stock Exchange just after 3 p.m. EDT, but even seasoned traders on the floor of the exchange were surprised by the outage. "It's a surprise. I can't remember that the last we halted trading due to a technical glitch," said Alan Valdes, director of floor trading at DME Securities, who has worked on the floor of the New York Stock Exchange for more than 30 years. "It's pretty rare and not normal."
Coincidentally, United Airlines and the Wall Street Journal also experienced technical glitches in the midst of the trading halt.
"With this day in age everyone has to be careful no matter what industry," Valdes said. "It's a problem and I'd hate to see these problems spread to other industries on a routine basis. That would be a disaster for the economy."
The NYSE said all open orders before the halt were canceled.
The NYSE experienced problems even before the stock market opened Wednesday morning. Around 8:15 a.m. EDT, the NYSE sent out an alert about a reported issue with a "gateway" connection, Fortune reported. Gateways are access points traders and other exchanges use to connect with the NYSE to place stock orders, Fortune said, citing Eric Scott Hunsader, who founded market data firm Nanex.
The alert said the issue would affect trading in a "subset" of stocks. Trading volume was lower than usual all morning, Hunsader said, and by 11:20 a.m. EDT, the exchange only had 2.6 percent of all trading volume, likely due to the gateway issues, Hunsader explained.
However, the technical issues at the NYSE did not appear to have affected trading elsewhere, unlike the blackout that Nasdaq experienced in 2013. "I give them a big thumbs up for that," Hunsader told Fortune.
Market professionals are looking ahead to Thursday's economic calendar, with weekly jobless claims -- the number of Americans filing new claims for unemployment -- due out at 8:30 a.m. EDT. More Americans filed new claims for unemployment, as initial claims increased by 10,000 to a seasonally adjusted 281,000 in the week that ended June 27, the U.S. Labor Department said last week.
Economists forecast that jobless claims last week fell by 4,000 to 275,000 for the week that ended July 4, according to analysts polled by Thomson Reuters.
© Copyright IBTimes 2023. All rights reserved.
FOLLOW MORE IBT NEWS ON THE BELOW CHANNELS