Dow Jones Industrial Average Plunges 200 Points On Greece, China, Trading At NYSE Halted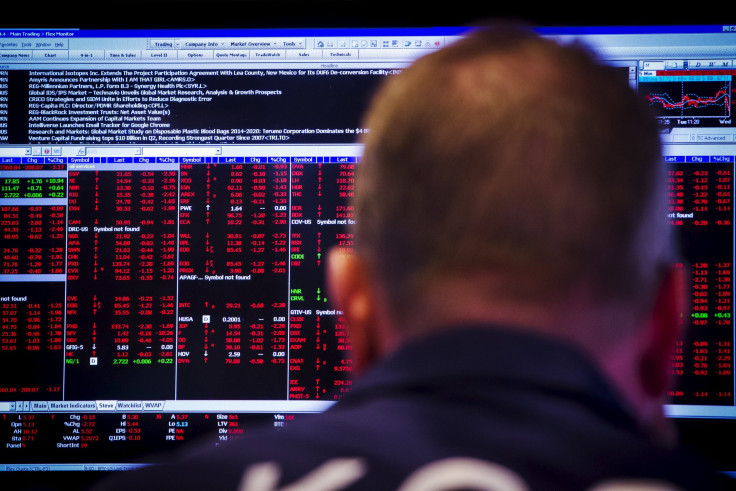 U.S. stocks traded sharply lower Wednesday, with the Dow Jones Industrial Average tumbling 200 points before the New York Stock Exchange halted trading because of a technical issue. Beyond the glitch, investors continue to grapple with concerns Greece will exit the eurozone, as well as the extreme volatility roiling China's stock markets -- all of which sent the S&P 500 index into negative territory for the year.
In midday trading, the Dow (INDEXDJX:.DJI) plummeted 202.54 points, or 1.14 percent, to 17,574.88. The S&P 500 (INDEXSP:.INX) plunged 23.74 points, or 1.14 percent, to 2,056.90. And the Nasdaq Composite (INDEXNASDAQ:.IXIC) sank 68.61 points, or 1.37 percent, to 4,928.63.
Trading stopped at the NYSE around 11:30 a.m. EDT, and the exchange said it was investigating the issue. "NYSE/NYSE MKT has temporarily suspended trading in all symbols. Additional information will follow as soon as possible," the exchange said in a statement on its status page.
"It's been a little bit of a bumpy day. We had some technical problems even before the opening," Art Cashin, UBS director of floor operations at the NYSE, said in a CNBC interview.
U.S. equities were under pressure Wednesday amid global uncertainty in China and Greece, with nine out of the 10 S&P 500 sectors trading lower, led by declines in the telecommunication services sector. The utilities sector was the only one to trade slightly higher.
Meanwhile, 29 out of the 30 stocks in the Dow traded lower. Chip maker Intel Corp. (NASDAQ:INTC) was the biggest decliner, losing more than 2 percent, while software giant Microsoft Corp. (NASDAQ:MSFT) was the only gainer, adding just over 0.2 percent.
Asian markets have dealt with frequent bouts of extreme volatility in the past few weeks, with the Shanghai Stock Exchange Composite index tumbling more than 30 percent from its peak in mid-June. Investors have been spooked this week, with almost one-half of all China-listed companies now having instituted share-trading suspensions in an attempt to insulate themselves from the meltdown.
The panic in Chinese mainland markets also rippled across the border, knocking down Hong Kong's Hang Seng index by 6 percent, while Japan's Nikkei 225 dropped 3 percent to a seven-week low.
Even if the sell-off in Chinese mainland shares were to continue for a while, some experts doubt it will have a major adverse effect on either China's economy or other emerging stock markets.
"We see little risk that it would trigger a rout of other emerging equity markets, either in the near future or further down the road," David Rees, an analyst at Capital Economics, said in a research note.
Meanwhile, investors are still focused on Greece after the country applied for a third bailout program Wednesday, asking for a three-year loan through the European Stability Mechanism. Greece has pledged the country will submit new reforms to creditors Thursday ahead of an emergency summit of Eurogroup finance ministers Sunday.
While Greece's prime minister expects the solid mandate delivered by Greek voters Sunday will allow him bargain more forcefully with creditors this week, experts think otherwise.
"The referendum results are not likely to change the mood of Greece's creditors. In fact, while we still believe an agreement will be reached, any upcoming negotiations are likely to be tougher than in the past," Peter Cardillo, chief market economist at Rockwell Global Capital, said in a research note Wednesday.
Economists anticipate the Eurogroup is likely to remain firm, thereby leaving Greece with no other option than to accept reforms.
Looking ahead on the economic calendar, the U.S. Federal Reserve will release the minutes of the Federal Open Market Committee's June meeting at 2 p.m. EDT. Investors will look for further clues as to when the central bank will raise interest rates, which have remained at historic lows since the global financial crisis began in 2008.
© Copyright IBTimes 2023. All rights reserved.