Dow Jones Industrial Average Sinks As Commodities Struggle To Stabilize After Sharp Sell-Off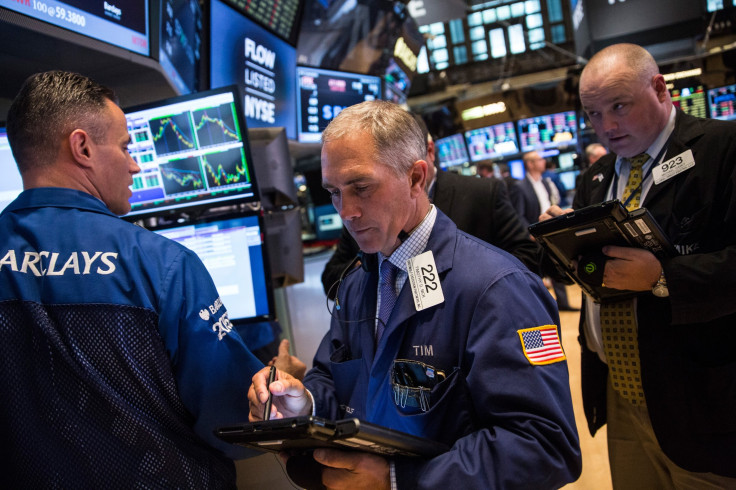 UPDATE: 4 p.m. EDT
U.S. stocks closed slightly higher Tuesday, fluctuating during most of the trading session as Wall Street continued to weigh a government shutdown and uncertainties regarding whether the Federal Reserve will raise rates for the first time in nearly a decade this year. Investors are looking ahead to a speech from Fed Chair Janet Yellen Wednesday.
The Dow Jones Industrial Average ( INDEXDJX:.DJI ) gained 47 points, or 0.3 percent, to close at 16,049. The Standard & Poor's 500 index ( INDEXSP:.INX ) added edged up 2.31 points, or 0.12 percent, to finish at 1,884. However, the Nasdaq composite ( INDEXNASDAQ:.IXIC ) lost 26.65 points, or 0.6 percent, to end at 4,517.32.
Original story: U.S. stocks fluctuated Tuesday, a day after the Dow Jones Industrial Average plunged 300 points as investors weighed a looming government shutdown and uncertainties surrounding the health of the global economy. After opening mildly higher, the Dow fell as much as 60 points in morning trading, only to reverse and trade roughly 100 points higher. However, U.S. stocks pared gains to trade slightly higher in afternoon trading.
Market professionals look ahead to more speeches from top Federal Reserve officials this week, which could provide more clues as to the timing of the central bank's inevitable rate hike.
The Dow Jones Industrial Average ( INDEXDJX:.DJI ) added 48 points, or 0.3 percent, to 16,050. The Standard & Poor's 500 index ( INDEXSP:.INX ) rose 8 points, or 0.4 percent, to 1,889. The Nasdaq composite ( INDEXNASDAQ:.IXIC ) gained 10 points, or 0.2 percent, to 4,554.
Seven of the 10 S&P 500 sectors traded mildly lower, while healthcare was the biggest gainer, up 1 percent following a recent bout of volatility. Dow components Apple Inc. (NASDAQ:AAPL) and Nike Inc. (NYSE:NKE) led the index lower, shedding roughly 2 percent.
Investors are eyeing a speech by Janet Yellen Wednesday at the St. Louis Fed community banking conference after the fed chair said last week she expects the central bank to lift rates some time this year.
William Dudley, president and CEO of the Federal Reserve Bank of New York, echoed Yellen's sentiments Monday and agreed the central bank will likely hike rates later this year. However, Charles Evans, president and CEO of the Federal Reserve Bank of Chicago, said the Fed should delay a liftoff until next year.
Data released Tuesday revealed U.S. home prices rose 5 percent in July, the S&P/Case-Shiller's 20-City Index showed. The report come in nearly in line with Wall Street estimates for an increase of 5.1 percent.
An interest rate increase by the Federal Reserve, now expected in December by many analysts, is not likely to derail the strong housing performance, says David M. Blitzer, managing director and chairman of the Index Committee at S&P Dow Jones Indices.
"Prices of existing homes and housing overall are seeing strong growth and contributing to recent solid growth for the economy," Blitzer said in the report.
Separately, U.S. consumer confidence rose moderately in September following August's sharp rebound. The Conference Board's Consumer Confidence Index edged up to 103 in September from a revised 101.3 in August.
While consumers view current economic conditions more favorably, they do not foresee growth accelerating in the months ahead, said Lynn Franco, director of economic indicators at the Conference Board.
"Consumers' expectations for the short-term outlook, however, remained relatively flat, although there was a modest improvement in income expectations," Franco said in the report.
Global shares traded mixed Monday after a sell-off in commodities overnight, with China's benchmark Shanghai Composite index closing down 4 percent while Japan's Nikkei index lost nearly 3 percent.
European stocks traded lower, with Germany's DAX closing down 0.4 percent while France's CAC lost 0.3 percent.
West Texas Intermediate crude, the benchmark for U.S. oil prices, rose 2 percent to $45.32 per barrel for November delivery on the New York Mercantile Exchange. On the London ICE Futures Exchange, Brent crude, the global benchmark for oil prices, added 2 percent to $48.33 a barrel.
© Copyright IBTimes 2023. All rights reserved.