Dow Jones Industrial Average Soars 260 Points As Weak Retail Sales Ease Rate-Hike Fears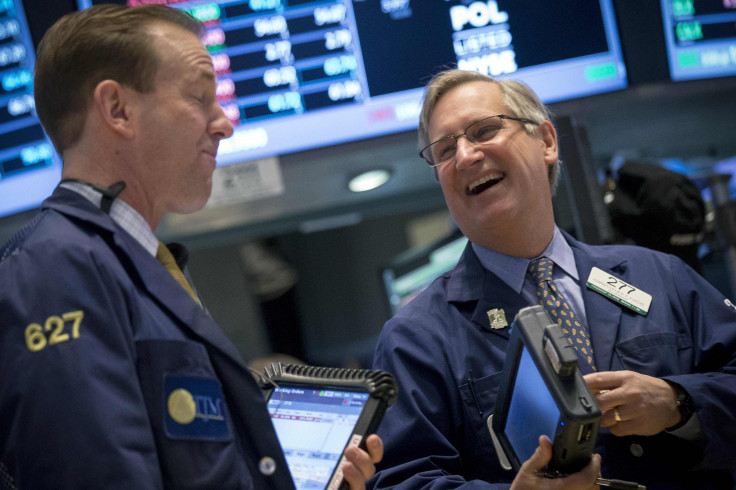 U.S. stocks closed sharply higher Thursday, with the Dow Jones Industrial Average leaping nearly 260 points, after a weak reading on retail sales eased concerns over a looming Federal Reserve rate hike. The gain helped push all three major indexes positive for the year following two straight sessions of major losses that had erased all gains for 2015 in the blue-chip Dow and the Standard & Poor's 500 index.
The Dow, which measures the share prices of 30 large industrial companies, soared 259.83 points, or 1.47 percent, to close at 17,895.22. The S&P 500 rose 25.71 points, or 1.26 percent, to end at 2,065.95. The Nasdaq composite gained 43.35 points, or 0.89 percent, to finish at 4,893.29, based on the most available data.
Economists are looking ahead to Friday's economic calendar, with the U.S. Department of Labor's Producer Price Index for February released at 8:30 a.m. EDT, followed by the University of Michigan's semimonthly Consumer Sentiment Index for March, issued at 10 a.m. EDT. Data last month showed U.S. producer prices posted record drops in January, a sign that the fall in energy prices is keeping business inflation under control. Meanwhile, a separate report in February revealed American consumer sentiment dipped from an 11-year high in February.
U.S. stocks gained in morning trading, driven by a slight pullback in the U.S. dollar and mixed retail sales that showed U.S. consumers unexpectedly spent less at retailers last month, despite a steep drop in gasoline prices. Although the data came in below Wall Street expectations, the report boosted investor optimism and eased concerns that the Fed will raise rates in the springtime.
Retail sales disappointed for the third consecutive month. Most economists attribute the lackluster numbers to a harsh winter. "Poor weather can be partially blamed, but sluggish wage growth and consumers pocketing a larger share of the savings at the pump are also culprits," Gregory Daco, lead U.S. economist for Oxford Economics, said in a research note Thursday.
Oil prices continued to trade lower Thursday on fears of a supply build, with U.S. crude futures hovering around $47 a barrel. West Texas Intermediate crude, the benchmark for U.S. oil prices, fell 2.3 percent to close at $47.05 a barrel, for April 15 delivery on the New York Mercantile Exchange. Brent crude, the benchmark for global oil prices, fell 1.11 percent to $56.90 a barrel, for April 15 delivery on the London ICE Futures Exchange.
© Copyright IBTimes 2023. All rights reserved.