Dow Jones Industrial Average, S&P 500 Index Hit Record Highs After Yellen Announces No Rate Hikes For 'Next Couple Of FOMC Meetings'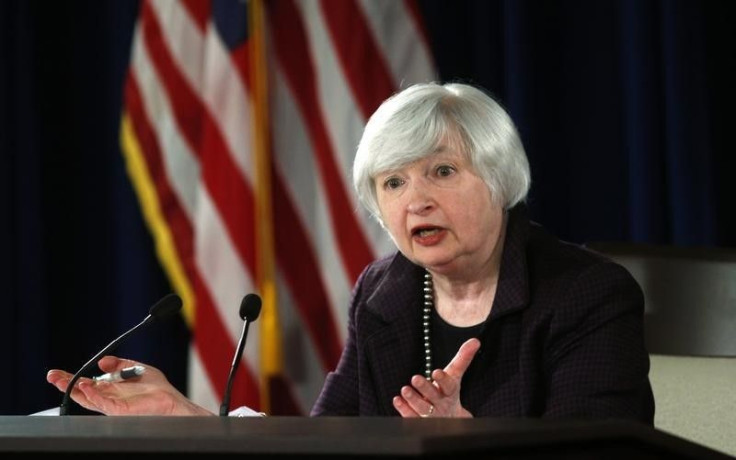 U.S. Federal Reserve Chair Janet Yellen announced Tuesday the central bank will not raise interest rates for the "next couple of FOMC meetings." Yellen's comments signal that the Fed may not deem it necessary to raise rates -- currently at historic lows -- until September. As part of her reasoning, Yellen cited low energy costs, low inflation and an improving job market in her semi-annual "Humphrey-Hawkins" testimony before the Senate Banking Committee Tuesday.
UPDATED: 4 p.m. EST
Following the announcement, the Dow Jones Industrial Average and S&P 500 Index broke all-time intraday highs of 18,231.09 and 2,117.94, respectively. The Dow, which measures the share prices of 30 large industrial companies, gained 92.35 points, or 0.51 percent, to close at 18,209.19, and the S&P 500 stock index rose 5.82 points, or 0.28 percent, to end at 2,115.48. The Nasdaq Composite gained 7.15 points, or 0.14 percent, to finish at 4,968.12.
No Rate Hike For 'Next Couple of FOMC Meetings'
Yellen is scheduled to speak during a two-day "Humphrey-Hawkins" Senate Banking Committee hearing in Washington, D.C., Tuesday and Wednesday to discuss the U.S. economy's health and the monetary policies the central bank plans to use this year to boost the economy. The "Humphrey-Hawkins Act" was a law passed in 1978 that mandates the Federal Reserve addresses Congress biannually to discuss the central bank's current monetary policy, including its dual mandate of stabilizing U.S. inflation and achieving maximum employment.
Economists will be eyeing her statements for more specific clues as to when the Federal Open Market Committee might begin raising interest rates.
"The FOMC's assessment that it can be patient in beginning to normalize policy means that the committee considers it unlikely that economic conditions will warrant an increase in the target range for the federal funds rate for at least the next couple of FOMC meetings," Yellen said in prepared remarks to the Senate Tuesday.
Previously, most economists had expected to see a rate hike in mid-2015, but recent weaker-than-expected inflation data suggests an increase in rates could be pushed back to September. Moreover, minutes released last week from the Fed's January meeting showed policymakers debating whether tightening monetary policy too soon could damage the U.S. economy as inflation has remained persistently below the central bank's 2 percent target for inflation for more than 30 consecutive months.
"The committee expects inflation to decline further in the near term before rising gradually toward 2 percent over the medium term as the labor market improves further and the transitory effects of lower energy prices and other factors dissipate, but we will continue to monitor inflation developments closely," Yellen said. The head of the U.S. central bank also said she opposes the "audit the Fed" movement led by Sen. Rand Paul, R-Ky., who has introduced legislation to audit the Federal Reserve's $4.5 trillion balance sheet.
Eurozone Approves Extension For Greece
Yellen's comments came as the eurozone's finance ministers approved Greece's new bailout plan Tuesday. Greece submitted reform proposals late Monday evening, extending its lifeline for four months. The approval now allows Greece and its creditors to proceed with discussions for a new program. Greece wanted to renegotiate the terms of its now $270 billion bailout program after the far-left Syriza Party won elections last month. Greece's previous conservative government had agreed to those bailout terms.
Under the terms of Friday's Greek bailout agreement, Athens is required to submit a letter by Monday to eurozone finance ministers listing all the policy measures it plans to take during the remainder of the bailout period to ensure the country complies with conditions from its creditors. The accord ends weeks of uncertainty and removes immediate fears that Greece would face bankruptcy by the end of the month.
© Copyright IBTimes 2023. All rights reserved.