Dow Jones Industrial Average Tops 18,000 While S&P 500 Index, Russell 2000 Close At Record Highs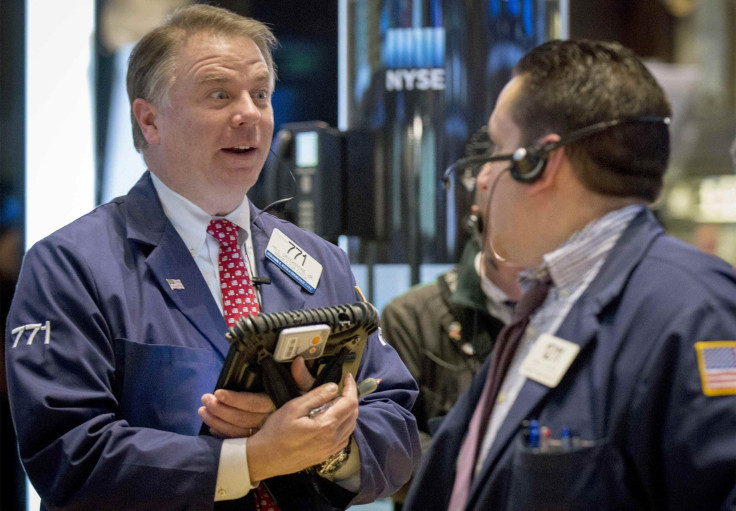 U.S. stocks closed sharply higher Friday, with the S&P 500 index hitting a record high after oil prices topped $60 a barrel for the first time in 2015. The blue-chip Dow Jones Industrial Average climbed above the psychologically important 18,000, despite consumer sentiment dropping from an 11-year high this month. Meanwhile, the tech-heavy Nasdaq Composite index closed at its highest level in nearly 15 years.
The Dow, measuring the share prices of 30 large industrial companies, added 46.97 points, or 0.26 percent, to close at 18,019.35; the S&P 500 index gained 8.51 points, or 0.41 percent, to end at 2,096.99; and the Nasdaq Composite rose 36.22 points, or 0.75 percent, to finish at 4,893.84.
S&P 500, Russell 2000 Hit All-Time Highs
U.S. stocks capped a record-breaking day with the S&P 500 hitting a new all-time high, while the Nasdaq reached its highest level since March 2000, the most expansive period of the dot-com bubble. The Dow smashed the psychologically important 18,000 milestone Thursday for the first time since December, a day after all three major indexes closed at their highest levels in 2015.
Friday's gains helped boost all three major indexes to close higher for the second straight week. This week, the Dow added 1.1 percent, while the S&P 500 and the Nasdaq gained more than 2 percent and more than 3 percent, respectively.
But the S&P 500 wasn't the only index hitting a new all-time high. The Russell 2000 index, a gauge of the performance of the small-capitalization segment of the U.S. equity market, also advanced to a record high Friday, climbing 6.87 points, or 0.56 percent, to finish at 1,223.13.
Oil Tops $60 A Barrel For First Time In 2015
Global oil prices closed above $60 a barrel Friday for the first time this year after the eurozone economy expanded more than expected last quarter, boosting investor optimism over crude-oil demand. Brent crude, the benchmark for global oil prices, added 3.8 percent to close above $60 a barrel for April 15 delivery on the London ICE Futures Exchange. West Texas Intermediate crude, the benchmark for U.S. oil prices, added $1.57 to settle at $52.78 a barrel for March 15 delivery on the New York Mercantile Exchange.
Wall Street's Week Ahead: Japan GDP, Greece Bailout Meeting
Market participants are looking ahead to next week's economic data as Japan, the world's third-largest economy, is scheduled to post its figures on gross domestic product for the fourth quarter after unexpectedly falling into recession. Economists expect Japan's GDP expanded at a 3.7 seasonally adjusted annual rate after shrinking 1.9 percent last quarter, according to analysts polled by Thomson Reuters.
Wall Street will also be eyeballing Greece after the country was unable to reach a deal with the European Union to remain in its bailout program Wednesday, pushing talks to Monday. Greece's current $270 billion bailout program is scheduled to end Feb. 28.
© Copyright IBTimes 2023. All rights reserved.