Dow Jones Industrial Average Tumbles 150 Points As Plunging Oil Prices Overshadow Consumer Sentiment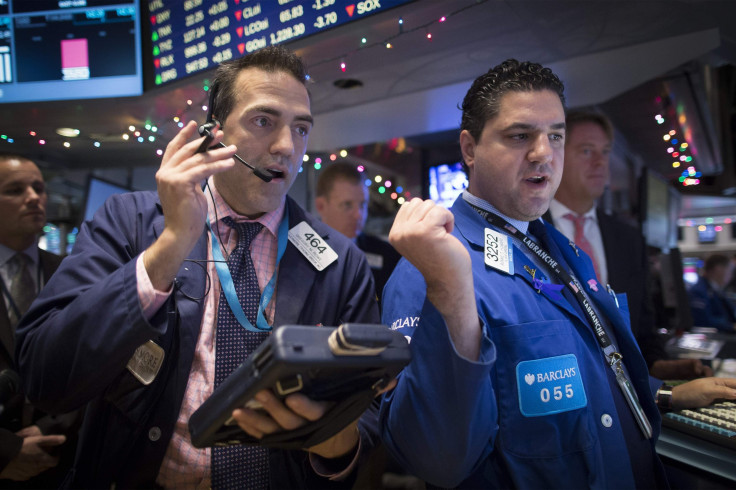 U.S. stocks dropped Friday morning, cutting the previous session's gains, as global oil prices continued to decline to five-year lows. The Dow Jones Industrial Average tumbled more than 150 points when the U.S. markets opened, but trimmed losses after consumer sentiment hit a new seven-year high in December. However, the Dow, which measures the share prices of 30 large industrial companies, reversed and began to trade in the red again after oil prices continued to fall.
In morning trading, the Dow Jones Industrial Average dropped 150.10 points, or 0.87 percent, at 17,443.24; the S&P 500 Index lost 10.44 points, or 0.52 percent, at 2,024.77. The Nasdaq Composite declined 11.26 points, or 0.25 percent, to 4,696.57.
Thursday, U.S. crude oil prices fell below $60 a barrel for the first time since July 2009. West Texas Intermediate crude (WTI), the U.S. oil benchmark, fell 2.39 percent on Friday to $58.52 per barrel, for Jan. 15 delivery, on the New York Mercantile Exchange (NYMEX).
Capital Economics released a note to investors that said falling oil isn't likely to hurt U.S. shale producers. "Although $60 per barrel is a fair long-run estimate, there is no single 'magic number' for the oil price below which enough North American production becomes unprofitable for supply cuts to start to bite," the research firm said in a commodities report Friday.
The London-based research consultancy firm expects the price of Brent, the global benchmark for oil prices, to find some decent support at around $60 per barrel, partly due to recovering demand. Brent crude fell 1.82 percent Friday to $62.52 a barrel on the London ICE Futures Exchange.
"But even over the longer term, falling costs in the shale industry and the development of other sources of supply could allow prices to remain around the current lower levels for years to come," Capital Economics said.
Data on Friday showed consumer sentiment hit 93.8 in December, almost an eight-year high, beating Wall Street's 89.5 estimate, the University of Michigan's monthly preliminary report showed Friday. The measure was the highest reading since January 2007 and jumped from 89.4 last month. "The Consumer Sentiment number has been creeping higher every month, and the expectation is that the trend will continue this month," Stephen Guilfoyle, chief economist at Sarge986.com, said in a note. "Cheaper gasoline does seem to be leaving Mr. and Mrs. America with a little unexpected disposable income this holiday season."
Separate data revealed producer prices, a gauge for inflation, were flat last month. The Producer Price Index (PPI), which measures U.S. wholesale prices, fell 0.2 percent in November after rising 0.2 in October, the Labor Department said Friday.
© Copyright IBTimes 2023. All rights reserved.