Dow Plunges 318 Points: Is Wall Street Headed For A Major Correction? [VIDEO]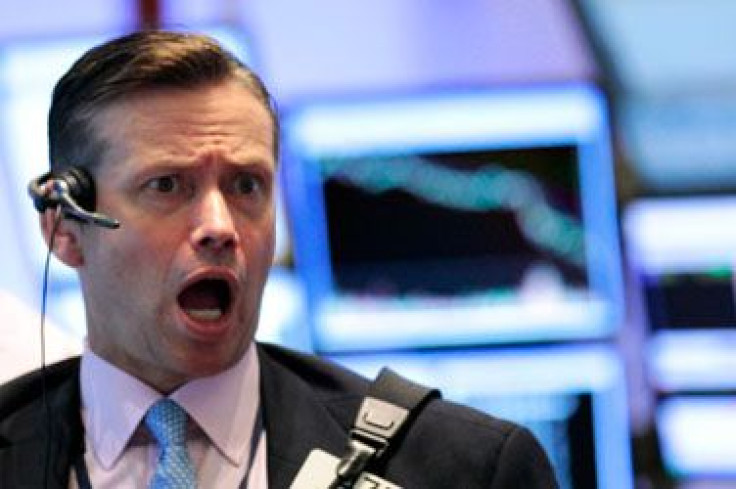 U.S. stocks tumbled on Friday, after the Dow plunged 318 points, as Wall Street suffered its worst week since 2011 on emerging market concerns.
The Dow Jones industrial average plunged 1.96 percent to close at 15,879.11. The S&P 500 Index lost 38.15 points, or 2.09 percent, to end at 1,790.29. The Nasdaq Composite Index dropped 90.70 points, or 2.15 percent, to finish at 4,128.17.
"There's no question that January so far is a bit disappointing, at least what's happening over the last few days and I suspect that while I don't think that this is the beginning of the correction that everyone is talking about, and that we're expecting as well, the market is undergoing a pretty severe pullback over the past two days and I think that's due to the fact that there's a lot of uncertainties within the emerging markets," said chief market economist Peter Cardillo of Rockwell Global Capital.
The Dow recorded its worst week since November 2011 after falling 3.5 percent, while the S&P 500 posted a drop of 2.6 percent for the week, its worst since June 1012. The Nasdaq reported a weekly decline of 1.7 percent. The S&P 500 fell under the psychologically important 1,800 level, while the Dow lost 4.2 percent since the end of 2013.
Thus far, 122 companies in the S&P 500 have reported earnings results for the previous quarter. Of those companies, 63.9 percent topped Wall Street estimates, slightly higher compared with the long-term average of 63 percent, according to Reuters.
Meanwhile, emerging-market currencies continued to get slammed on Friday due to political turmoil in countries such as Turkey and Argentina, sending the Turkish lira 2.34 against the dollar, a new record low, while the Argentine peso dropped nearly 20 percent this week against the dollar to 8.00, according to Bloomberg data.
"Look what's happening over the Turkish lira and of course the Argentinian currency and some of the other currencies, you'll see that there's a lot of chaos, and that's I think what's really holding hostage the market here," said Cardillo. "In terms of fundamentals, so far nothing has really changed. We have earnings for the most part been pretty good. Yes, some of the big names have missed and you might want to label this earnings season so far as a mixed bag, you might say. Again, nothing that would, I think, induce the beginning of a serious correction."
Consumer discretionary stocks have also taken a hit thus far in January, after outperforming all other sectors in the benchmark S&P 500 Index during 2013. The sector is down 5.03 percent this month and has risen 26.09 year-to-date. Meanwhile, consumer staples stocks have fallen 3.70 in January and have risen 12.82 percent in the past 12 months.
"I don't think that's a reason to believe that this is a beginning of a major selloff," added Cardillo.
Ahead on the economic calendar next week, the Federal Reserve is holding its first meeting of the year on Jan. 28-29, with the Federal Open Market Committee (FOMC) scheduled to release a statement at 2 p.m. Eastern on Wednesday. The policy-meeting will mark the last for outgoing Fed Chairman Ben Bernanke, as current Vice Chair Janet Yellen prepares to take over. In addition, the initial estimate of U.S. fourth-quarter gross domestic product (GDP) is reported on Thursday.
"Next week we have a heavy week of economic data and of course consumer spending is on top of the list and I think we're going to see a fairly good number," said Cardillo. "I think we're looking at a 3.7 gross domestic product, a revision there, but I think that is downward from the third quarter and I think still that's pretty good considering the 2.9, 3 percent that we've been counting. However, I think that the first quarter obviously will come down more to a more reasonable level of about 3.25 percent."
Notable companies reporting earnings results next week include Apple (NASDAQ: AAPL), Facebook (NASDAQ: FB), Google (NASDAQ: GOOG), Amazon (NASDAQ: AMZN), Exxon Mobil (NYSE: XOM), Chevron (NYSE: CVX), Caterpillar (NYSE: CAT), Ford Motor (NYSE: F), AT&T (NYSE: T) and Yahoo (NASDAQ: YHOO).
© Copyright IBTimes 2023. All rights reserved.