Dozens Injured In Urumqi Railway Explosion Following Chinese President Xi Jinping Visit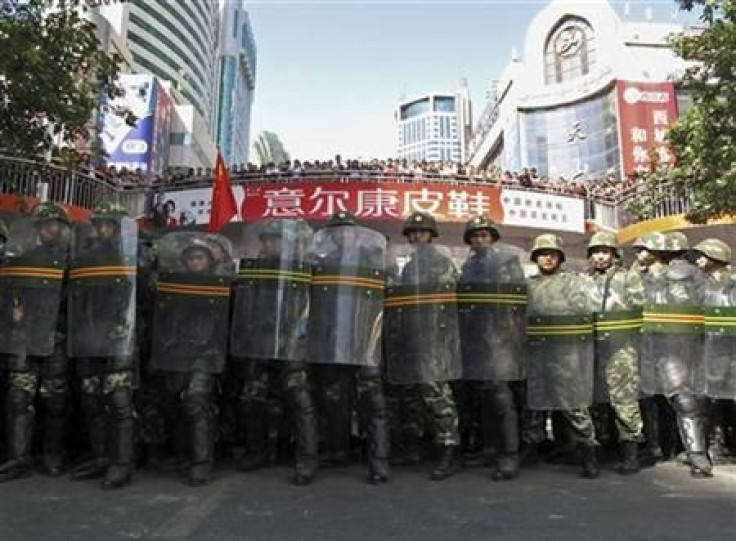 Update 3:17 p.m. EDT: The People's Daily is reporting that the blast has been confirmed to be a terrorist attack. According to the state-run newspaper, knife-wielding men attacked people before detonating an explosive. The explosion has left 3 dead and 79 injured.
Update 11:43 a.m EDT: China Radio International is reporting that the south railway station of Urumqi has reopened. At around 9 p.m., passengers were seen re-entering the building with armed police officers.
Chinese local media reports that an explosion outside the south railway station in Urumqi, the capital city of the country's restive northwestern Xinjiang province, has injured dozens on Wednesday.
The Beijing News reports that at least 50 people have been injured, citing police officers on the scene. Additional details regarding the cause of the explosion or exact numbers of injuries or any fatalities remain unclear, as a result of the government's restrictions on any information coming out of the region.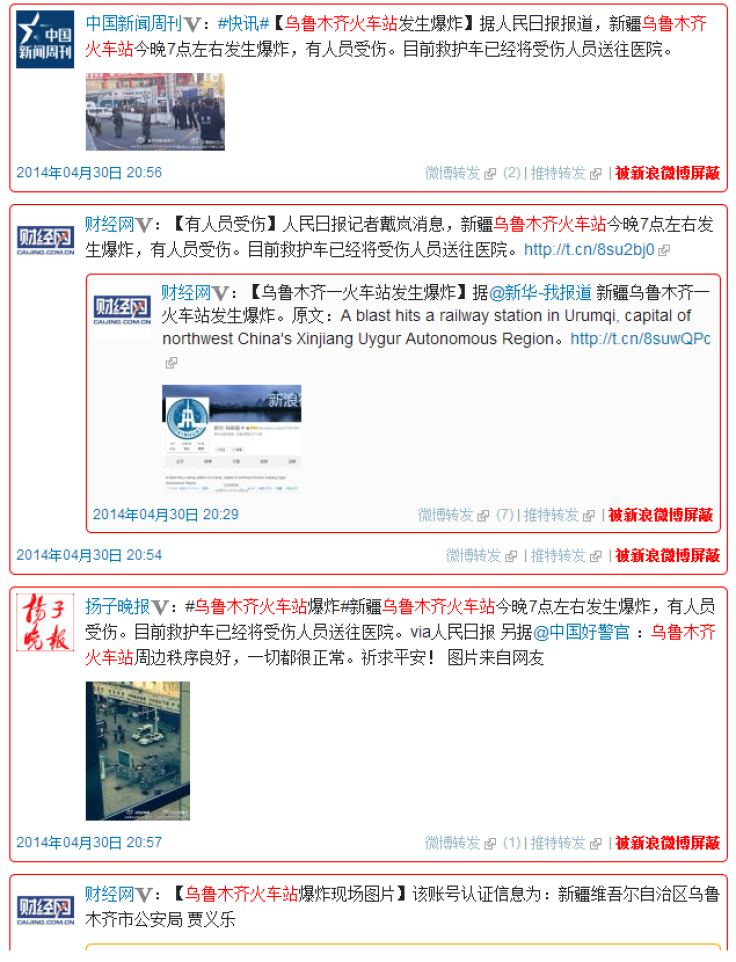 Chinese censors quickly began blocking information about the blast, including posts by official state-run news outlets. According to a censorship monitoring service, FreeWeibo.com, focusing on Sina Weibo, the country's equivalent of Twitter, state news outlets like Xinhua News and the Communist Party publication People's Daily are among those that have been blocked.
The explosion follows the conclusion of President Xi Jinping's trip to the region earlier this week, an area that he called the "front line against terrorism." Xi's first presidential visit to the area brought him to Kashgar, a city located in the far west of the province, close to Kyrgyzstan.
Though the explosion in Urumqi has not been attributed to any terrorist groups, authorities have long been on high alert.
Xinjiang has seen a series of violent acts recently, much of which the central government blames on separatist groups, predominantly made up of ethnic Uyghurs, who are Muslim. In 2009, a series of violent riots involving at least 1,000 Uyghur revolting against authorities dominated by Han Chinese lasted for several days in Urumqi. The government said that the clash ended in 197 deaths and over 1,700 injuries, in addition to infrastructure destruction.
Most recently, Chinese authorities have said that separatists groups were responsible for a grisly knife attack last month in a Kunming railway station that left 29 dead and 140 injured.
Xi's tour of Kashgar included a visit to a police station, which included an anti-terrorism drill. "You must have the most effective means to deal with violent terrorists," Xi said, according to Xinhua. Ahead of his visit, Xi announced during a Politburo meeting in Beijing that the government would continue its "resolute crack down on terrorism and separatism with high intensity,y to safeguard national security."
© Copyright IBTimes 2023. All rights reserved.