The Xinjiang Separatist Movement At The Center Of The Deadly China Rail Station Attack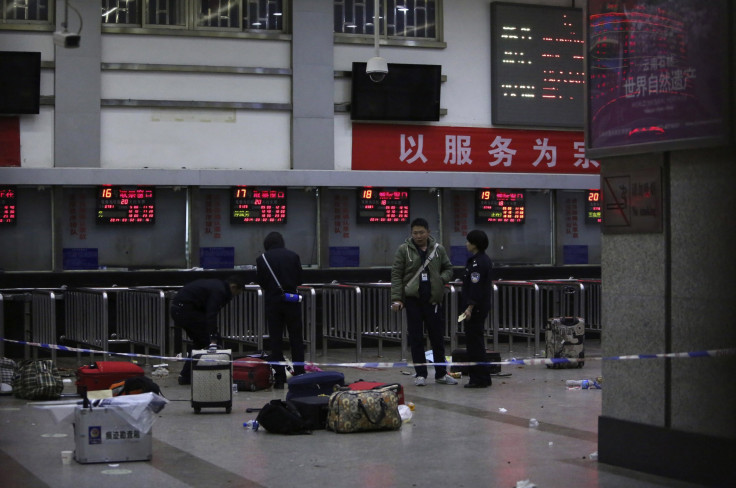 The shocking mass stabbing that took place on Saturday in a Kunming, China, rail station appears to be the work of Xinjiang separatists.
The latest count puts the toll at 33 dead and 130 wounded. The attackers dressed in matching black outfits and attacked their victims with "long knives." According to Xinhua, a Chinese government news agency, some suspects have been "controlled," five were killed by police and more are still being pursued by authorities.
The South China Morning Post reports that a local hotel worker said she heard people taking refuge in the hotel mentioning that "they are Uygurs." Chinese government news agency Xinhua claimed evidence says the attack was by "Xingjiang separatist forces," but did not confirm that they are in fact of Uygur descent.
The Uygur people, also spelled Uighur and Uyghur, are a Turkic ethnic group that mainly live in the Xinjiang autonomous region in northwestern China. There are more than 10 million Uyghur living there. They make up the majority of the separatist movement in the region
One of the main goals of most of these separatists is to become fully independent of China, by establishing a separate Uyghur state, often referred to as East Turkestan.
Xinjiang borders Mongolia, Russia, Kazakhstan, vKyrgyzstan, Tajikistan, Afghanistan, Pakistan and India. It has been under Chinese control since 1949. Xinjiang's autonomous status became official in 1955.
What's confusing about the conflict is that it lacks a central movement. Various groups want different things, some want to stay with China but maintain a distinct cultural recognition, other are for all out independence. Most are Uyghur, but not all and their agendas differ. Some are violent, but there have also been peaceful demonstrations held in Xinjiang.
The Chinese government vehemently denies that it oppresses any minorities in Xinjiang and regularly claims the separatists are religious extremists that "mislead the public and deceive world opinion in order to escape blows dealt by the international struggle against terrorism."
Western groups say the Chinese government blows the threat of the separatists out of proportion, but Saturday's attack proves at least some of these separatists are intent on getting their message across even if it means killing innocent people.
Violence has been on and off in the region since China took control, but has escalated since the mid-2000s. Riots, bombings and hijackings have characterized the conflict for many outsiders.
In 2009, almost 200 people were killed in clashes between Uighurs and ethnic Chinese in Xinjiang's capital Urumqi.
The Chinese authorities regularly point to Uyghur separatists for violence in Xinjiang, which has become more frequent in recent months.
Last November, Xinjiang Uyghur terrorists were unofficially blamed for a vehicle suicide attack at Tiananmen Gate in Beijing. Two men ran down two tourists in an SUV they set aflame and drove through a crowd near Beijing's famous square.
That attack was seen as China's "first terrorist attack" and one of the first examples of the Xinjiang/Uygur conflict outside of Xinjiang.
Saturday's attack comes just ahead of the Chinese People's Political Consultative Conference (CPPCC) and the National People's Congress opening next week.
No group has come out to claim responsibility for the attack, but there's no doubt it was highly organized, from its timing down to the brutal weapons the attackers used to the matching black outfits. If attention is what these attackers wanted, they certainly got it, much to the dismay of the Chinese government.
© Copyright IBTimes 2023. All rights reserved.
FOLLOW MORE IBT NEWS ON THE BELOW CHANNELS