China Kunming Train Station Knife Attack: Security Guards Fend Off Assailants Unarmed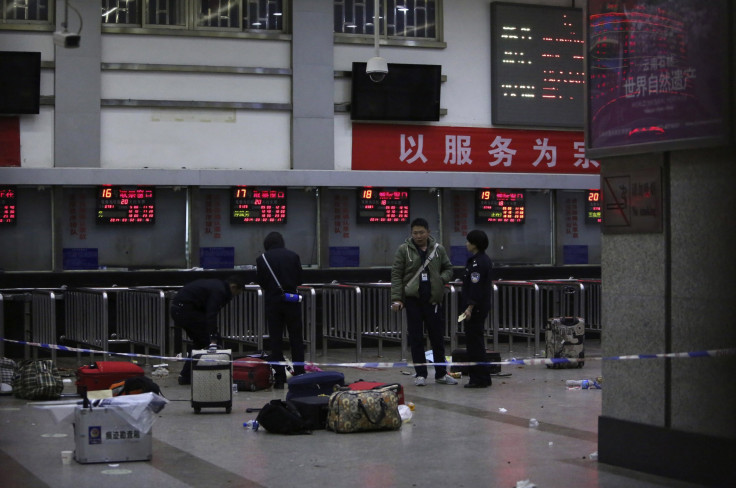 A gruesome knife attack in a southwestern China train station has families, witnesses and the rest of the country wondering what could have been done to prevent the tragedy. 29 people were killed and more than one hundred injured.
A mass stabbing in the city of Kunming, the capital of Yunnan province, on Saturday, is already being dubbed by some "China's 9/11" because of its classification by the state as an "organized, premeditated violent terrorist attack," by a group of Uyghur men and women from the restive northwestern region of Xinjiang.
The group of 10 or so, dressed mostly in black, descended upon a busy train station in Kunming, brandishing long, sword-like knives and daggers, indiscriminately stabbing and slashing at bystanders, which included children and elderly people. Police, armed with guns, arrived on the scene and shot dead several of the attackers, while others were able to flee the scene.
Among the victims of the grisly attack were two unarmed train station security guards, who many online are already calling heroes.
According to a report by China's news site Sina.com, witnesses said that the group were able to easily overpower the train station's security guards. Several reports say that the attackers were able to kill the 29 victims in just 12 minutes. One security guard, identified as Zhang, reportedly shouted at the group of attackers, who were heading into other areas of the station, to go after him rather than other civilians. Reports show that Zhang's only defense against the attackers before police arrived was a device loosely translated as a "riot fork."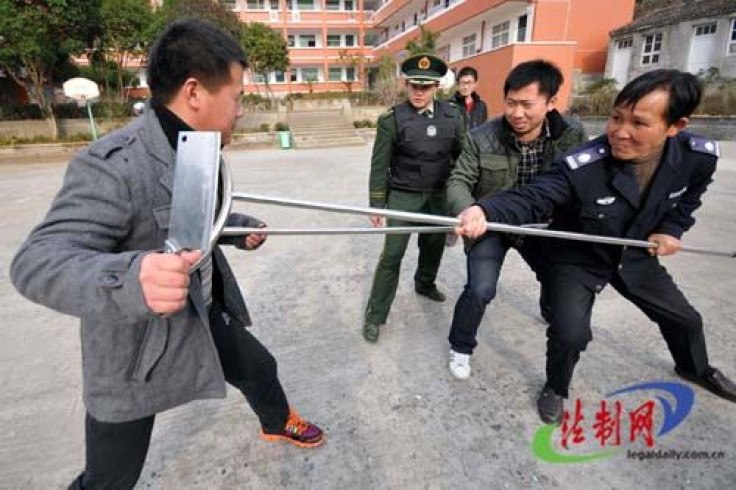 China's gun bans do not allow security guards, like those in train stations or other public areas, to carry firearms. They are limited to mace-like spray, batons and the "riot fork." The device was developed and introduced to security personnel guarding schools, train stations, subway stops and other locations that have high foot-traffic after the country saw a spate of stabbings over the past few years. In schools, teachers and students were even trained with the tool, which is designed specifically as a defense against knife attackers, allowing users to neutralize them from afar.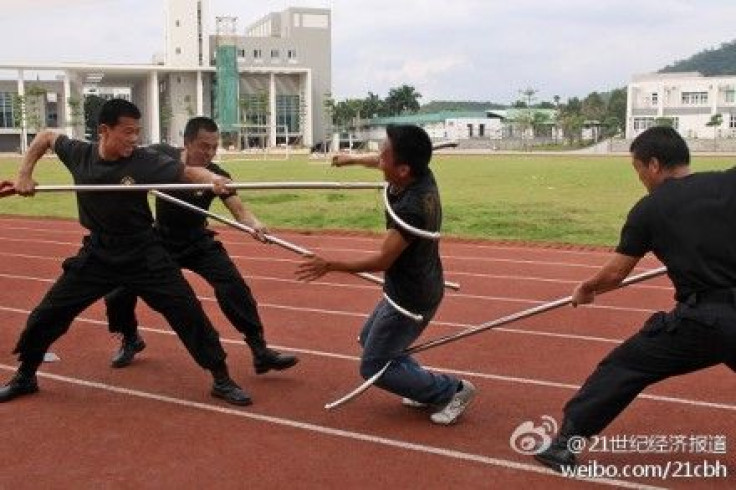 In a situation like the one in Kunming, much criticism has arisen over the ineffective measures security officials have at their disposal, reigniting the ongoing debate over gun control not only in China, but all over the world.
On popular Chinese microblog Weibo, among a sea of condolences, a conversation about gun use in China, or rather the lack thereof, was ignited among users. Some online are praising China's gun laws, stating that if the assailants had had access to guns, more lives would have likely been taken. "The only thing I can rejoice in is China's gun ban," one user wrote. "It is difficult to imagine the amount of innocent lives that could have been taken otherwise."
Several others reflected on what they believe would have happened if the same events would have played out in the U.S. "Fortunately, China has a gun ban," one user posted. "A knife can cause such big causalities, but if in the United States, it would be so terrible."
While the general consensus agrees with the country's current gun policies, times like these have sparked a conversation. Some believe expanding gun privileges should be considered to include security guards.
"If security guards were given better weapons and trained to use them they could have stopped them sooner," one commenter responded. "How are a group of guards supposed to secure a busy train station in any kind of emergency, let alone a knife attack, with a 'weapon' like that?" another user chimed in, in reference to the riot tool.
What do you think? Should Chinese security guards be able to carry guns or should they stick to the riot device? Answer in our poll below:
© Copyright IBTimes 2023. All rights reserved.