Dozens Killed As A Wave Of Bombings Hit Kabul In Afghanistan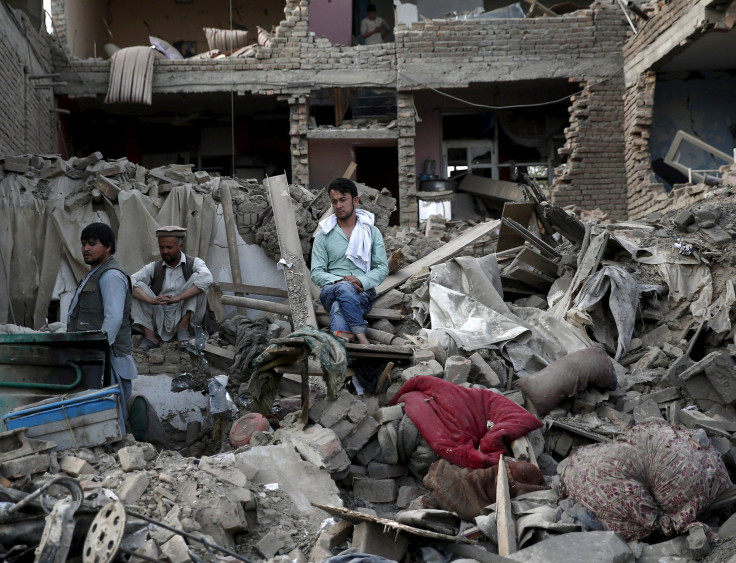 A suicide bomber killed dozens of cadets at a Kabul police academy on Friday and blasts hit an area near the airport in a wave of attacks that began with a huge early morning truck bomb explosion in the Afghan capital.
The attacks came just over a week after the Taliban announced a new leader and appeared to dash any hope of a swift return to peace talks between the insurgent movement and the government of President Ashraf Ghani.
A Taliban spokesman claimed responsibility for the attack on the police academy, in which security sources said at least 50 or 60 people had been killed or wounded.
"The bomber was wearing a police uniform and detonated his explosives among students who had just returned from a break," a police official said.
Shortly afterwards, two explosions hit an area north of Kabul airport, close to a U.S. special forces base. Small arms fire was also heard.
Details were still unclear but the explosions took place near several potential targets, including a counter-narcotics police camp near to a base for U.S. security contractors and a U.S. special forces base known as Camp Integrity.
"Anti-government elements launched a complex attack against Camp Integrity, initiated with a vehicle-borne bomb and followed by small arms fire and further explosions," one Western security source said.
Shortly after the explosions, military jets were heard flying over the center of Kabul.
The evening attacks came less than 24 hours after a huge truck bomb exploded near an army compound in a residential area of Kabul, killing at least 15 people and wounding 248.
RELATED COVERAGE
› Fourth blast in Kabul, strikes close to airport
Unlike the attack on the police station, the Taliban did not claim responsibility for the truck bombing, which claimed mainly civilian casualties, killing and wounding people in their sleep and wrecking shops and homes.
"Last night's attack was a cowardly terrorist attack against civilians," presidential spokesman Sayed Zafar Hashemi told reporters.
NEW TALIBAN LEADER
The bombings were the first in Kabul since Mullah Akhtar Mansour took charge of the Taliban last week, and followed a rare truck bomb attack in an eastern province on Thursday.
The compound targeted on Friday morning was used by Afghan intelligence officials, said a Western security source who declined to be identified, because the topic is a sensitive one.
The truck bomb left a hole 10 meters (33 ft) deep in the heavily populated Shah Shadid district, reduced buildings to rubble, shattered windows and damaged cars, a Reuters witness said.
The blast was an unusually powerful one in a city often targeted by the Taliban and other militants seeking to destabilize the troubled unity government led by Ghani.
Smaller bombs or suicide attacks are a weekly occurrence in the heavily fortified capital, but large truck bombs are rare.
RELATED COVERAGE
› Third blast shakes Kabul near airport, gunfire heard
An official at the Emergency Hospital in Kabul said it had been flooded with almost 100 patients, including many women and children, seeking treatment for minor wounds caused by debris.
The Afghan war between the foreign-backed government and the Taliban has intensified since the NATO combat mission ended last year and most foreign troops were withdrawn.
Afghan security forces have been battling the Taliban with only limited support from coalition forces this year. About 4,000 soldiers and police are lost each month to casualties and desertions, the U.S. general in command has said.
Efforts to restart the peace process with the Taliban have stalled since the movement's reclusive founder Mullah Mohammad Omar was revealed last week to have died two years ago.
A peace official and former senior Taliban member said there were still plans to continue the dialogue, but the timing and location of talks had yet to be decided.
Attention is now focused on internal tension in the Taliban over the question of succession, as Mansour's swift appointment by a small council of leaders in the Pakistani city of Quetta has angered others in the group.
Mansour is widely considered a pragmatist who backs peace talks but his first public message was a pledge to continue the insurgency, which has caused civilian casualties of almost 5,000 in the first half of the year, U.N. figures show.
© Copyright IBTimes 2023. All rights reserved.