Dry, Gusty Winds In Eastern Canada Stoke Halifax Wildfire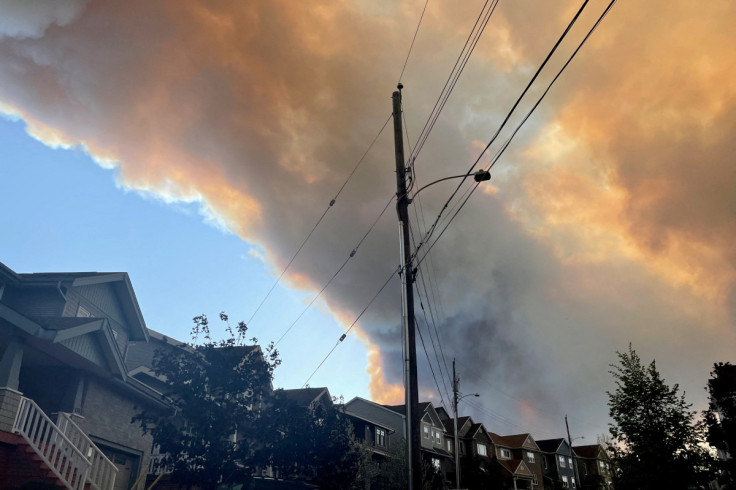 Canadian fire officials warned on Wednesday gusty winds and low humidity could fuel a raging wildfire in Halifax that has forced thousands to evacuate while causing poor air quality hundreds of miles away in the U.S.
The blaze, dubbed the Tantallon Fire, in the eastern Canadian city of Halifax, grew by 49 hectares (121 acres) to 837 hectares (2,068 acres) since Tuesday, David Steeves of the Nova Scotia Department of Natural Resources said in a news conference.
"Today could possibility be a very difficult day," he said on Wednesday morning, noting forecasts for 25 kilometers (16 miles) an hour wind gusts out of the south and low humidity.
"Today could be a day that is very dangerous for the folks on the ground."
The fire, which is about 30 kilometres (19 miles) west of downtown Halifax, has already forced 18,000 people to evacuate their homes. No fatalities have been reported but about 200 homes, structures have been damaged, the CBC reported, citing the Halifax Regional Municipality.
Forest fires also led to evacuations of about 400 homes in the province of New Brunswick over the weekend, officials said.
"The stories and the images we're seeing coming out of Nova Scotia and New Brunswick are heartbreaking," Prime Minister Justin Trudeau told reporters in Ottawa, and pledged federal support for the Atlantic provinces.
"We know people are extremely, extremely distressed by what's going on. As a federal government we are there, we will be there to support," he said.
On Tuesday, Canadian emergency officials also issued a mandatory evacuation order for parts of Bedford, Nova Scotia, after authorities noted a new wildfire and the potential for an ammonia leak in the area, CBC News reported.
A light fog of smoke blanketed the area on Wednesday where families packed vehicles, causing gridlock in normally quiet residential neighbourhoods in West Bedford.
Earlier this month, the western province of Alberta declared a state of emergency after tens of thousands of people were forced from their homes as unprecedented wildfires raged.
The Halifax wildfire was expected to cause poor air quality hundreds of miles to the south in parts of the U.S. East Coast and Midwest as smoke drifts across the regions.
Air quality alerts were in effect for eastern and western parts of Michigan, northern Ohio and parts of Pennsylvania, New Jersey and New York where a high concentration of pollutants were in the forecast, the National Weather Service (NWS) said.
"Sensitive groups should minimize strenuous outdoor activities," the NWS in Philadelphia said in a Facebook post along with a photograph of a hazing orange sun.
© Copyright Thomson Reuters 2023. All rights reserved.