Dubai Hotel Fire Update: Massive Building Engulfed In Flames Ahead Of New Year's Eve Celebration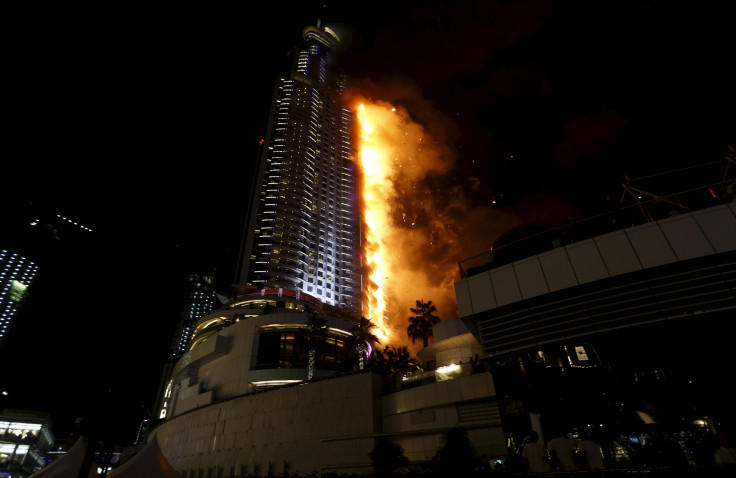 UPDATE: 2:39 p.m. EST: Dubai's media office said 14 people suffered minor injuries from a fire that engulfed an upscale Dubai hotel Thursday night, the Associated Press reported. Officials said the fire was 90 percent contained, and most of the damage was on the exterior of the structure. The building sits near the Burj Khalifa, the world's tallest building, and near the site of a scheduled Near Year's Eve celebration.
UPDATE: 2:25 p.m. EST: Dubai officials said 90 percent of the fire at The AddressDowntown Dubai hotel was under control, as flames continued to engulf much of the building, Al Arabiya reported. The hotel was evacuated Thursday evening ahead of a planned New Year's Eve fireworks celebration nearby, which officials said would proceed as scheduled. There were no casualties reported, civil defense officials said.
UPDATE: 1:40 p.m. EST: A civil defense official told Al Arabiya Thursday there were no injuries reported in Dubai after a massive fire engulfed a luxury hotel in the city ahead of a New Year's Eve celebration, the Jerusalem Post reported.
"There are no injuries, thank God. ... Of course, it will not affect the celebration," Maj. Gen. Rashed al-Matrushi, general director of the Dubai Civil Defense, said.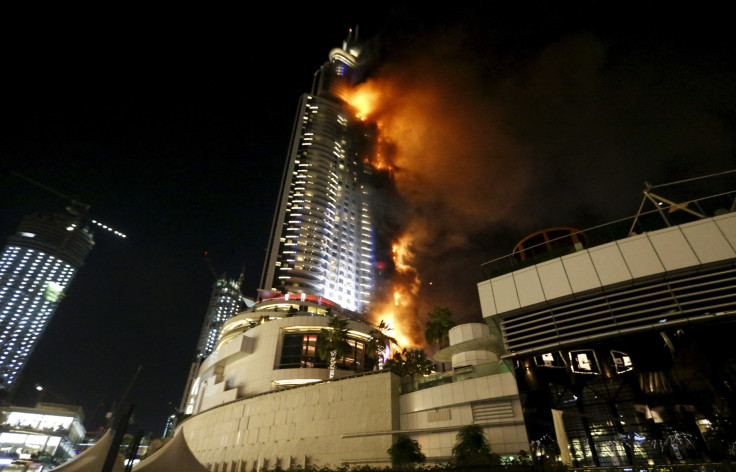 Original Story:
A massive fire broke out at The Address Downtown Dubai hotel ahead of a New Year's Eve celebration, various media outlets reported Thursday. Firefighters were dispatched to the scene, as pictures emerged on social media showing the structure engulfed in flames. Debris was reported raining down below.
The hotel is a upscale five-star, 1,000-foot tall structure, the British tabloid the Mirror reported. The hotel reportedly was evacuated, and people were being moved away from the area. The hotel sits near where Dubai was set to hold a large New Year's Eve celebration at the Burj Khalifa, the world's tallest skyscraper.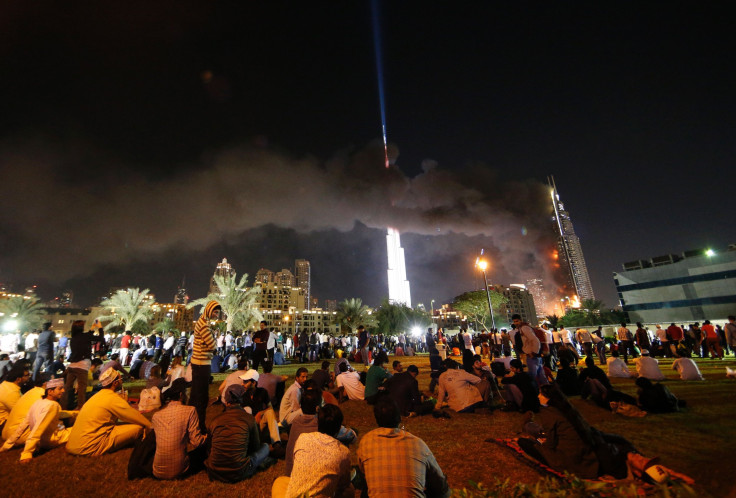 The cause of the fire was not immediately clear. Seven people were being treated for smoke inhalation, the Daily News reported. Officials said the fire started on the hotel's 20th floor.
The city was prepared for three separate displays for the New Year's Eve celebration, and were prepared to use 1.6 tons of fireworks. The hotel also houses restaurants and a mall, which were evacuated.
Dubai is a popular tourist destination, attracting some 13 million travelers a year, the National reported. The city, in the United Arab Emirates, is known for its upscale tourist spots and tall skyscrapers. It is also a popular international business hub.
New Year's Eve celebrations were set to proceed, Al Arabiya reported.
© Copyright IBTimes 2023. All rights reserved.