Dubai Property Price Soaring, Fueling Fears Of Another Real Estate Bubble And Crash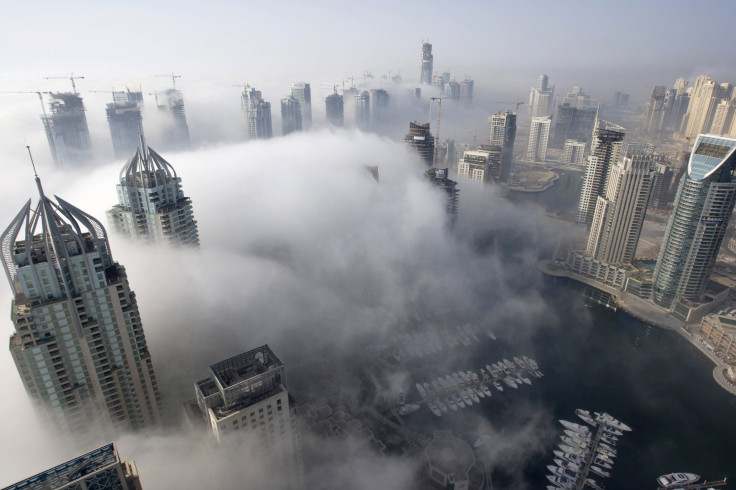 Dubai, which turned sand dunes into a glittering metropolis during a six-year boom, is recovering from one of history's most epic property crashes. Five years after hitting the bottom, Dubai is again one of the best-performing real estate markets in the world, raising concerns that the city is on the brink of yet another bubble.
Home to the world's tallest towers and man-made islands, Dubai saw its real estate prices crash by more than 50 percent in 2009 and 2010, triggering a corporate debt crisis that brought the emirate close to default.
The sharp increases in property prices in 2008 were driven by excessive short-term speculative activity, especially on off-plan properties. For these properties, buyers only had to put down 10 percent deposits (rather than the full price), so the market became highly leveraged.
"Many buyers never had the intention, or the funds, to pay the future installments, as they planned to flip the property before any payments were due," Carla Slim, an analyst at Standard Chartered, said in a note. "This turned the housing market into an unsustainable, highly-leveraged derivatives market."
More than 200 projects were canceled between 2009 and 2011, and many of the developers had shut down and left Dubai without informing their customers.
But now, Dubai's property market is back, and so is the problematic off-plan sales financing model. Developers are announcing new projects, mega-developments, and prices are shooting up.
Prices in the emirate steamed ahead 21.7 percent over the past year as new mortgages surged, luxury brokerage Knight Frank said in a report, putting it on top of the 55 markets the firm analyzed.
Among the new mega-projects is Mohammed Bin Rashid City, a multibillion-dollar undertaking to be built in less than a decade. Highlights include 1,500 villas, a 350,000-square-meter water park and the world's largest crystal lagoon.
Developer Emaar Properties PJSC (DFM: EMAAR), which reported a 10 percent increase in second-quarter profit, has launched at least half a dozen new projects in Dubai this year. State-owned Nakheel, the master developer behind manmade island projects such as Palm Jumeirah and The World, posted a 57 percent profit rise in the first half of the year, while Deyaar Development (DFM: DEYAAR) announced a 47 percent gain in second-quarter net profit.
Private developer Damac Properties has unveiled a slew of new projects in Dubai, including a massive golf course community in partnership with American real-estate mogul Donald Trump. Damac launched a 28 million-square-foot luxury villa and condo project in April. To fund construction, the company is using off-plan sales, which raises a red flag.
It's not hard to understand why developers have regained confidence in the market. The 2008-style frenetic buying and flipping appears to have made a comeback. Police had to be called in to tame unruly investors who lined up to reserve villas sold by Nakheel in October and again, by Emaar in April.
This surge in investment comes even as the International Monetary Fund warned that Dubai might need to intervene in its property market to prevent another boom-and-bust cycle.
"The pace of recovery in some segments of the real estate market and a number of announcements since late 2012 of new mega-projects in real estate and tourism warrant a cautious approach to policy making," the IMF said in a statement in July following a consultation visit to the United Arab Emirates.
Why This Time Is Different
Not everyone agrees that Dubai is setting itself up for another fall.
The U.K.-listed bank Standard Chartered, for one, thinks that the recent price movements have been driven by real demand, as well as by stronger economic fundamentals, rather than the type of speculation that fueled the 2008 boom.
"The market seems to be driven by fundamentals rather than excess speculation, in contrast to what the market went through in 2008," Slim said, adding that there are no serious indications of a speculative bubble in the housing market at the moment.
Here's why, according to Slim:
Dubai's economy is growing. The housing market is influenced by broader economic trends. Dubai's economy has experienced solid and sustainable rates of growth over the past three years. The economy may grow 4.6 percent on average from 2012 through 2015, more than twice as fast as in the prior four years, the government forecasts.
Demographics. Demand for housing is rising, due to Dubai's population growth. The city's population is the second-largest in the country, after the capital, Abu Dhabi, and is largely comprised of expatriates. The population increased from 2 million in 2011 to 2.1 million in 2012, according to the Dubai Statistics Center. Dubai is cementing its status as a safe haven in a region of political and economic turmoil, attracting people from unstable countries around the Middle East/North Africa region, with property-listing agencies reporting an increasing interest from buyers from countries in political turmoil.
This time it is not an off-plan play. Flipping of off-plan properties was the main reason behind the previous boom-and-bust cycle. Authorities are deploying efforts to ensure that off-plan sales are controlled. In fact, the Real Estate Regulatory Agency reaffirmed that it aims to limit the dependency of developers on investors' off-plan sales proceeds by ensuring developers make a 100 percent land payment and put down a 20 percent construction guarantee as collateral.
While off-plan sales have not disappeared from the market entirely, Slim pointed out that the market is dominated by cash buyers. According to Dubai Land Department, more than 80 percent of the apartments purchased in Dubai during the first half of this year were bought with cash. Real estate mortgage loans soared during the 2008 bubble, increasing by more than 100 percent between 2007 and 2008. The recent uptrend has not seen a similar parallel increase in real estate mortgages, which have remained flat to negative since 2010. In the next two years, seven new laws are expected to be drafted in a bid to regulate Dubai's property market and maintain property values.
© Copyright IBTimes 2023. All rights reserved.
FOLLOW MORE IBT NEWS ON THE BELOW CHANNELS