Duke Energy's Coal Ash Problems Mount As North Carolina Residents Raise Fresh Concerns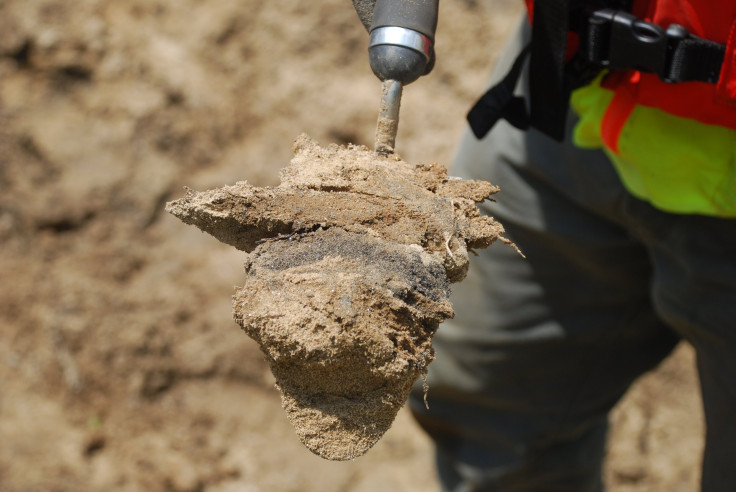 The nation's largest electricity company is facing fresh criticism in North Carolina over its handling of toxic coal ash. Charlotte-base Duke Energy dumps millions of tons of the sludgy byproduct in unlined pits across the state, raising concerns of groundwater pollution and occasionally causing spills, including a major accident last year in the Dan River.
Dozens of North Carolinians this week were warned not to drink or cook with water from their wells after state officials found contamination from toxic heavy metals. Tests of 87 private wells located near Duke coal plants did not meet state groundwater standards, North Carolina's Department of Environment and Natural Resources said.
Separately, residents near the town of Eden urged local leaders to keep Duke from building a coal ash landfill in their low-income neighborhood. The utility holds an option to buy more than 420 acres near Eden's Draper section, though Duke said it hasn't yet announced any plans to build an off-site landfill. Leaders of the local NAACP petitioned the Eden City Council this week to discuss the potential facility, which they fear could leak chemicals and cause health problems for residents, local media reported.
Ash is created by burning coal for electricity and contains toxic heavy metals such as arsenic, mercury and lead. Duke stores more than 150 million tons of the substance in 32 dumps at 14 power plants in North Carolina. All of the facilities are located near rivers and lakes that supply towns with drinking water, and all of Duke's unlined waste pits are contaminating groundwater at the plants, state environmental officials previously found.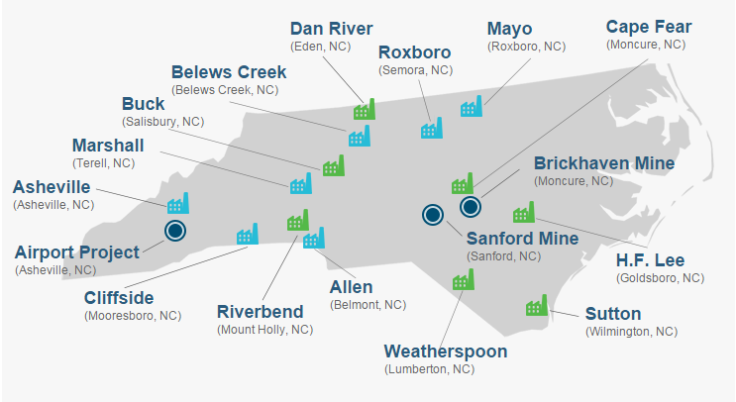 The utility is in the early stages of a long process to move or cap 24 coal ash dumps by 2029. Eight other dumps must be excavated and shuttered within five years, according to a state law adopted last year. North Carolina legislators passed the rule after Duke's facility near Eden sent 39,000 tons of toxic sludge into the Dan River in February 2014. The utility is facing more than $100 million in fines and restitution for the spill.
The coal ash law also requires North Carolina officials to test private wells within 1,000 feet of power plant boundaries. About 145 wells have been sampled since October, including the 87 wells shown this week to have groundwater contamination.
State environmental regulators said the tests found no clear evidence of ash contamination. "We didn't see that in these sampling results or any really, really high levels that we would say is well above the natural levels," Tom Reeder, assistant secretary of the environmental department, told the Charlotte Observer newspaper. However, he said the utility will be required to provide the affected residents with alternative water supplies if the state does determine that coal ash is the source of the contamination.
Duke said the contaminants appeared to be naturally occurring. "Based on the state's test results we've reviewed thus far, we have no indication that Duke Energy plant operations have influenced neighbors' well water," utility spokeswoman Paige Sheehan said in a statement. "Boron and sulfates at certain levels are key indicators of groundwater potentially impacted by coal ash, because they migrate more quickly than other trace elements. Neighbor wells in this first batch of testing did not contain these substances at elevated levels."
But environmentalists say they have little doubt that coal ash is polluting residents' well water. "These are houses within 1,000 feet of a large, unlined pit in the ground filled with a slurry of coal ash and water," D.J. Gerken, a senior attorney with the Southern Environmental Law Center in Asheville, said. "We don't have to wonder too hard what the source might be" -- especially given that coal ash is known to be polluting groundwater near Duke's power plants, he said.
The law center is among the handful of environmental organizations that are suing Duke over its coal ash problem. Their case in the North Carolina Supreme Court seeks to force Duke to immediately stop its 32 ash dumps from polluting the water beneath the pits. The groups are also siding with North Carolina in the state's lawsuit against Duke over groundwater contamination. The environmental agency in March fined Duke $25.1 million for dirtying the waters at Duke's Sutton power plant in Wilmington, and officials are planning further action at other sites.
"We've known for years that Duke has been contaminating groundwater around its plants," Gerken said. "We're still waiting for action."
Sheehan said Duke Energy is actively addressing concerns about contamination at its coal ash sites in North Carolina. She said the utility is acting quickly to comply with the state's coal ash management law, and is ready to excavate and move coal ash from the initial eight sites, pending state approval. Some of the ash will be used to fill in surface mines where coal has been extracted, while some will be recycled. The utility estimates that complying with the law could cost the company anywhere from $2 billion to $10 billion, an expense Duke could pass on to its electricity customers.
"We are working and doing everything we know to advance this," Sheehan said by phone. "We cannot do anything, we cannot move ash without certain state approvals, and so we're anxious to get those."
© Copyright IBTimes 2023. All rights reserved.